Wondering how you can send a group text without people seeing other contacts' numbers and replies? It's easy if you have the right tools.
If you're sending a text for your business, I highly recommend using a BCC text messaging app to stay organized and compliant with SMS regulations. Otherwise, you can use an iPhone or an Android device.
I'll show you how to send BCC texts using all three methods.
TABLE OF CONTENTS
What Is a BCC Text?
A BCC text message, also known as a mass text or a blind group text, is an SMS message that goes out to a group of contacts where only the sender can see recipients' phone numbers and replies.
BCC stands for blind carbon copy. According to Merriam-Webster, "This meaning comes from the use of carbon paper, which was used to make copies of documents by pressing pigment onto an additional sheet of paper underneath. 'Blind carbon copies' were copies that didn't let the recipient know it was a copy."
For BCC text messages, that means:
No giant threads where everyone sees the replies.
No phone numbers shared with the whole group.
It's like a group text message without reply all — recipients can't see each other's replies or phone numbers, and you respond to questions and comments one-on-one.
💡 Did you know you can personalize BCC texts? If you need to send your BCC text to a group of 1,000 people, you can make each one feel like it was sent directly to them by adding custom fields for their name. We'll cover how in the next section.
How to Send a Group Blind Text or BCC Text
To send a BCC text message, you'll need a bulk messaging app. Want to test one out? Sign up for a 14-day trial of SimpleTexting (completely free, and no credit card needed).
If you like what you see after your two-week trial, sign up for a paid plan (starting at $29/month) to get full access to the features I mention in this tutorial.
Note: For now, you can follow along with the steps below and upload up to 50 contacts. Any messages you send will start with "SimpleTexting:", but the watermark goes away after upgrading your account.
Check out the video walkthrough and written guide 👇
The video above covers exactly how to send a blind group text. Here are the key steps:
1. Gather Your List of Phone Numbers
Get your list of phone numbers together in a spreadsheet and add a header row to the top that says, "Phone Numbers." Add additional rows for details like your contacts' first names if you plan to personalize your texts.
Please note that just because you have a list of phone numbers, it doesn't mean you're in the clear to start sending BCC text messages to them.
You must follow the rules set out by the Telephone Consumer Protection Act (TCPA). That means obtaining express written consent (a legalese word for written permission) before a single message goes out the door.
This may sound intimidating, but our SMS compliance guide breaks down the terms you need to know and will point you toward the right resources.
2. Import Your List
Go to Contacts on the left-hand side of your SimpleTexting dashboard. Click Add contacts then follow the prompts: Drag and drop a spreadsheet list, and create a new list. For example, you may name the list "Employees." Click Next.
After that, just map the fields you want to import and click Next. Confirm your import and agree to the terms and conditions, then click Import.
3. Write Your BCC Text Message
Go to Campaigns on the left side of your dashboard. Select New. Give your message a name for your reference, then type out your group blind text message.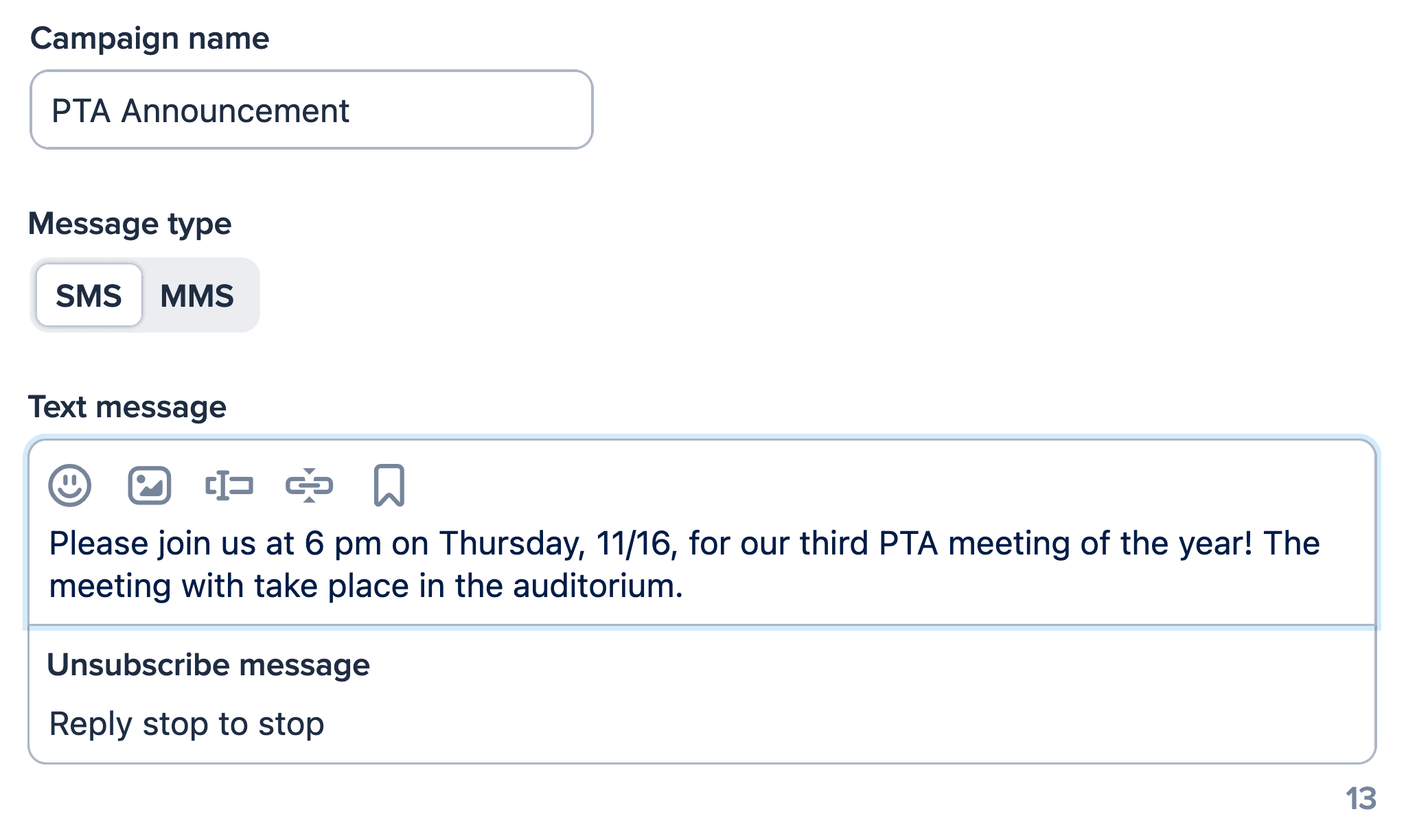 4. Add a Personalized Custom Field to Your Message (Optional)
Because your message will go out to contacts individually, you can choose to personalize each one with your contacts' information.
For example, if you add %%firstname%% to the beginning of your text message, it will appear on your contacts' phones with their first names.

5. Schedule Your Message or Send It Now
You can select a specific time and date for your BCC text message to go out or send it immediately. Because our BCC text app will send the message to each person individually, replies will only go to you, the sender.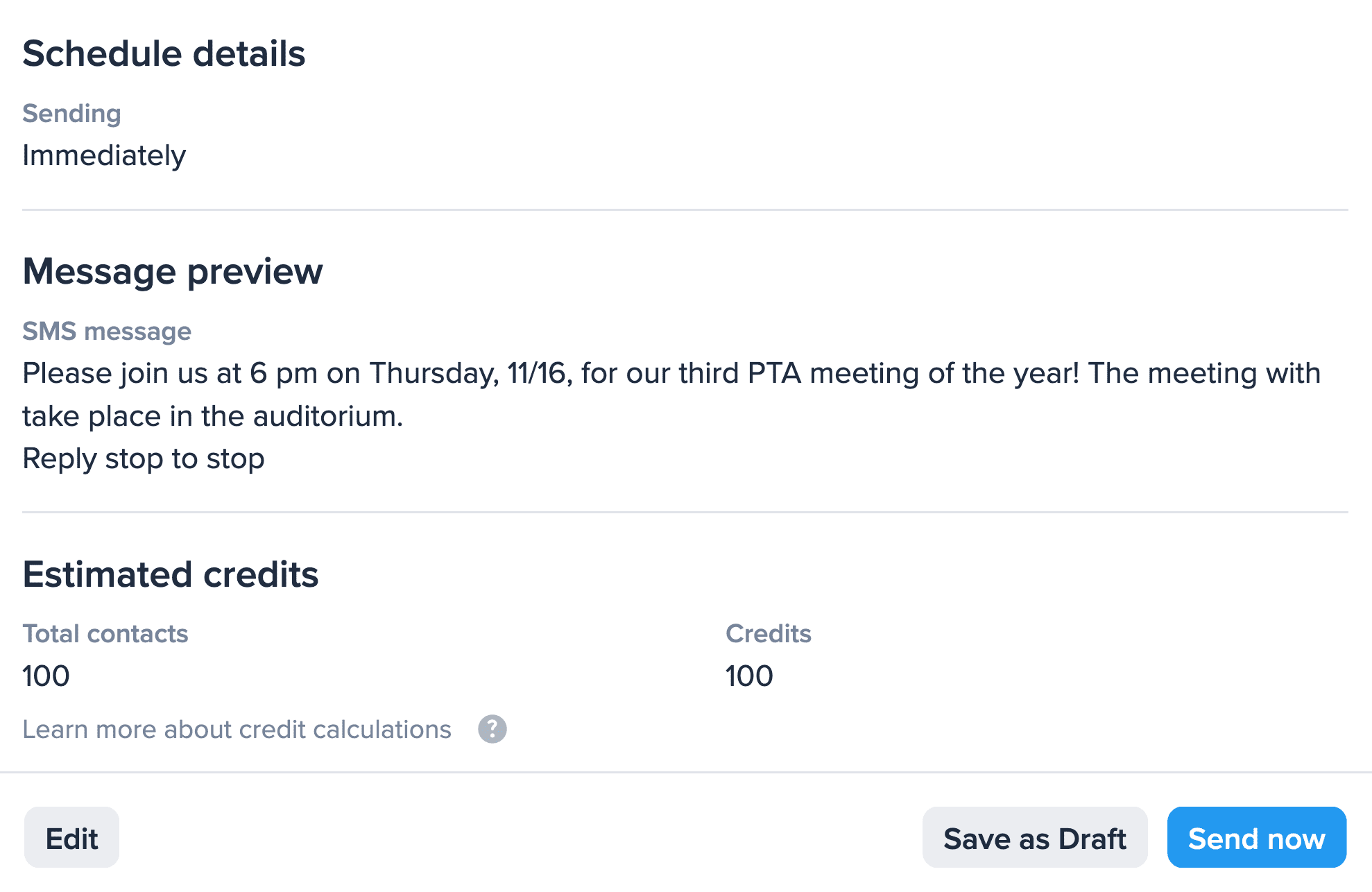 Send a BCC Text Message on iPhone and Android
We covered how to text from your computer above, but you can also send a BCC text message from your iPhone or Android with the SimpleTexting mobile app.
If a BCC text message app isn't for you, you can send blind group texts from your personal phone.
Can you BCC text messages on iPhone?
Yes, you can send BCC texts from your iPhone to up to 25 recipients. Here's a way to send a group text without showing all recipients:
Go to Settings > Messages. Toggle the iMessage and Group Messaging settings off.
From your text inbox, tap the new message button and add your contacts in the "To" field.
Send the message. You'll receive replies as individual messages in your inbox.
Can you BCC text messages on Android?
You can send BCC texts on an Android device, but you'll need to download Google's Messages app first.
In the Messages app, tap More Options (three vertical dots on the top right) and navigate to Settings > Advanced.
Go to Group messaging, and then select "Send an SMS reply to all recipients and get individual replies (mass text)".
Send a group text as you normally would.
BCC Text Message FAQs
Learn More About Group Texting Services with SimpleTexting
If text messages are a large part of your business or organization's strategy, you should consider making a small investment in a group texting service. Especially if you need to send emergency text alerts or SMS marketing messages.
Try Text Marketing for Free
Send your first message in minutes. Try SimpleTexting free for 14 days.
This piece was originally published January 2021. It was refreshed in March 2023, and most recently in June 2023. Alfredo Salkeld contributed to this piece.