AI Assist
Our artificial intelligence SMS generator makes it fast & easy to create copy for your next campaign.
Artificial Intelligence Trained to Write Text Messages
Every text you send needs to create real value for your audience, have a clear call to action, and represent your brand. AI Assist can help you do all three.
End Writer's Block
Using a simple prompt, AI assist will generate five original text message ideas for your next campaign. Say goodbye to writer's block.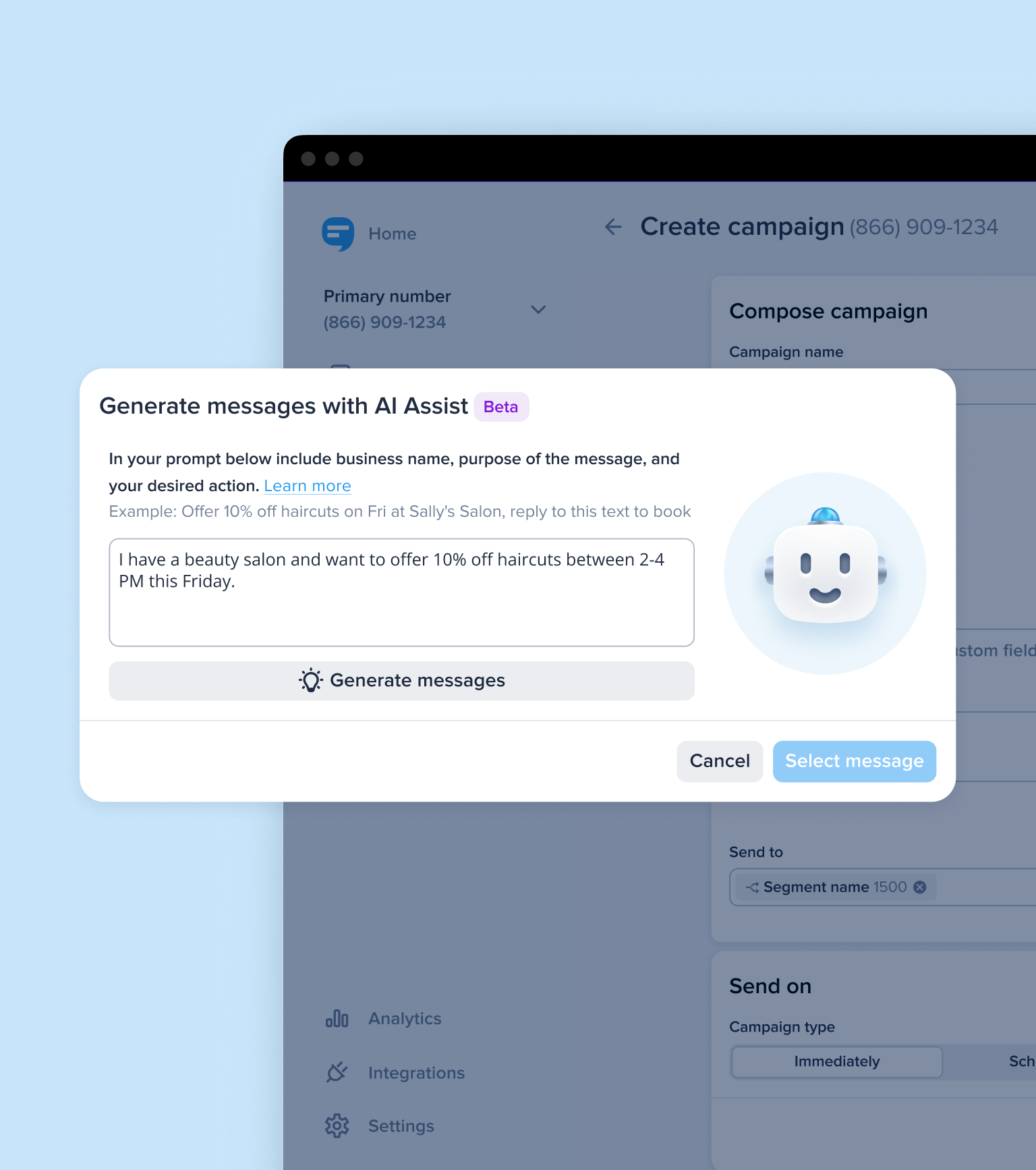 Send Your Next Campaign 10X Faster
It was already quick to send an SMS campaign. Now it's even faster. Tell AI Assist what you want to send and then watch the AI spin up example messages in seconds.
Boost Engagement with Better Copy
Easily write and test more SMS variations to increase sales and improve your ROI. We'll help you make the most of the character limit without sacrificing performance.
How to Use AI Assist to Write Text Messages
Want to see how easy it is to start writing text messages with AI Assist? Watch this 30-second video.
The AI Assist Advantage
AI Assist flattens the learning curve for those who are new to business texting while helping seasoned marketers find new ways to optimize their SMS messages.
One Less Hat to Wear
Not a marketer? Have AI Assist write text messages for you.
Get Help Brainstorming
Generate new ideas and refine them right from Campaigns.
Better Performance
Increase click-through rates and engagement with better messages.
Send Your First Message in Minutes
Get everything you need to engage individually with customers, or text thousands at once. Sign up for a free 14-day trial today to see SimpleTexting in action.