Business text messaging services
Businesses that text customers are 217% more successful than those that don't. Our service helps you text your customers.
Text large groups and have conversations with individuals
Send your messages to an inbox your audience uses every day
Automate your business text messaging to use your time effectively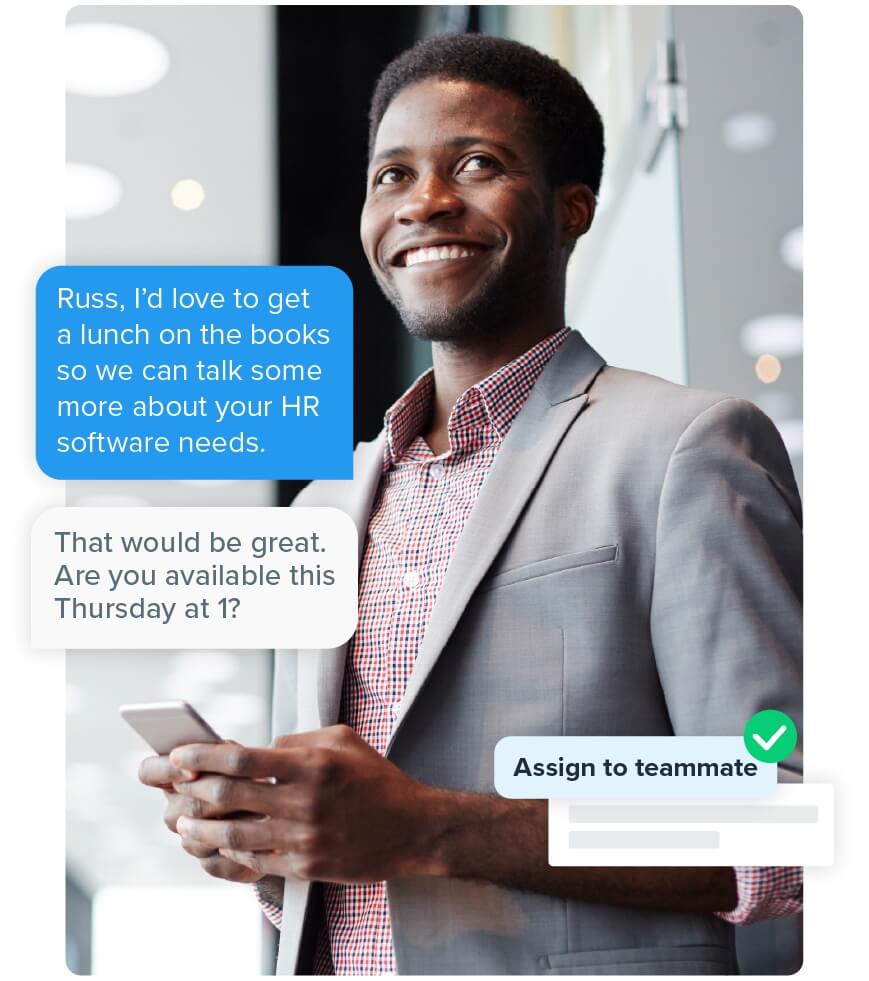 17,000+ customers trust us for business text messaging made simple
What is business text messaging?
Business text messaging refers to the use of short messaging service (SMS) and multimedia messaging service (MMS) to facilitate two-way communication between organizations and their audiences within a business context.
Using business texting software can help your company scale customer-facing and internal communications and reach audiences with the channel that has a 98% open rate. Use cases include sending marketing campaigns, nurturing the sales process, supporting customers, communicating internally, hiring and recruiting talent, and more.
Business texting features and benefits
Using business texting software like SimpleTexting can have a significant impact on the success of your marketing campaigns. Here are just a few features that make a great business text messaging app.
Easy to use
You want a service that you can sign up for and use straight away.
Supports two-way texting
A business text messaging service must support two-way conversations.
Integrates with other apps
No app is an island. Your business text messaging app needs to offer multiple integrations.
Has a mobile app
You want to be able to manage your business SMS from anywhere.
Flexible and affordable pricing
Avoid high monthly pricing or low-volume plans missing key features.
Enables teamwork
You want the ability to add multiple numbers and team members.
What you get with SimpleTexting's business texting service
If you're tired of seeing your emails and calls go unopened or unanswered, then reach your audience with business texting solutions.
Get your customer-facing teams texting
Enable the customer service and sales teams at your business to send business SMS messages and respond to incoming questions.
Deliver a hassle-free, "no hold" customer experience
Turn conversations into conversions by texting leads 1-on-1
Manage all incoming and outgoing texts in our powerful inbox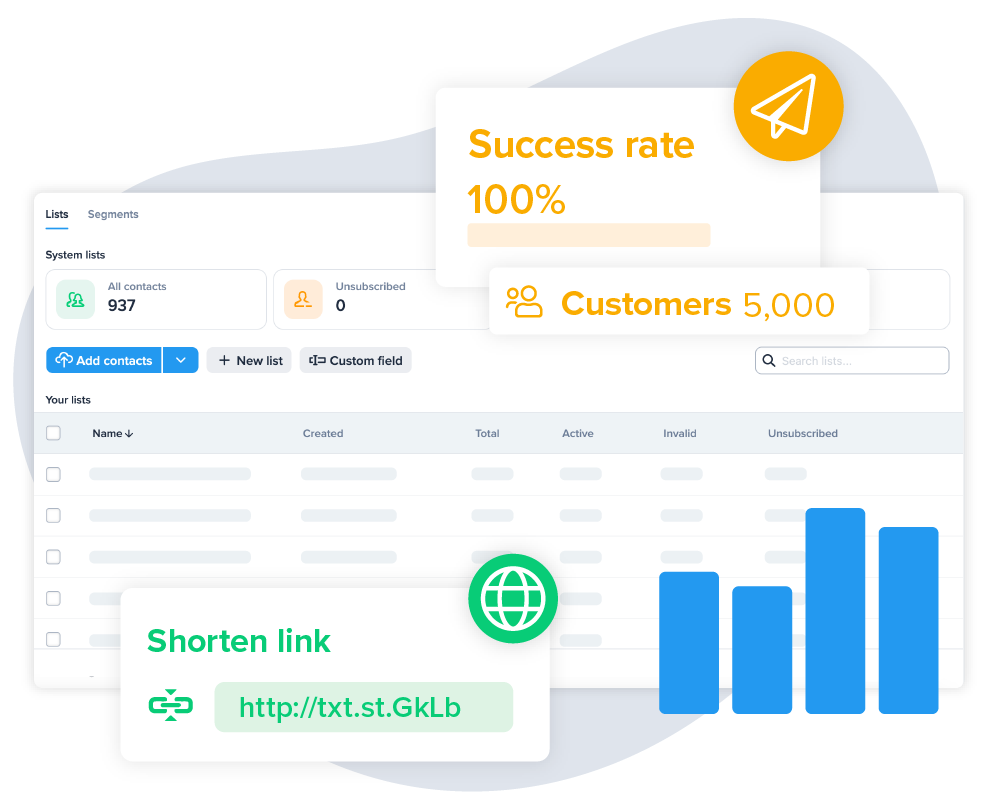 Reach a list of customers instantly
Use
SMS business marketing
to drive purchases, send alerts, and more. Include photos, personalize your texts, and track link clicks.
Drive more business with targeted promotions
Use our audience management tools to reach specific groups
Track performance with our analytics tools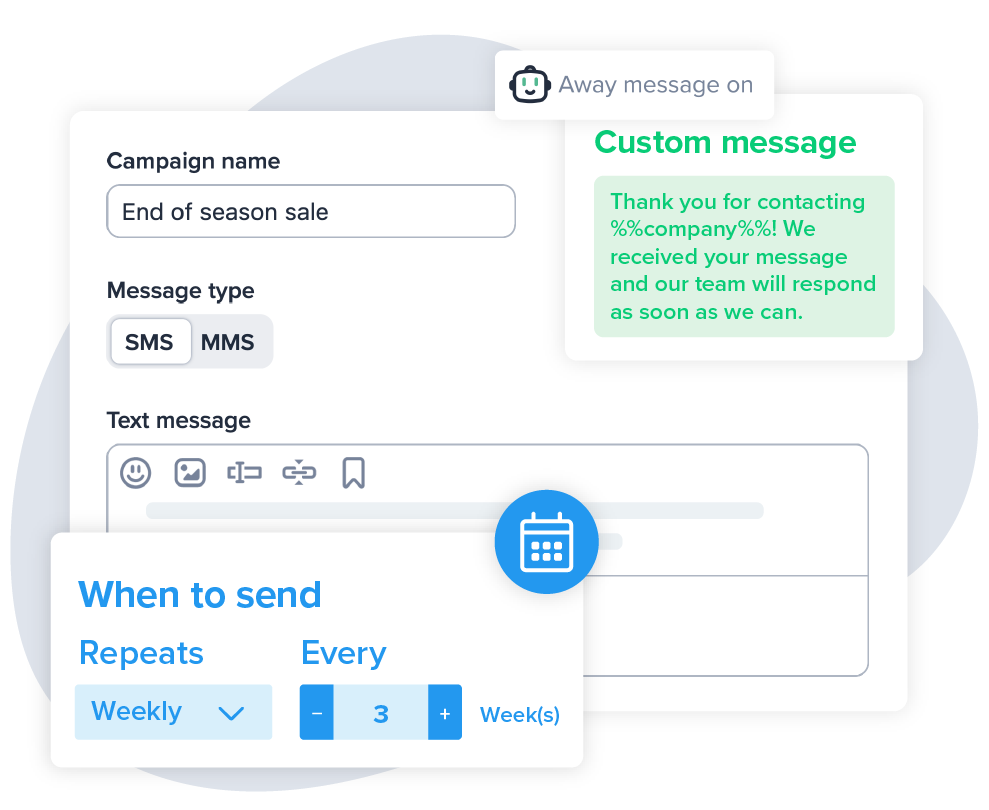 Create set-it-and-forget-it automations
Send
automated texts
and never miss an opportunity to connect with people when it matters.
Send recurring campaigns at an interval of your choice
Trigger messages from other apps using our integrations
Set an auto reply when you're not able to respond
The most popular uses of business text messaging
Text messaging has become a popular channel for communicating with customers in real time. Here's how businesses use SMS for customer service, sales, marketing, group messaging, and office text messaging.
Business texting is the most effective way to respond to customers' needs quickly, and we have the research to back it up. We surveyed 1,300+ consumers and found that
41% of respondents
want the ability to ask businesses questions via text much more than other channels like email and phone calls. Save time with automated responses to customers who text you and provide them with the option to chat with a live agent. Either way, the customer can get assistance without having to wait on hold or navigate through automated phone system menus.
Not getting responses to your emails and phone calls? Truth is, people's inboxes are full and they're skeptical of calls from numbers from unknown numbers (or just afraid to answer the phone altogether). Use SMS to connect with leads and answer their questions, send product information, and even process orders. It's especially effective for scheduling demos, sending exclusive offers, and re-engaging cold leads.
Want more eyes on your best promotions and announcements? Send promotions, discounts, and other marketing messages directly to customers' phones. Text messaging campaigns have
average open rates of 98%
, making them a cost-effective way to reach a large audience. Make your marketing text messages stand out even more MMS, which lets you send images, videos, audio, GIFs, and PDFs.
Text messaging is also an efficient way to communicate with employees and partners in real time. Keep your team informed about important company updates, send reminders about health and wellness initiatives, and send meeting invites without the pesky reply-all button.
Texting isn't just useful for communicating with customers. You can also create a contact list for your team and send regular meeting reminders, memos, emergency alerts, and event invitations.
How to get started with business text messaging in 3 simple steps
Discover how simple it is to begin using our business texting services and transform your customer communication in just three steps.
1. Select a phone number
The first step in business text messaging is to select a phone number for sending and receiving text messages. With SimpleTexting, you can:
2. Send text messages
Once you have your virtual SMS phone number, you can start texting your customers. Send out your first message to one customer or thousands!
Text 1-on-1 with customers, employees, or leads
Send SMS marketing campaigns to large groups
Send appointment reminders, alerts, and more
3. Manage replies in your inbox
As you start texting your subscribers, staying organized and responsive is crucial. SimpleTexting has a user-friendly inbox to help you manage incoming messages effectively. Here are some ways you can make the most of it:
Mark conversations as resolved or temporarily hide them
Easily filter and prioritize conversations
Share the workload by adding team members
Why choose SimpleTexting for business texting?
We're not shy about the fact there are a hundred and one business texting services out there. So why, then, should you choose SimpleTexting? Here are a few reasons why:
We're human
From setting up your account to sharing best practices, real humans are with you every step of the way. If you need help at any point, it's easy to get in touch with an expert by phone, chat, or email.
We're best-in-class
With over a decade of experience helping companies and organizations build powerful connections with their audiences, we've received hundreds of 5-star reviews from real SimpleTexting customers on G2.com.
We're easy-to-implement
You've got a lot on your plate, so you want software that is quick to implement and easy to use. There's no need to hire a developer to set it up and you can access your dashboard from any computer, tablet, or phone.
We give you messaging options
Want to send a text message to all of your contacts at once? Go for it. Need to follow up with a client one-on-one? You can do that too. Every plan comes with two-way messaging and mass texting capabilities.
We have built-in automation workflows
Use autoresponders, scheduled messages, and recurring texts to save time on campaigns and responses. You can integrate SimpleTexting with thousands of other tools or let us build a custom integration for you.
We won't hold you back
SimpleTexting is one of the few business texting apps that offer unlimited keywords and contacts, and we offer flexible pricing plans for every stage of your growth. Plans start at $29/month for 500 credits.
Our powerful business texting features
SimpleTexting's messaging platform for business SMS gives your company or organization the right tools and guidance to reach your goals–whatever they are.
Add multiple team members
Give each department, salesperson, or location in your enterprise their very own text-enabled number.
Use SimpleTexting mobile
Access all our
powerful features
when you're on the go using our iOS and Android apps.
Collect phone numbers
Add your existing contacts and use features like text-for-info to rapidly collect phone numbers.
Send MMS messages
Create a vibrant experience for your customers with picture and video messaging.
1,000+ integrations
Connect all of your favorite apps and web services to SimpleTexting using our
integrations
.
Add multiple phone numbers
Give all your departments, customer service reps, and sales agents access to text messaging.
Schedule texts
Set a specific date and time for your texts that's hours, days, or months in advance.
Analyze results
See how your messages are performing. Track results and measure success with our analytics.

Organize contacts
Create separate lists for customers, leads, employees, or any other group of contacts.
Real-world examples of business text messaging
See how others are using business text messaging to improve their communication, and learn how to follow in their footsteps.
Industries that benefit from business text messaging
Wondering if a text messaging service is right for your business? Check out our industry guides to learn more about how a text messaging service can help your business or organization.
Make the most of business text messaging with the right number
You need a text-enabled phone number to start business texting. We offer different number types to suit all budgets and needs.
Toll-free phone number
Use
toll-free texting numbers
to text one-on-one with customers and send out mass messages to thousands of contacts. We can help you
verify
your toll-free number.
Dedicated short code
Get your own memorable 5 or 6-digit
short code
. Our experts will guide you through the whole process, from working with carriers to launching your first campaign.
Registered local number
Send messages from an area code your customers recognize. We can help you
register
and text-enable your current business number or a new one just for your texting needs.
Selecting the ideal business texting service for you
1. Find a service that's easy to set up
When looking for a texting service that's just right for your small business, look for a provider that offers a hassle-free setup process. The service should have a user-friendly interface and provide clear instructions or guidance to help you get started quickly and easily. Try to avoid services that require complex configurations or extensive technical expertise, as these can be time-consuming and difficult to navigate.
2. Choose a service that understands and can meet your business's needs
Every company is different, and there is no one-size-fits-all solution for business text messaging. That means you need to consider your business's unique requirements and ensure the SMS marketing service aligns with them. Some factors to consider include:
Message volume: If you anticipate sending numerous messages, ensure the service can handle high volumes without compromising performance.
Integration capabilities: If you use customer relationship management (CRM) software or other business tools, check if the texting service integrates with them. Seamless integration can streamline your workflows and enhance efficiency.
Compliance with industry regulations: Depending on your industry, there may be specific regulations or compliance requirements for text messaging. Ensure that the service adheres to these regulations, such as TCPA (Telephone Consumer Protection Act) compliance for marketing messages.
3. Ensure that the service provides powerful features
When evaluating a texting service for your business, ensure that it offers a range of powerful features that cater to your specific needs. Here are some key features to consider:
Drip campaigns: Automated drip campaigns send out a series of pre-scheduled messages to customers or leads. Drip campaigns can help nurture relationships, deliver targeted content, and guide customers through a predefined journey.
Text forwarding: Text forwarding enables you to route incoming messages to the appropriate team members or departments promptly and efficiently.
Recurring messages: Recurring messages can take the hassle out of MMS marketing by distributing weekly newsletters, monthly updates, or subscription-based notifications. This feature saves time and effort by automating repetitive messaging tasks, maintaining consistent communication, and keeping your audience engaged.
4. Review their customer support availability
Reliable customer support is crucial when using a texting service for your business. Ensure the service provides adequate support channels, including phone, email, or live chat. Additionally, consider their support availability—24/7 support or extended business hours can be beneficial, especially if you operate in different time zones or have urgent queries or issues.
5. Determine if the service adds value to your company
Lastly and most importantly, evaluate how the texting service adds value to your business. Consider factors such as pricing, scalability, and additional features. Compare different service providers to find the one that offers the best balance of features, pricing plans, and scalability options that align with your business's growth plans and budget.

Business text messaging service FAQs
Have questions about our business texting service? Get answers below.
Published: November 20th 2023