SMS drip campaigns mean less effort from you and happier customers along the way.
While there are lots of SMS tools that can free up your time and increase customer engagement, drip campaigns are by far the easiest and fastest one to pick up and use.
You'll also find text message drips useful in many different use cases (and we'll get to those later).
So, let's dig into drip SMS marketing campaigns, including how to set them up and when to put them to work.
SimpleTexting is SMS marketing software
Businesses that text customers are 217% more likely to report success. Take advantage of SMS marketing. Meaningful connections are just a text away with SimpleTexting.
What is a Drip Campaign?
A drip campaign is a scheduled series of messages that sends to the recipient one at a time, either based on a set time delay or on a specific action taken by the contact.
What is an SMS Drip Campaign?
An SMS drip campaign is a series of text messages that sends after a particular time delay or an action taken by the recipient.
You can use SMS drip campaigns for marketing, sales, recruiting, and lots of other use cases.
How to Set up an SMS Drip Campaign
With that context in mind, let's actually set up a text message drip campaign in SimpleTexting software step by step.
Set Up Custom Fields
1. Log in to your SimpleTexting dashboard and go to Contacts. Click Custom Fields.
2. Select the type of data you'd like to collect: text, date, numbers, etc.
3. Give each new Custom Field a name.
Create Segments
1. Return to the Contacts panel and choose Segments. Click New segment.
2. Select the criteria you'd like to use to segment your list, then click Save segment.
Write Your Autoresponder
1. Go to the Autoresponders panel and click New autoresponder.
2. Give your autoresponder a name and enter your text in the message field.
3. Select the segment you'd like your message to go to.
4. Decide when you'd like your autoresponder to send after a contact joins your list or segment.
5. Create a new autoresponder for every message in your drip campaign.
Text Message Drip Campaign Ideas (With Real-Life Examples)
Want to see how SMS drip campaigns look in real businesses? These examples will help you get started writing your own creative drip SMS marketing campaigns.
Prompt to Schedule Appointments
If your contacts haven't been in to see you for a while, send out a drip campaign reminding them to schedule an appointment soon.
This is a sequence one SimpleTexting team member gets the month after last visit. In his own words, "It always works to get me back in the door."
This text goes out a year after Nathan's last checkup and reliably brings him back in for an annual visit.
Post-Purchase
The time immediately after your contacts make a purchase is an excellent opportunity to:
Thank them for buying
Suggest related products
Upsell or cross-sell
Announce the next sale or deal
Provide updates on shipping
Data Collection
Data collection is an easy, effective type of drip campaign that asks contacts to answer a series of questions that are sent automatically.
You can then use the details your contacts sent you to personalize messages and product offerings for better engagement.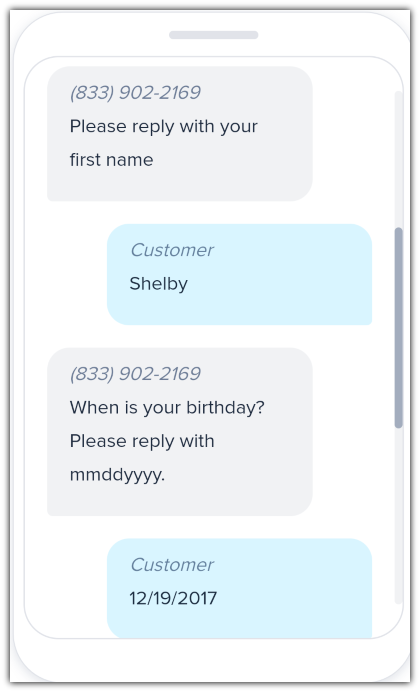 Before a Meeting or Appointment
Appointment reminders are crucial for preventing no-shows. 
Send out reminders timed a few days or a week beforehand and again 24 hours in advance. This will both keep your appointment top of mind for your subscribers and give them plenty of chances to cancel or reschedule if needed.
Recruiting
Keep the hiring process moving quickly by putting the early steps into a drip campaign that sends to any candidate who texts in the corresponding keyword.
Use your recruiting drip campaign to figure out basic details like the role they're looking at, time frames for meetings or interviews, and any other small pieces of information you need.
Benefits: Why Set up SMS Drip Campaigns?
Obviously, we here at SimpleTexting love SMS drip campaigns, but why should you? Here are our top reasons.
The automated aspect means your texts literally send themselves. You can set up an entire sequence in minutes. Pro tip: Let our new AI text generator help you do the work.
More touchpoints = more motivation for your customers to act. As Mailchimp explains, the more positive interactions or impressions customers have with your brand, the more invested they become in you and your business.
Drip campaigns allow your customers some breathing room to consider your value proposition one step at a time, avoiding overwhelm.
That's all great in theory. But to put it in the context of a real business, let me introduce you to Lattice Hudson, a business owner who used drip campaigns to nurture her leads and even triple her sales.
Implementing SimpleTexting was a game-changer, and a necessary next step to continue our growth. Our most used feature is the autoresponder tool. We have multiple different funnels, and because most of my business runs evergreen, we're constantly using automation.

Lattic Hudson

Owner of Lattice & Co