More Guides
The Ultimate Text Recruiting Guide

For recruiters who want their messages seen, clicked and replied to, texting is an obvious choice. Here's everything you need to know about text recruiting with links to resources on other topics.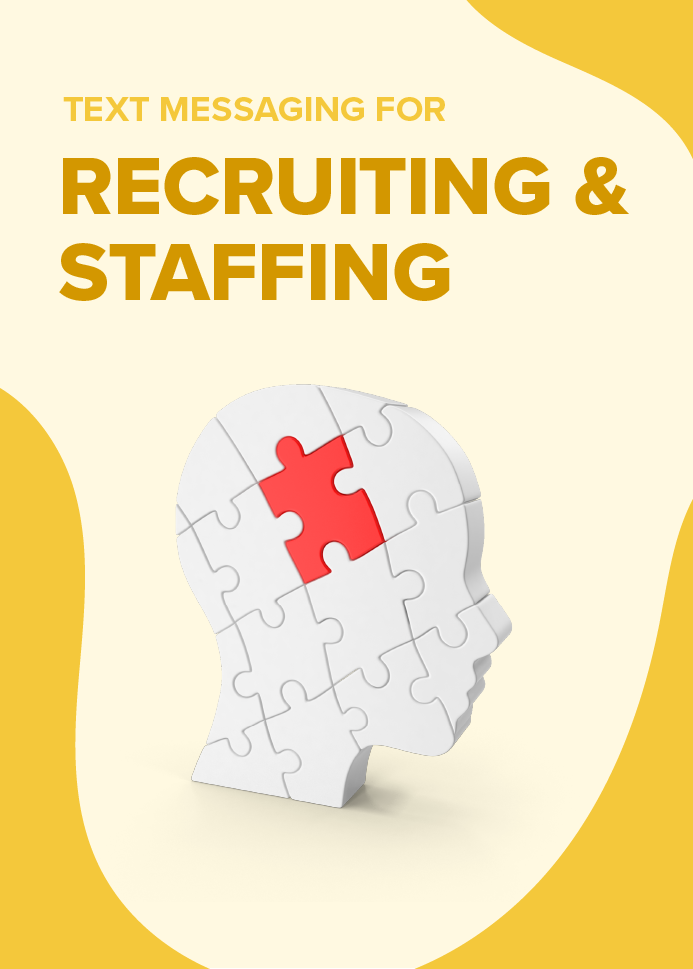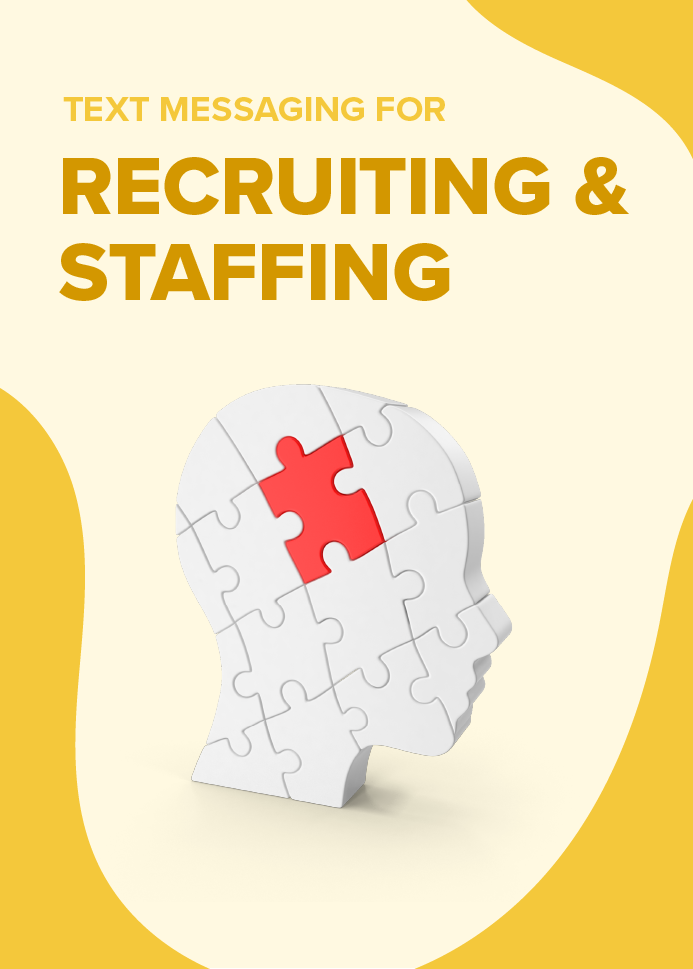 Whether recruiting via SMS or traditional channels, strong communicators have a competitive edge.
We're not the only ones who think so: between 2015 and 2019, the number of recruiting professionals who listed communication as an expertise on their LinkedIn profile rose 202%.
The challenge for modern recruiters is how to reach candidates so they can put these skills to work. That's where text recruiting comes into play.
What Is Text Recruiting?
Text recruiting is the use of text messages to advertise job positions, communicate with applicants, and maintain contact throughout the hiring process.
We see recruiters use SMS to:
Send interview reminders
Check in after an interview
Answer candidates' questions
Notify candidates of new opportunities
Advertise new roles with Text to Apply
And more!
Text messages can be used throughout the entire recruitment process, from initial contact all the way to extending a job offer.
Try Our Text Recruiting Tool for Free
See why the country's leading recruiters use SimpleTexting.
No credit card required
Why Text Recruiting Is Effective
Potential employees respond to texts in less than 60 seconds. Recruiters are reporting response rates of 60 to 70%.
121 business emails are sent and received each day, meaning it's easy for your message to get lost. If you are not set up to be mobile-first, then your candidate experience will suffer.
Still unconvinced? Here are a couple of reasons you need to start text recruiting.
You Can Reach Those Not at a Laptop
Not every job is computer-based. In fact, a lot of the jobs which need to be filled the quickest – in construction and hospitality, for example – are the ones that are uncontactable via email for most of the day.
If you can reach those candidates via text, you can fill job spots quickly and ensure nobody misses out due to being at work. All your candidate needs to do is fire a quick response to let you know they're interested or available.
It's not just manual laborers either, the pandemic has resulted in more and more people choosing to move away from 9-5 office jobs. Remote working is more of a norm than ever before, and plenty of employees and candidates work to their own schedule.
While emails may be missed, text messages have direct access to the individual no matter the time of day or where in the world they are.
Younger Job Applicants Rely On Texting
As more and more Gen-Z enter the workforce, and millennials continue to move up their career paths, our reliance on technology is changing.
That remote-work shift we just mentioned? It's the younger generations who are advocating for it the most. If you're looking to target those in their 20s and 30s, you need to reach out in the most contactable way, and for the vast majority that is through text message.
75% of millennials hate talking on the phone, so text messaging is a less-intrusive but more effective way of reaching those who will screen their calls before picking up (and let's face it, that's most of us).
Why You Shouldn't Use Your Personal Phone for Text Recruiting
While you might think it's convenient to text from your personal cellphone, it leads to a host of problems. Here are just a couple:
Strangers have your contact information. No one wants to wake up at 1 am to a text from an upset candidate.
It slows down the hiring process. There's no way to automate texts like interview reminders.
No transparency. Using your personal cell prevents other hiring managers/interviewers to pick up where you left off when communicating with a candidate.
When your text recruiting happens from a dedicated text messaging service, you can set up automation, keep your personal contact details private, and encourage collaboration.
How SMS Recruitment Works (With Examples)
In-demand candidates stay in the market for an average of 10 days before being hired so if your recruitment process is taking longer than that, you are inevitably compromising on the quality of hires.
The fact that 90% of texts are opened within three minutes means that you can get in touch with shortlisted candidates faster, and therefore screen, interview, and fast-track the hiring decision.
Here are some different ways you can use texting to improve speed to hire.
Text 1-on-1 with Candidates
SMS is not only a way to ensure your message is seen, it's a great way to improve rapport and improve the candidate experience. Here are some recruitment message samples.
💡 You can also check out our free SMS marketing template generator for more ideas.
Send Applicants Updates
You can share updates about a candidate's status, changes to the process, and deadlines for projects or references.
Hey Rose! Congratulations, AccountingDC would like to move forward with a second-round interview. Can you send me your availability for next week?
Interview Scheduling
While there is no excuse for getting the date or time wrong of an interview, it's the number one reason candidates don't show up. Make their lives easier by sending a text message reminder.
Rachel, just a reminder you have your interview at 2 pm today! Street parking will be available in front of the building (222 Main Street) and your guest code into the building is 28203. The dress is business professional. Good luck!
Here are more sample SMS for interview invitations.
Answer Candidates' Questions
Encourage applicants to ask any questions they might have. It gives the applicant a feeling of relief knowing that the company is not "out of reach."
What is the salary for the digital marketing coordinator role?
The starting salary is $38K but benefits are great. Full health, dental and good PTO.
Here's how to use our SMS inbox to message 1-on-1 with applicants.
How to Use Text Recruiting to Increase Job Applications
To start text recruiting, you'll need to sign up to a business texting platform. SimpleTexting offers a two-week free trial so you can try it out risk-free.
Once you've joined, there are a variety of ways to start getting more job applications.
Use Your Database to Promote Open Roles
Chances are you're already collecting phone numbers of job candidates through online job applications.
To start texting these people, you should add an unchecked box that a website visitor must check to provide express written consent that they want to sign up for your job notifications.
Here's an example of this in action.
Then when you have a new role you can send out a text blast to your database following these steps.
Here's a recruitment message example advertising a new role.
Class A Team Drivers minimum $1,862 weekly +benefits out for 48 hours no touch 1 yr OTR Exp Required Call 700-123-4567. If you think you'd be a great fit, feel free to apply here: http://txt.vg/FHKDUM
Use Keywords to Increase Job Applications
No matter which plan you choose, all of our SimpleTexting plans come with unlimited keywords. Keywords are a word or short phrase that, when sent to your allocated phone number, will trigger marketing text messages.
You can use one keyword for general updates, or you can use several keywords aimed at each job sector.
For example, if you want to attract hospitality workers, you could use and advertise 'STHOSPITALITY'. Anyone who texts this to your number will then be signed up for hospitality job openings and alerts.
You are now signed up for hospitality job opening updates. Please follow this link to help us understand more about what you're looking for: http://txt.sthospo
Use the Text to Apply Strategy for Recruiting Text Messages
Text to Apply is one of the most popular text recruiting methods out there. It's so popular we've written a whole guide to text-to-apply full of information on it. However, here's the gist.
Text to Apply, Text to Hire, or Text to Apply Software uses SMS keywords for specific job openings.
A company will use a keyword dedicated to one job, which when text to the allocated number will direct the sender to a job link.
Here's an example of Text to Apply in action.
If you're still unsure how it works, watch the video below to discover just how easy it is to set up a keyword.
Use a Click-to-Text Button On Your Website
A great way to speed up communication is by adding a click-to-text button to your website. Over 54% of web traffic is through cell phones, and click-to-text works in tandem with a phone's native messaging app.
When the customer selects the button, their native messaging app will pop open and your business texting number will be autofilled in the "to" box.
This is a fast and effective way for those looking at job listings to have their questions answered and allows you to find out more information about applicants prior to them applying for jobs.
4 Tips for Effective Recruiting
Adopting text messaging into your recruitment strategy is the first step. However, we also suggest following the tips below to maximize the effectiveness of your text recruiting.
Reach out to candidates on social media
Use social media platforms such as Linkedin to find the right candidates for your role. Once you've contacted them through that platform, you can ask if texting will be easier. They must give you permission to text them, you cannot use available phone numbers to text potential candidates at random.

Get candidates' permission to text
As mentioned, it is a legal obligation to have contacts opt-in to receive your text messages. Use a web form or the text-to-apply method to make this as easy as possible.

Keep messages short and professional
Although you're texting, this is professional communication. Don't use slang, and make sure messages are straight to the point so the candidate doesn't feel as if they're wasting their time.

Stick to normal business hours
The key to business texting is that you need to ensure it remains separate to your personal life. Even if you're using a personal phone with the SimpleTexting app on it, you should not be messaging people outside of appropriate business hours. Do this for yourself and the candidate.

Schedule interview reminders
Once an interview has been scheduled, you can set an automated reminder to go out to your candidate. Simply schedule a text message to go out in advance of the interview as a reminder.
Is It Always Appropriate to Text During the Recruitment Process?
The short answer is no, it's not. When salary expectations or personal information needs to be shared, text messaging is no longer appropriate.
It's your job as a recruiter to build and uphold relationships, so gauging when to best use text messaging is a part of the process. Phone calls and email will sometimes be necessary.
We always recommend the best way to use SMS is in conjunction with other communication tools to meet your client's needs. Ultimately, it comes down to their comfortability and how they wish to communicate.
How to Choose the Best Recruitment Message Service
At this point, we should state the obvious: we're a text recruiting tool. We've worked with thousands of recruiters to help them text with their candidates and advertise open positions, but we're not going to do any hard selling here.
We encourage you to do your research, read plenty of reviews on third-party sites, and sign up for a free trial.
If you're only starting to send recruitment SMS, here are some of the boxes you'll want to tick when choosing a service:
A lot of text messaging platforms allow you to either text 1-on-1 with customers or send bulk SMS. You want a platform like SimpleTexting that will enable you to both.
Do you need to integrate with other platforms like your applicant tracking system (ATS) or send automated text messages? If so, you'll want a service that offers multiple SMS integrations.
If you plan on using a text recruiting software for two-way messaging with applicants, you want an SMS inbox with the functionality to manage multiple conversations.
If you want to send weekly reminders to teams or staffing agencies to request timesheets, you'll want to ensure recurring campaigns are available.
The final consideration is the cost of a text recruiting tool. The per-message price is a huge factor. It's also worth understanding if credits rollover from one month to the next.
More Resources on Getting Started
Here's the Next Step
That's it—everything you need to know about SMS recruitment in one straightforward guide. The next step is to sign up for a 14-day free trial and try it for yourself.
If you have more questions, you can also request a demo. Alternatively, you can text or call us at (866) 450-4185 or use the chat at the bottom of your screen.
Try Our Text Recruiting Service for Free
Send your first message in minutes. Try SimpleTexting free for 14 days.
No credit card required