Creative SMS marketing campaigns can inspire, provoke thought, bring joy, induce awe, and bring up so many other emotions.
Embracing creativity in your SMS marketing campaigns can help you stand out among brand text messages, remain memorable after reading, and stay top of mind when your audience is ready to take action.
Here's a list of 30 creative SMS marketing examples to inspire your next text marketing message:
Include images
Add a video or animation
Sprinkle in emojis
Show your brand personality
Send a welcome confirmation
Give sale notifications
Advertise holiday promos
Tease mystery flash sales
Create some urgency
Mention a free gift (but wait, there's more)
Say happy birthday
Celebrate an anniversary
Follow up with a sale confirmation
Text personalized upsells
Save an abandoned cart
Use SMS for re-engagement
Gather referrals
Collect reviews
Send daily devotionals or tips
Text a quick newsletter
Boost event reminders
Send surveys and polls
Encourage subscribers to text to vote
Run contests
Hold an ask me anything (AMA)
Foster interaction
Implement segmentation
Show customer appreciation
Host a loyalty program
Reward your exclusive club or VIPs
Let's dive into more detail. 👇
1. Include Images
Cat litter brand PrettyLitter, as the name suggests, adds visual flair to their SMS marketing campaigns with images.
I love that this image shows not only the product but the company's branding (and customer base) as well. It's a good visual incentive to take advantage of the sale they're advertising.
Texts like these work more often than not because texts with images generate a higher click-through rate (CTR).
2. Add a Video or Animation
It's no surprise that popular retailer DragQueenMerch knows how to put on a show in their messages, including animated images.
Although it's not obvious from the image above, the graphic dances back and forth, making it impossible to miss the main message of the text. It's also just a fun message to look at, and—spoiler alert—it made me click the link.
3. Sprinkle in Emojis
The haircare experts at Vegamour do visually interesting SMS messages very well, even when the visuals are as simple as an emoji.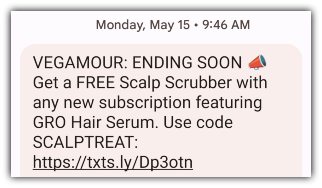 I personally love seeing brands use emojis in their messages to show a less formal, more fun tone (especially where shoppers in younger demographics are concerned). There's also the added benefit, like the points above, of making your message a bit more eye-catching.
4. Show Your Brand Personality
On that note, if your brand has a unique, fun voice, lean into it in your messages. Hair removal brand Nood is legendary for its sassy marketing, and it shows in every text.
Although their products are a bit high-budget for an impulse buy, I open every text just to see what they say.
More than the engagement rate, that friendly, highly individual tone makes me unshakably loyal to Nood as a brand.
5. Send a Welcome Confirmation
There's no better way to start off a texting relationship with your subscribers than a prompt, well written welcome confirmation message.
This example from restaurant chain Papa John's includes all the necessary compliance information along with the kinds of messages contacts can expect to receive.
Does it work? It absolutely does. A UK branch of Papa John's increased their sales by 33% using SMS marketing.
6. Give Sale Notifications
Of course, if you want your subscribers to take advantage of your sales and discounts, they're going to need to know that those sales are happening.
1-800 Contacts stands out among other brands that use SMS because they address a common pain point of glasses-wearers immediately before announcing their sale.
7. Advertise Holiday Promos
Holidays are a prime opportunity for SMS marketing strategies. Send out your best deals a few days ahead of the specific holiday (or more if it's a big one like Christmas).
Vegamour ran a Mother's Day special recently with a special code. Notice how this message highlights the benefits for both the buyer and their mom in just a few characters.
8. Tease Mystery Flash Sales
I may be biased, but I think FabFitFun is the epitome of excellent product marketing, and this example is one of many reasons.
FabFitFun thrives on deadlines in their marketing, and because of this fact, I (a devotee of the brand) rush to the website every time they mention a flash sale.
Bonus points for the fact that they detail some of the offerings in the flash sale.
9. Create Some Urgency
On the same note, nothing motivates subscribers like a little FOMO.
Salomon is a sports equipment company that creates urgency by highlighting its sale deadlines to text subscribers. The thing that stands out to me about this example is that they explicitly point out the fact that products will be back to full price the next day.
Texts are the ideal way to announce your flash sale because they get seen faster (90% get read within 3 minutes) and more often than other forms like email.
Side note: While researching flash sale texts, I found one hilarious example of a man who received a sale notification from his favorite soap retailer and promptly bought nearly $60 of product on impulse so, anecdotally, flash sale texts work.
10. Mention a Free Gift (But Wait, There's More)
Tempt your text contacts to jump on sales or special occasions with a little extra incentive in the form of a free gift. Among the brands I personally subscribe to, apparel brand Aerie is king.
Aerie promotes its best deals to Real Rewards subscribers with the promise of a free, seasonally appropriate, gift. And that's the best part about this example—Aerie doesn't just offer a free gift, they offer a gift that buyers might be eager to have as winter comes on.
Studies actually show that free gift promotions both increase the likelihood of selling more of the "main" product after the promotion ends and reduce return rates, making them a solid long-term strategy for brands.
11. Say Happy Birthday
SMS marketing is about more than making sales or seeing results. If you want your SMS strategy to make a sustainable, significant positive impact, you're going to need to develop actual relationships with your contacts. One way to do that is to reach out with a personal "happy birthday" message.
Although it isn't a retailer, The National Marrow Donor Program is a nonprofit that helps match bone marrow donors with patients who need marrow.
I loved this example because it's one of the few times I've gotten a text from a major organization when they didn't ask me for anything. They were genuinely just interested in checking in and wishing me a happy birthday.
That kind of goodwill will help your contacts build positive associations with your brand and boost your retention rates.
12. Celebrate an Anniversary
On the same note, take time to recognize and appreciate the time your customers have spent patronizing your business. This is yet another step to strong, lasting customer relationships.
My cleaning service, for example, sent me this text around the end of the first year using their services. Guess what? I continue to use them to this day. Enough said.
13. Follow up With a Sale Confirmation
It's always best practice to send out a purchase confirmation text when a customer completes their sale. Jewelry brand Mint & Lily sends one out every time I snag a new necklace (which is way too often).
I like this particular format because it includes everything I need to know to track my order if need be. Texts like these help keep your customers comfortable and informed about their order status.
14. Text Personalized Upsells
Upsells are a great way to keep up the momentum from past purchases and generate more sales, but they're much more successful when personalized.
In this example, Salomon used a purchase I'd already made to recommend a related product I'd be likely to buy.
Upselling and cross-selling can be incredibly valuable to your brand, increasing revenues by up to 43% and boosting customer retention rates. The personalization aspect increases the likelihood that the customer will engage with your message and also helps them feel valued.
15. Save an Abandoned Cart
Abandoned carts can be frustrating, but they don't have to squash your sales. If you notice that a contact has left their items in the cart without finishing checkout, send them a friendly reminder to come back and snag their items.
Xero Shoes uses this strategy to recover abandoned carts, with the added bonus of creating some urgency with a reminder that the items won't be held forever.
The numbers show that click-through rates on cart abandonment recovery texts hover around 36% as opposed to 3.2% for email, so it's always worth following up to save the sale.
16. Use SMS for Re-Engagement
Like our earlier point about abandoned carts, texts are a good tool for reopening conversations that have lapsed.
I won't lie to you, I became a Petco devotee recently, but as soon as I got this text from Happy Dogs I replied and set an appointment.
That's partly because they took the time to reach out and partly because I knew I could get an appointment slot with them based on the text they sent.
This works mostly as a way to keep your brand at the front of your subscribers' minds when your interactions with them may have dropped off.
17. Gather Referrals
Word of mouth is powerful, so after a purchase or service, ask your customers to recommend you to their people.
XFinity gently encourages referrals after customer service interactions. This is a good example because it's gentle, rather than pushy.
If your customers are a fan of your brand, they'll usually be happy to refer friends to you, but they generally won't think of doing so unless you ask.
18. Collect Reviews
Reviews are a must-have for your business, literally. Data shows that reviews influence 90% of your customers more than sales pitches do. 
Fargo Moorhead Chiropractic gathers its reviews with a short, sweet text asking for their contact's opinion. Notice that they also added a convenient link to make engaging with the message easy.
19. Send Daily Devotionals/Tips
If you happen to run a lifestyle brand or an organization that supports its audience's mental, spiritual, or emotional health, you may decide to send out daily encouragements, devotionals, or ideas.
This example comes from Minda Zetlin, an Inc.com columnist who sends out her best advice, food for thought, and activities on the daily.
The daily format ensures that you stay top of mind for your contacts and, if daily engagement is important for your brand's mission or the health of your clients, these texts go a long way toward reaching that goal.
It's a short attention-spanned world out there, and statistically, you'll see better results when texting out a short, sweet newsletter than if you sent a long email.
SimpleTexting user and social media coach Sydney McDonald texts out a daily roundup of TikTok trends for her clients. As you can see here, these texts are clear, digestible, and creatively formatted.
But does it work? Sydney would say yes. These texts bring her more than $4,000/month.
21. Boost Event Reminders
Want a packed house at your next event? Make sure the details don't slip your invitees' minds with an easy text reminder.
While this isn't necessarily a real-life example from a brand, it's still an ideal template for your upcoming event reminders.
Texts like these help draw attention to your event and encourage people to take action and attend.
22. Send Surveys and Polls
If you want to know what your customers want to see from your brand, the best policy is simply to ask.
As in this example from LV USA, just let them know that you'd like their thoughts and give them an easy way to give you feedback.
This text is particularly useful because it ties into the time of year, hammering home the idea that there's a purpose to the text itself (which will boost engagement).
23. Encourage Subscribers to Text to Vote
Text to vote is an even easier, even shorter way to get opinions on everything from your next product drop to the event you just ran and beyond.
In a text-to-vote format, you'll send out a question and a series of multiple-choice answers. All contacts will have to do is reply with the letter corresponding to their answer.
It's a win for everyone. You get valuable customer opinions to guide you, and your customers get to feel a sense of control over their relationship with your brand.
24. Run Contests
Who doesn't like to win stuff? Run contests entirely through SMS to drum up interest in your brand and products and incentivize customers to get more involved.
Xero Shoes recently ran a contest of their own. Note the way they've phrased this. In order to get your chance to win, you have to go to the website where you'll be shown the other products on offer.
That's a great way to get products in front of customers' eyes while giving them a strong reason to stay tuned to your texts.
25. Hold an Ask Me Anything (AMA)
If helping customers get to know your brand or deepening their knowledge of a specific topic is your goal, an AMA session is a great idea.
Instead of posting their questions to a social media board or webpage, encourage your audience to text in their questions and send your answers back to them directly.
This will help your audience connect to you as a brand and a person, making them more invested and more likely to stick around.
26. Foster Interaction
Despite the fact that SMS marketing campaigns are usually mass texts that aren't meant for just one person, the best SMS marketers put some of their focus on fostering great individual interactions.
My local Petco, for instance, got right back to me when my car broke down on short notice.
The empathy really comes across here, and the fact that they were gracious and prompt helped bring me back the next time the dogs needed a bath.
27. Implement Segmentation
We talked a little about personalization before, and texts like the ones below are an excellent start to customer segmentation based on preferences and activities.
Salomon asked the contact to list their favorite hobby and, armed with that information, they can now send out offers related to each subscriber's interests rather than generic content.
I particularly love the fact that Salomon was clear about how they'll be using that information in the future.
28. Show Customer Appreciation
In the name of fostering good customer relationships, don't forget to just send a sweet thank-you text every so often (and a coupon, if the mood strikes).
Clothing company CHNGE sent me this sweet note a week or so back, and while I didn't buy myself anything, I absolutely did follow the link to go and browse for a while.
Customer appreciation texts are a high value, low effort way to keep customers invested in and connected to your brand.
29. Host a Loyalty Program
Got extra perks for longtime customers? Sending members their discounts and extras through text ensures that they can easily access them.
This is the approach Aerie takes, which means I'm never far from my discounts whenever I want them.
Consumers spend 67% more when they're part of a loyalty program, so send the perks of your program straight to their text inbox for a little added exclusivity.
30. Reward Your Exclusive Club/VIPs
Following the same logic line, keep the exclusive factor of your text list high by making it your primary channel for VIP member perks.
This is something DragQueenMerch does very well. They make it clear that text subscribers get unique, tempting perks not available to their other customers.
And given that 78% of consumers report that loyalty programs help motivate them to do business with a specific brand, it pays to offer those few extra discounts, gifts, or opportunities.
Creative SMS Marketing FAQs
You're almost ready to start sending. Check out these common questions and answers to set you off on the right foot.