SMS Keywords
One of the quickest and easiest ways to collect phone numbers and grow your contact list.
Pairing Keywords With Autoresponders
When you create an SMS keyword with SimpleTexting, you'll also get the opportunity to write an autoresponse with it. Here's a breakdown of both the keyword and the autoresponse: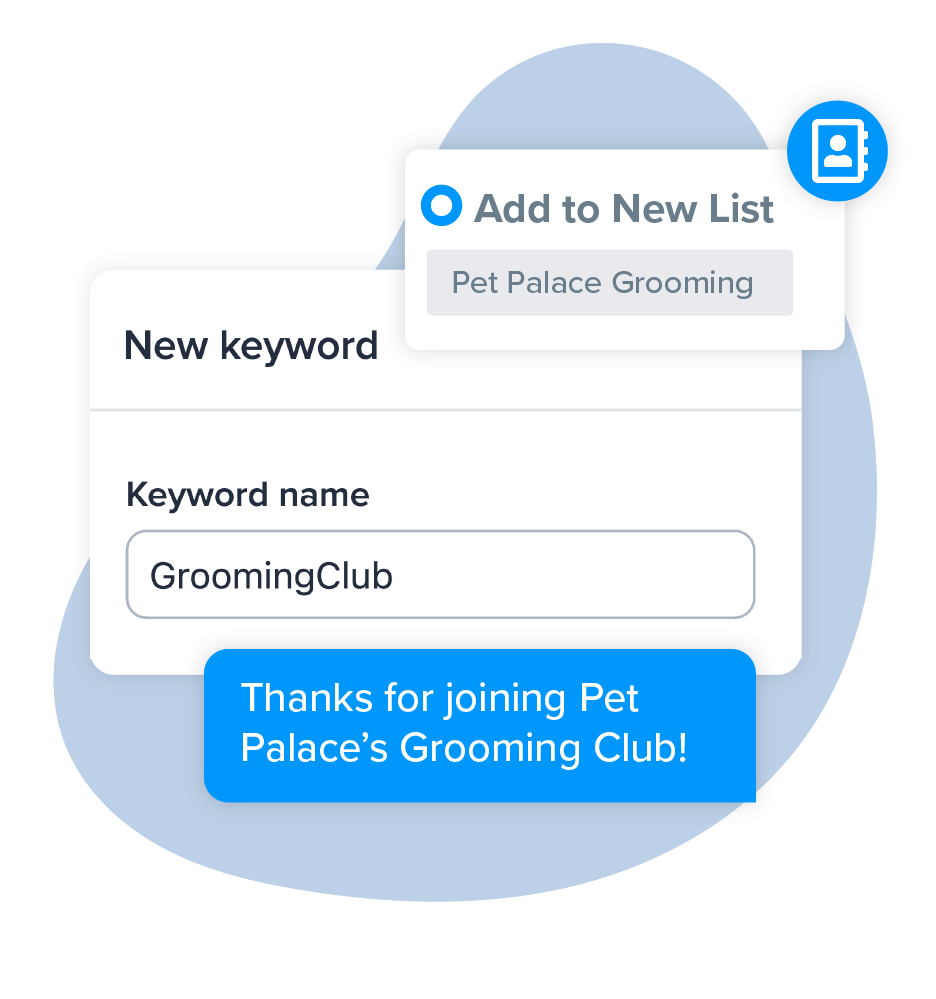 What Is an SMS Keyword?
An SMS keyword is a word or phrase that can text to your number to sign up for future text messages. Because you can create multiple keywords in your SimpleTexting account at no additional cost, you can build different contact lists by interests. For example, a pet store could create a
text-to-join
keyword for their grooming department or for pet types.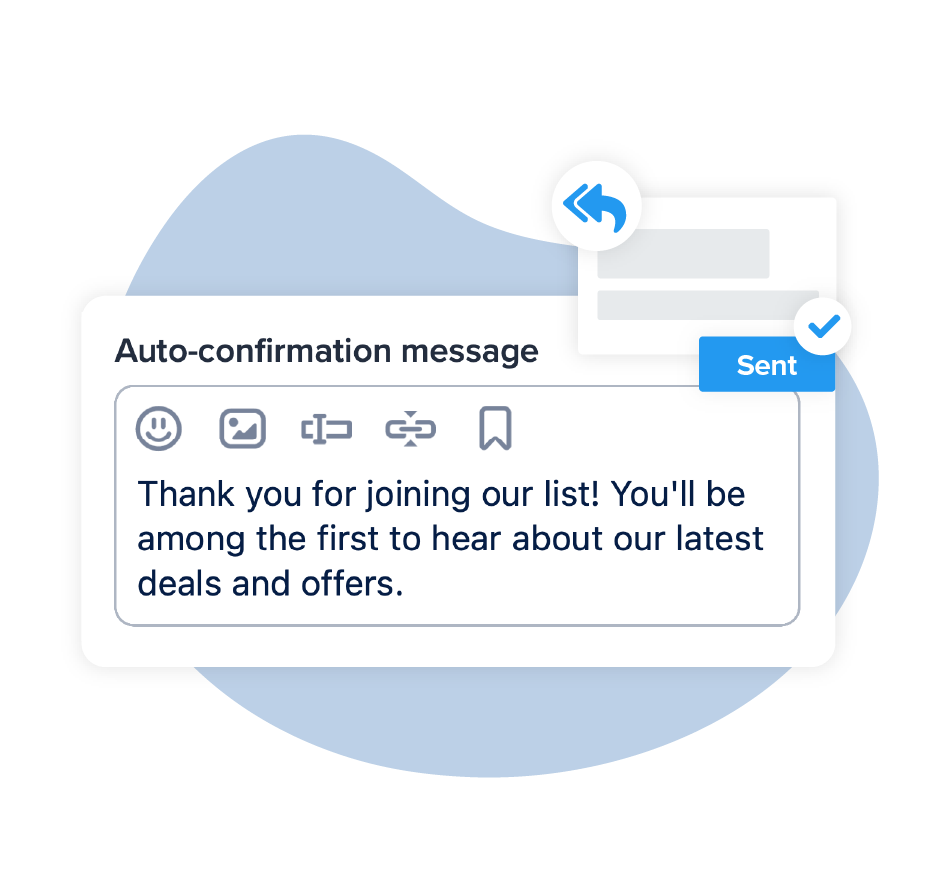 What Is an Autoresponder?
An autoresponse is a followup message that gets sent to a contact after they've texted the keyword to your number. This
automated text message
is typically used to confirm that someone's subscribed to future text messages and welcome them. Some businesses even offer an incentive for joining. Here's an example of an autoresponse for a
restaurant text marketing
program.
"Keywords make it easy to engage with our audience while we're top-of-mind for them, instead of sending them an email later on."
What Number Can I Use For SMS Keyword Campaigns?
Keywords work well with the following number types:
Toll Free Number
These are 10-digit phone numbers that begin with a three-digit toll-free code (800, 888, 877, 866, 855, 844, or 833). We can text-enable and help you
verify
an existing toll-free number your customers are familiar with.
Vanity toll-free numbers
This is a toll-free telephone number that, after the three-digit code, spells a name, word, or acronym. For example, 1-800-FLOWERS or 1-888-NEW-CARS.
Registered Local numbers
These are standard 10-digit numbers with an area code local to your business. Yes, just like your landline or VoIP number. If you already have one that you'd like to use, we can help you
register
and text-enable it!
Dedicated Short Code
A short code is an abbreviated phone number that is 5 or 6 digits in length.
Short codes
are designed for instances when a business or organization needs to send or receive a high volume of text messages in a short amount of time.
Send Your First Message in Minutes
Get everything you need to engage individually with customers, or text thousands at once. Sign up for a free 14-day trial today to see SimpleTexting in action.
How You Can Use SMS Keywords
Organizations use keywords in many different ways. We see businesses:
SMS Keyword Examples
Here are some other ways our customers use keywords:
Text to Vote Surveys to get feedback: "Text GATORADE to (833) 222-3059 to vote for our new flavor."
Text to Win sweepstakes. "Text BOOKS to (833) 222-3059 for the chance to win free books for your classroom!"
Triggers, also known as sub-keywords, allow customers to receive updates, replies to questions, and information about your business: "Text HOURS to 35352 to receive our open hours for the week."
How to Set Up an SMS Keyword Campaign
We'll walk you through setting up your first keyword campaign step by step. Check out this article or the video below.
Go to Keywords on the left hand side of your account and click Create first keyword.
Assign the keyword to an existing list of contacts, or create a new list just for people who sign up for that specific keyword.
Type out your auto confirmation message.
Set your message frequency and any triggers you'd like.
Adjust your additional parameters.
Click Save keyword.
Note:
if you ever need to edit your keyword, just click the three dots at the end of the row and choose Edit.
After You Create Your SMS Keyword
You've set up your first keyword. Now there are a few next steps to follow for maximum keyword success.
Be sure you have express consent from your contacts before you text them.
Promote your keyword. You can advertise your keyword in your storefront, on social media, on any intake paperwork you have—you name it. The only rule is to feature your keyword anywhere your audience will see it.
Keep track of how many people are engaging with the keyword from your Keywords page–just look for the "Engagement" column next to your keyword.