More Guides
The Guide to Mass Text Messaging for Schools
Everything you need to know about school SMS software and links to extra resources on specific topics.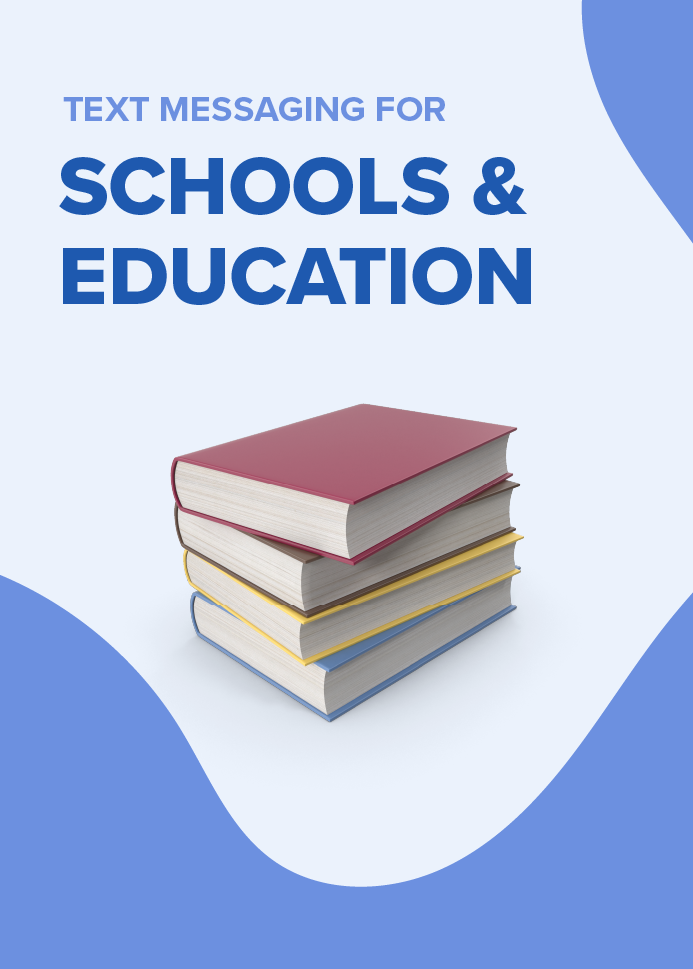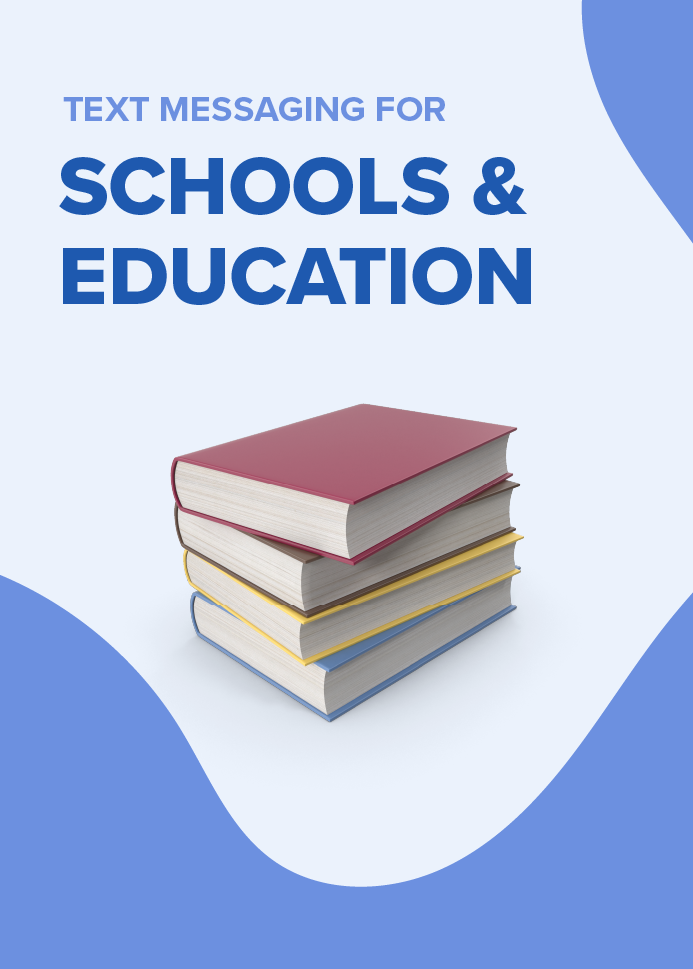 Good communication between your school and its community is more necessary than ever. Using texting, you can take advantage of the 98% open rates of SMS. Here's the ultimate guide for how to use school SMS software.
How Schools Use Mass Text Messaging
Schools have a range of communication challenges––from attracting new students to engaging with existing ones and their families.
On top of this, students, parents, and staff are all busy. So it can be difficult to get important information in front of them.
That's where school SMS messages come into play. Schools ranging from Pre-K to colleges are using SimpleTexting to reach their audience and:
Set up an emergency text alert system
Send information about financial aid programs
Remind students or parents about closures, parent teacher meetings, and other events
Set up a hotline where students or parents can ask questions
Offer students and parents helpful resources
And more!
We'll cover these use cases in more detail. But first, here's why texting is so effective.
Try Our School Text System
Send your first message in minutes. Try SimpleTexting free for 14 days.
No credit card required
The Benefits of a School Text System
There's never been more ways to communicate. You can call, send letters and emails, and post on social media.
The problem with all of these channels as you probably already know is that they can be disjointed and unreliable.
This means you can't reach the people you need to reach–when you need to reach them. And your parents and students can't get the information they need when they need it.
Everyone Checks Their Phones
One of the reasons that SMS is so effective is that students, parents, and teachers are never far from their phones.
Americans check their phone on average once every 12 minutes – burying their heads in their phones 80 times a day.
It explains the 98% open rate of texts and the fact that 90% are read within three minutes. It's why so many schools use a text message service to contact parents and students when there's an emergency.
Examples of How Educators Use School SMS Software

No Extra Apps are Necessary
A lot of school messaging services require people to download an app. That's only something people do begrudgingly.
Google even found that "download our app" on a website caused 69% of people to immediately leave. On the other hand, everyone has access to a mobile phone and knows how to text.
It's the Channel Your Students Prefer
It's also helpful that it's a channel people prefer. That's especially true for Gen Z and today's teenagers who prefer messaging and texting to other methods of communication. One study even found:
86% of students found texts helped them to complete a task they hadn't yet done
85% of students reported that text messages informed them about something they hadn't realized they needed to do
There's no other channel that can guarantee the same level of engagement, making it invaluable for your school's communication strategy.
Learn how the largest university in the Carolinas used texting as a key tool in their first-year orientation programming. READ MORE
How Text Messaging for Schools Works
There are two ways schools use texting:
To send one way updates, alerts, or information
To engage in two-way communication with their community, most commonly through a text hotline
We'll outline how both work and provide links to other useful resources where you can learn more about them.
How Mass Text Messaging for Schools Works
If you want to start sending your community texts you'll need a list of phone numbers. There are many ways that you can build your SMS audience. (You can also upload an existing list by following these steps.)
Arguably the quickest way to do it is by advertising an SMS keyword everywhere you can. A keyword is a word or phrase students, parents, or staff can text to your number to sign up for messages.
Let's say you want parents to receive a reminder about upcoming parent-teacher meetings and other events. Your keyword could be "PARENT." When a parent texts it to your phone number they'll receive an automatic response thanking them for subscribing. Here's an example.
Thanks for signing up. We'll send you relevant text messages about events at the school with all the details you need. In the meantime, check out our schedule here: txt.st/TZIADW
Schools typically advertise these keywords on their website, on social media pages, and even on posters at the school.
A lot of schools also collect phone numbers through paper forms. Your paper form should have a checkbox that people need to tick off to sign up for messages.
It's important to never send a message to someone who hasn't checked the box and store your completed forms in a safe place for reference. (You can learn more about SMS compliance here.)
Once you've built a list of subscribers, you can now send them:
Emergency notifications
Important reminders
Class cancellations
School events
Here's how easy we make it to send messages like this.
We've also seen schools send information about sporting events, communicate with their staff, and more.
Have Two-Way Conversations With Students and Parents
Another way to use texting is to allow people to text your number with questions.
For example, prospective students often tons of questions for admissions teams. What SAT score do they likely need? Is there a marketing major? With a college SMS service, your admissions team can answer these questions quickly.
You can use our SMS to host networking events, answer parents questions, and even set up an SMS bully hotline.
The simplest way to set this up is to advertise your text-enabled phone number where you typically field questions. From there, you can organize and respond to these incoming messages. Here's how two-way texting works.
School SMS Examples
Once you've chosen a school texting system, you might suddenly face writer's block. So, to preempt that, here are nine school SMS examples to help you get started.
Attention students: Class has been canceled today due to the snow emergency. Enjoy the long weekend and stay safe!
The University is closed due to the approaching storm. Please shelter in place and stay safe.
Attention all students: Today is the last day to order yearbooks. Visit the Student Center after school to order your copy.
Support our girls soccer team as they compete for the State Championship! This Saturday at 2pm on the main field.
Report cards will be delivered during last period today, please sign a copy and have your child return it by Monday!
View some resources to help discuss bullying with your child at txt.st/TZIADW, and reply MORE to get connected with a counselor.
Homework due 11/29: Download exam 2 practice sheet at txt.st/TZIADW and email to Miss.Tocci by 11:59 PM.
Attention Eagles: Practice has been moved to field A4. See you there!
Drew, applications are officially open for the start of next year at Abbey College. Looking forward to reviewing your application. As a reminder, they're due on the 30/11/2020. Good luck! txt.st/TZIADW
Class Cancellation
Emergency Text Alerts
Important Reminders
School Events
Grade Notifications
Bullying Hotline
Homework Assignments
Sports Team Communication
To Fill Open Positions
In general, we recommend the following when texting:
Keep it short: Keeping a message as brief as possible allows the recipient to scan it and know exactly what you're referring to or what action you want them to take.
Aim for clarity: While text messages should be short, they shouldn't be cryptic. Ensure that the text will make sense to the recipient.
Make it personal: Use the recipient's name, location, or other information such as their child's grade to know that the message is for them.
Learn More About School SMS Messages

How to Choose the Best School Text Service
At this point, we should state the obvious: we're a school SMS software. We've worked with thousands of schools to help them text with their students, parents, and staff but we're not going to do any hard selling here.
We encourage you to do your research, read plenty of reviews on third-party sites, and sign up for a free trial.
If you're only starting to research school text messaging services, here are some of the boxes you'll want to tick when choosing one:
A lot of text messaging platforms allow you to either text 1-on-1 with customers or send bulk texts. You want a platform like SimpleTexting that will enable you to both. It gives you the flexibility to do everything from send emergency notifications to set up an SMS hotline.
Do you need to integrate with other platforms or send automated text messages? If so, you'll want a service that offers multiple SMS integrations.
Schools need to be careful of services that limit the number of keywords and contacts they can have. (We don't.)
Schools need a text messaging service that has a mobile app so that you don't need to be in front of a computer to manage texts.
The final consideration is the cost of a school texting system. The per-message price is a huge factor. It's also worth understanding if credits rollover from one month to the next.
Here's the Next Step
That's it—everything you need to know about school texting one straightforward guide. The next step is to sign up for a 14-day free trial and try it for yourself.
If you have more questions, you can also request a demo. Alternatively, you can text or call us at (866) 450-4185 or use the chat at the bottom of your screen.
Try Our School SMS Service for Free
Send your first message in minutes. Try SimpleTexting free for 14 days.
No credit card required