Engage your community through SMS
Get your vital messages seen, every time. SimpleTexting makes it easy to encourage community participation and education.
Quick onboarding & setup
Easy to add contact lists
No long-term commitments
Why the public sector prefers SimpleTexting
Send emergency alerts and important communications to hundreds or thousands of subscribers, in just a few clicks.
Automate due date notices and meeting reminders so you always send the right message at the right time. This frees you up to focus on the important work you do for your city and state each day.
Texting isn't just for your community members. Share internal job openings or volunteer needs via internal group texts.
With 98% open rates, texting ensures the entire community is within your reach. Have 1-on-1 conversations through our inbox or set up unique keywords to have more personalized communications.
SimpleTexting is a fitting name!
There are two things that I like most about this software. The first thing I liked is that it was very easy to setup and get started. I didn't need to work with the API to get a simple signup form on my site. The second thing I liked most is the customer support via online chat, which is extremely helpful.
Monique W
Webmaster
It was easy to use and I had great help from the team.
With so many texting interfaces in the market, SimpleTexting not only gives you an innovative tool to manage your campaigns but also the advantage of outstanding customer support. They are available for any question or inquiry almost 24/7. They are simply great!
Annabelle B
Marketing Manager
Easy, reliable, transparent text messaging service.
The customer service with SimpleTexting is really good. Via chat, in person, or on the phone, they talked us through even the simplest questions. I also like that it's a manageable service for our size and use needs.
Verified G2 User
Museums and Institutions
Working to get statewide usage for similar purposes
The ease of sending out multiple text messages in a campaign and receiving responses within minutes. This makes it much easier to stay in contact with our program participants and assist them in problem solving.
Michala Z
Court Case Manager
It doesn't get any easier than this
With SimpleTexting you can easily grow a contact list, personalize your texts, and track performance.
Easily add contacts to start texting right away
Don't let your important message get lost in spam folders or go unread. With SimpleTexting, you can conveniently reach an entire community in seconds.
Grow your subscriber list online
Use website sign-up forms to encourage community members to join your contact list. It only takes a few minutes to implement and customize your text subscription form.
Share the workload, seamlessly
SimpleTexting allows you to add multiple team members quicker message response times. And when other departments or locations need their own unique number, it's easy to create.
Pricing plans that make sense
Unlimited contacts
Free Incoming SMS messages
Support 7 days per week
No monthly contracts
Unlimited keywords
Rollover credits
No setup fees
SMS and MMS messaging
API access
Alabama's SNAP-Ed improves people's lives with texting
4,000+
students and families subscribed for nutritional education
---
96%
enjoyed receiving the messages
---
95%
used the tips provided to improve the health of their families
"It's been a big hit since it began. We could see right off the bat that it was something that parents of third graders were willing to do…to just be involved in their kid's nutrition education through text messaging."
We've helped thousands of public sector organizations start texting
Over the past decade, we've worked with thousands of schools, libraries and government agencies. Here are a few of their stories.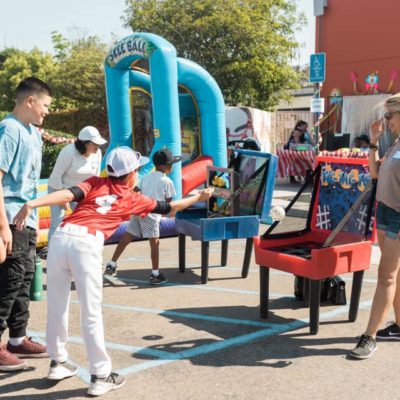 Nonprofit
Learn how Rebecca and her team at Allies For Every Child have signed up nearly 400 families to receive text message event updates regularly.
Read their success story
Nonprofit
People rarely ignore a text. Here's how the International Brotherhood of Electrical Workers used that fact to revamp their event reminder system.
Read their success story
Not sure which text marketing tactics will work for YOUR business?
Build the perfect text marketing strategy tailored to your needs and budget.
Published: August 25th 2023