Year over year mobile messaging increases in popularity for all kinds of businesses. Out of the 400 companies we surveyed, 61% of businesses and marketers shared plans to increase their text marketing budgets this year.
What do each of these organizations have in common?
They all utilize mobile messaging platforms to communicate with their audience.
If you're new to text marketing or interested in learning more about mobile communications you've come to the right place! Here's everything you need to know about mobile messaging platforms at a glance.
How Do Mobile Messaging Platforms Work?
Mobile messaging platforms are text-enabled online inboxes. They give businesses and organizations the power to text back and forth with customers without the need for a physical cellphone.
These platforms exist to provide mobile message marketing services, also known as text marketing.
To the customer, texts from messaging platforms appear like any other message from a friend or family member. For the businesses sending the messages, however, it looks a little more like this: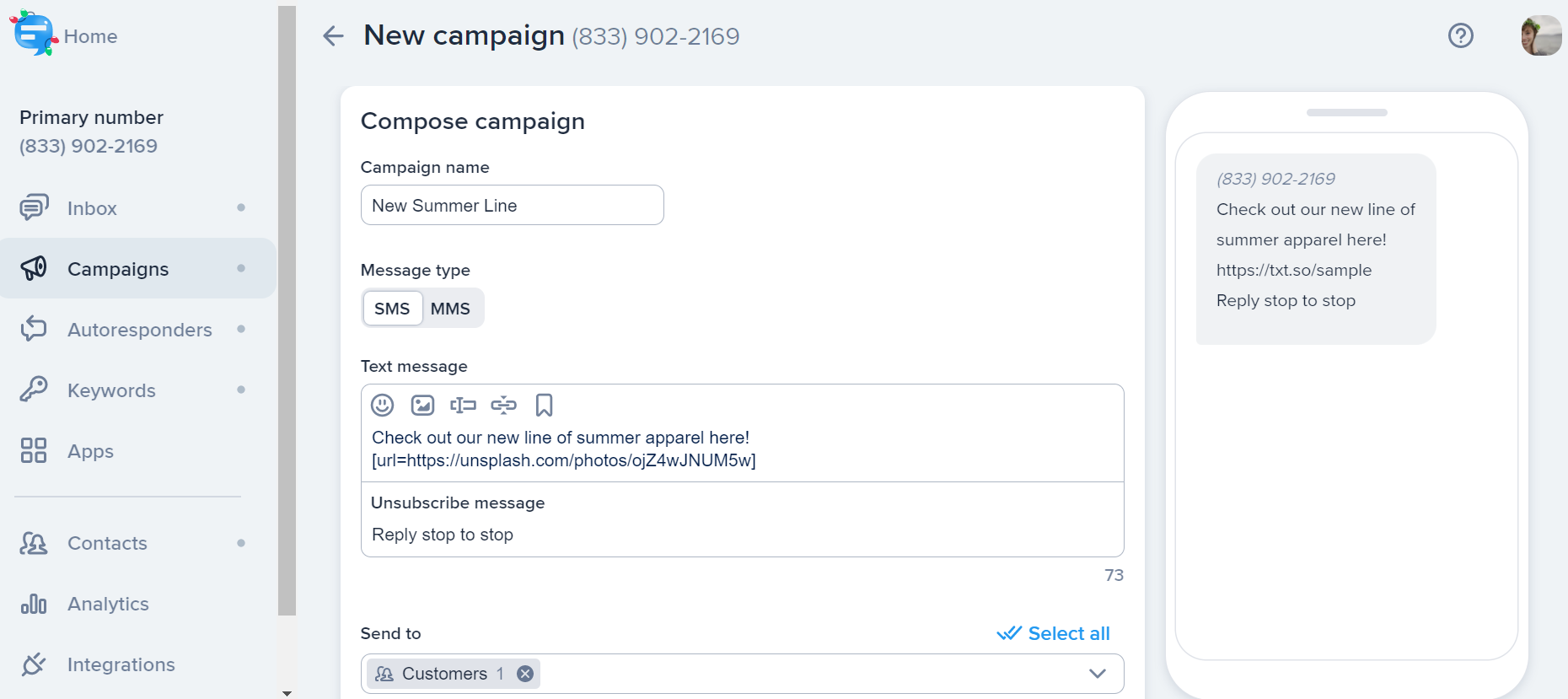 What Do Mobile Messaging Platforms Do?
You may be wondering, why would a business need this? Why not just get a cell phone and text customers from there?
The short answer—there are issues and limitations with traditional cell phones that messaging platforms solve.
For example, mobile messaging platforms allow businesses to:
Text one message to large numbers of people at once
Allow multiple team members to access the platform at the same time from anywhere in the world at any given time
Automatically track analytics and gather data on message performance
Schedule and automate messages to send at the exact time they need them to
Collect and store customer information that helps them send more specific, personalized messages
Remain professional and keep their personal phone just that, personal
Businesses use mobile messaging platforms for a lot of reasons: sales, customer support, scheduling, alerts, you name it.
If you want to learn more about these use cases, check out our industry guides for some examples and deeper explanations!
The Best Mobile Messaging Platforms Around
Mobile phones can do so much more than just send and receive texts or calls. These nine mobile messaging platforms showcase some of the best alternatives for communicating with friends, family, customers, and more—all via mobile.
1. Facebook Messenger
Facebook has around 1.3 billion active users making it one of the strongest global, digital communities. Facebook Messenger is an extension built into Facebook that allows for instant messaging between your friends as well as new folks outside your network.
✅Pros:
Easily integrates with other business solutions
Cost-effective
User-friendly thanks to Facebook's popularity
🚫Cons:
Not an ideal system for group messages without reply all
Photo Credit: TechCrunch
2. WhatsApp
The second most popular messaging system is WhatsApp. WhatsApp is a program that gives you the ability to send text messages, make VoIP calls, and share files from your phone or computer. Since the messages are sent over the internet to another individual with the app, you can easily text internationally without incurring long-distance charges.
✅Pros:
Global connection
Can create group messages of up to 250 people
Free to download
🚫Cons:
Doesn't support images over 100 MB
Voice calls are limited in some countries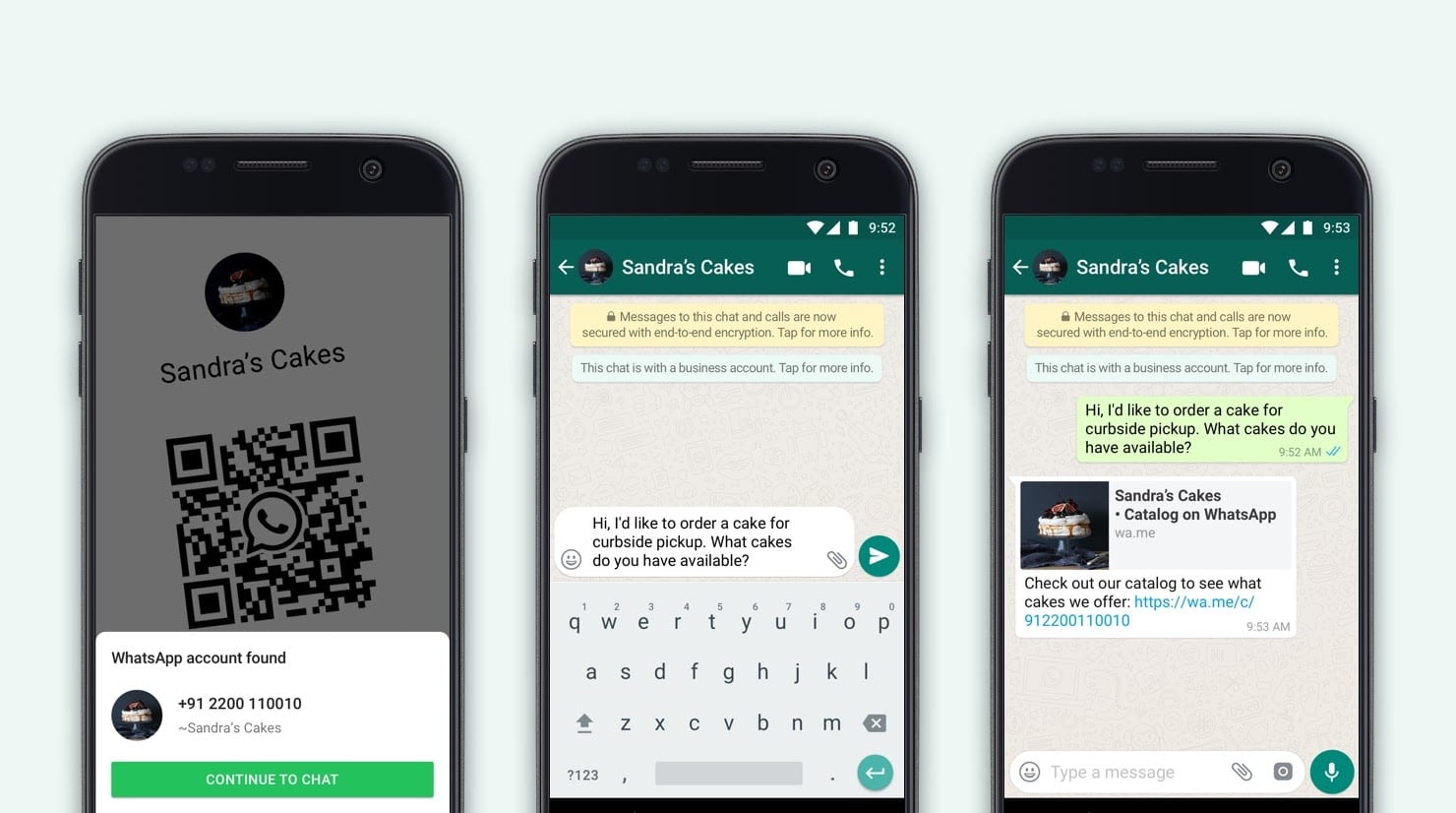 3. SimpleTexting
SimpleTexting is the leading web-based platform for SMS marketing and business texting. Our software gives organizations the ability to send marketing campaigns, share important alerts, and provide 1-on-1 customer service using text messages.
When it comes to mobile messaging, SMS is still the most popular messaging channel. Thanks to our mobile app for iOS and Android, it's even possible to do it from your phone!
✅Pros:
Your entire team can jump in and access the platform under one account
One of the most sophisticated and compliant ways to mass message customers as if they were individual texts.
🚫Cons:
You can't message WhatsApp or Facebook via SimpleTexting
4. Viber
Very similar to WhatsApp, Viber is another free app that can make free calls, and send texts, pictures, and video messages to other "Vibers". It includes both group messaging and individual chat features.
✅Pros:
Supports transactions within the app
Allows for photos, videos, and GIFs
Unlimited group messaging
🚫Cons:
5. Snapchat
This free app's popularity blew up in 2011 and has now grown into a full-fledged media platform rich with original content. If you're unfamiliar, Snapchat is a popular messaging app that lets friends exchange pictures and videos (aka snaps) that "disappear" after they're opened.
✅Pros:
Fantastic for getting views on photos and videos
Easy to use
🚫Cons:
Photo Credit: Adweek
6. Twitter DMs
Twitter's 330 million users provide an excellent platform for messaging between customers and the 67% of businesses that have an account. The DM, or direct message, is an inbox associated with your Twitter profile where you can send and receive messages and photos from other Twitter accounts.
✅Pros:
Conversation threads are easily tracked for customer service issues
Free account
🚫Cons:
Limited to one-on-one conversations and group chats with reply all
Must have a Twitter account and monitor regularly to keep up with DMs
7. WeChat
WeChat is a Chinese multi-purpose messaging, social media, and mobile payment app developed in 2011. At 1.1 billion users, it's one of the largest mobile chat apps in the market.
✅Pros:
Built for both messaging and transactions
Large user-base
🚫Cons:
Users mainly located in China, not as popular in the U.S. market
Photo Credit: Forbes
8. LINE
Unlike its predecessors, LINE is an app built to facilitate only group chats between you and your friends around the world. Their LINE Out feature even lets you talk to anyone, even if they don't use the LINE app.
✅Pros:
Free domestic and international voice and video calls
🚫Cons:
Charges for calls to landlines
9. Google Hangouts
Known for being one of the most popular search engines in the world, Google introduced Hangouts to its business suite of features (alongside Gmail, google docs, and more) back in 2013. Hangouts brings conversations to life with photos, emojis, and even group video calls for free.
✅Pros:
Integrates with your Google account
Message friends anytime, even if they're offline
Facilitates group chats for up to 150 people
🚫Cons:
Voice and video calls only support up to 10 people
10. Voxer
Last up we have Voxer, a Walkie-Talkie messaging app with live voice. If you cherished your Nextel back in the 90s, this is the resurgence of your dreams. Deliver live voice messages that are instantly played through the recipient's phone speakers if the app is running, or stored as a recorded message like voicemail if it's not.
✅Pros:
Integrates with Dropbox
Leave notes in-app
🚫Cons:
Not all features are free
What to Look for in a Mobile Messaging Platform
Our organization, SimpleTexting, is one of a few top-tier messaging platforms with all the bells and whistles to text-enable your business.
What do we mean by bells and whistles?
We're referring to the three things you need to text-enable your business.
A text-enabled phone number. This could be a short code, a toll-free number, or a local number (just be sure to have any toll-free number you use verified and local numbers registered).
A way to send one message to hundreds or thousands of people at once. Like a group text message without the reply all feature!
A way to upload a list of contacts who have given you permission to text them. Or alternatively, tools to help you grow your contact list in a way that remains compliant with text marketing laws.
There are a few additional things you'll want to be sure your platform includes to make sure you're using a reputable service worth your money and time.
Two-Way Messaging: You want to ensure your platform allows you to send and receive messages. At SimpleTexting we take it a step further and ensure all incoming SMS messages are free 😊.
MMS: Make sure you find a service that can send text (SMS) messages and rich media such as photos and videos (MMS).
Defined Network Coverage: Be sure your platform is able to deliver messages to all major mobile carriers in the areas/countries you need them to.
For more ideas on what you want to see a mobile messaging platform offer, check out our full list of features.
Final Takeaways
Campaigns, compliance, MMS… it all may feel like a lot to take in if you're new to text marketing. So, we'll leave you off with a few of the most important takeaways
You can think of mobile messaging platforms like an online texting inbox for businesses.
Not all mobile messaging platforms are the same. Be sure to keep in mind what kind of texts you want to send before picking your platform.
Utilize a free trial to explore a mobile messaging platform for yourself! It's a risk-free way to see these concepts in action.