Whether it's a wedding, baby shower, birthday party, or networking social event, you won't have much of an event without invitations.
So why choose text messages to send your invites?
Mailing invitations and tracking responses can take more time than throwing an actual party.
Sending invitations over email is better, but they're at risk of ending up in a spam inbox or at the bottom of the unread list without ever being seen.
The point? Old-school invitations are a pain.
Enter texting. 74% of people check texts more than five times a day. Another 26.4% check texts 1-5 times a day or less. 77% of people reply to texts within 10 minutes or less.
That means text message invitations are much more likely to be seen and responded to than other communication methods.
I'll show you how to breeze through the invitation-sending process with SMS.
TABLE OF CONTENTS
What do we mean by text message invitations?
You can keep text message invitations simple, like this real-life example from Save the Boundary Waters:
This is a good example because it's straightforward with all the info you need to attend:
Who: A personal touch with a first name and the organization name
What: An update on the campaign to save the Boundary Waters from pollution
Where: The Moorhead Library (a local would know where this is)
When: 5:30pm on Monday (including the actual date can be helpful, too)
Call to action: A simple question prompts a reply to know who will join them (literally writing that the receiver can reply to the text may be helpful as well)
Another type of invitation sending an actual calendar link via text message:
When someone clicks the link, they see their phone wants to open a calendar file (at least on iPhone):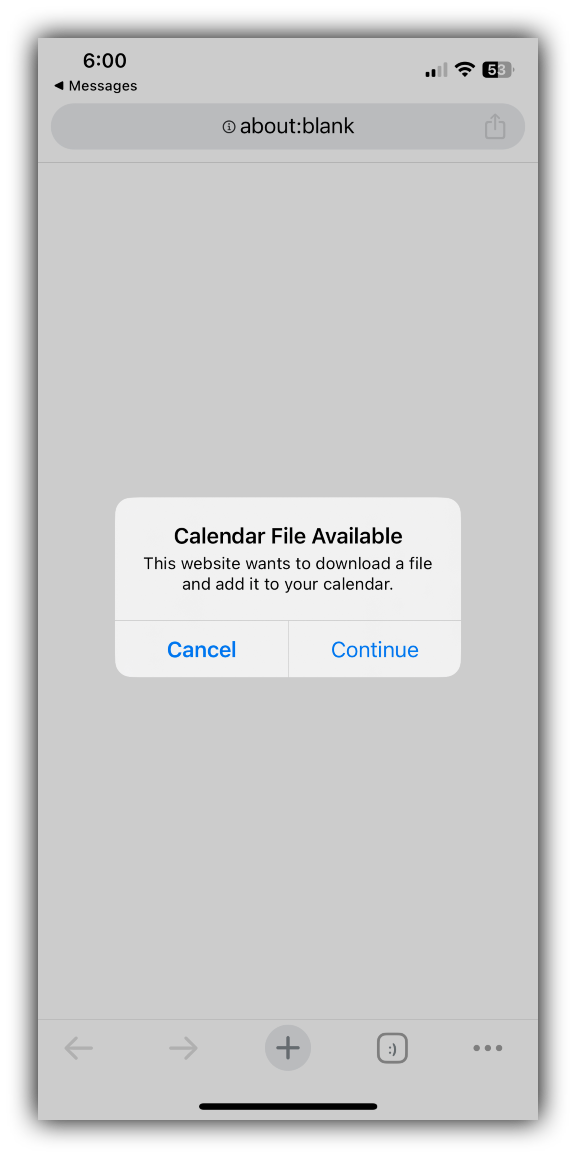 Lastly, your invitee will see that calendar file open in their default calendar application on their phone:
In this blog post, you'll learn how to send a simple invitation via text message from start to finish.
How to send text message invitations
Still not sure about the process of sending out text invitations? Wait until you see how easy they are to set up with SimpleTexting.
SimpleTexting is a mass texting service that helps send text message invitations (among many other kinds of texts) to help you get attendance for your event, grow your business or organization, and engage your volunteers, employees, and customers.
1. Import your guest list
Whether you're only inviting your closest colleagues to your event, or need to send invites via text messages to thousands of attendees, our platform makes it easy to upload your contacts via a CSV or Excel spreadsheet.
Make sure you have express consent to text your guests, especially if you're sending an invite to more than just a few people.
Let's add your event guest list into SimpleTexting with a spreadsheet.
First, let's optimize your spreadsheet so the data imports nicely. Use row one to enter each of these as columns:
First Name
Last Name
Email
Phone
Birthday
Here's a spreadsheet template to get started.
Next, log into SimpleTexting and navigate to Contacts. Click the Add contacts button, drag and drop your event guest list spreadsheet, and name the list to which you wish you add the invitees.
Hit Next and follow the prompts. SimpleTexting will help you import your data and map the columns to custom fields in SimpleTexting.
Lastly, SimpleTexting will ensure everything is in compliance so you can send text message invitations with confidence.
2. Write your text message invitation or evite
Once you've uploaded the guests who will get your invitation, you're ready to write your message. Be sure to include details like the date, location, time, parking information, and anything else your guests should know.
John, thanks for being a loyal member! You're invited to the National Audubon Society picnic. It'll be at Debs Park, 4700 Griffin Ave. Meet in the center courtyard at 11 am.
In SimpleTexting, you'll write your evite text as a campaign. That's simply the term SMS services call a text message for business purposes.
Log into SimpleTexting, click Campaigns in the left menu, and hit the New button. Name your campaign, then write your invitation in the Text message field.
💡 Pro tip: You can leverage AI to write your invitation for you. Simply click Generate message and type in your who, what, where, when, and why. Then hit Generate a message and use one of the message suggestions.
3. Schedule your text message invitation
You can send your message right away or schedule it for a future date.
We recommend sending:
One text as soon as you have a set date for your event
A text reminder one week before the event
Another reminder the day before the event
That's the beauty of the digital invitation: You can send as many as you need without having to worry about spending tons of money on printing and postage.
How to request RSVPs by text message
Our texting service allows for two-way messaging, which means guests can respond to your invitations. This makes simplifying your planning and managing your attendance a breeze.
There are a few ways you can go about asking guests to RSVP. Here are three of my favorites.
1. Ask guests to reply to your text
If you're only inviting a handful of people, keep things simple by asking guests to reply to your invitation. Then just keep a running list of who has confirmed they'll be attending.
For fundraisers, conferences, or other events with more attendees, you may want to go with one of the options below.
TechNow: Don't forget to RSVP to our upcoming AI summit M 10/6. Reply to this text to let us know you're coming!
In SimpleTexting, you'll send the invitation as a Campaign. Then you'll use the Inbox to view and reply to those who respond.
2. Create a text-to-join keyword for your event or party
A keyword is a word or phrase that people can text to your number in order to sign up for updates about your event. You simply advertise to your audience to text that term to your phone number via posters, fliers, website, emails, social media, etc.
For example, if your business name is Home Smart, and you're throwing a launch party for your new product, you could create the keyword, "HSLAUNCH."
Anytime someone texts the keyword to your number, our platform will add them to a separate contact list.
Whenever you need a headcount, you can just log in to the platform and see who has texted in the keyword.
Set up your event's text-to-join keyword in SimpleTexting. Log into SimpleTexting, select Keywords from the left menu, type in your Keyword name and determine the list you wish those who text that keyword to enter (either Add to new list or Add to existing list).
Use AI Assist to write your Auto-confirmation message. Good confirmation text messages include:
The brand or organization name
The kinds of updates to expect
The frequency of how often you'll text
Opt out and data rates (SimpleTexting does this automatically for you)
3. Use data collection to request more details
You may be wondering, "But how will I know if my guests are bringing a plus-one?" I've got you covered.
Data collection lets you automatically ask guests who have RSVP'd using a keyword for additional details.
Find out their name, their plus-one's name, whether they're vegetarian, or anything else you may need to know.
We're excited you'll be joining us. Please reply with your first and last name.
Please reply with your plus-one's first and last name.
5 benefits of sending text message invitations
Still not convinced SMS invites are the way to go? Let's talk about some of the highlights of texting.
I've already mentioned the convenience and reliability factor, but here are some of the other biggest reasons to use texting for your invitations.
1. It's simple to track
When you send your invitations out via text message, you can easily keep track of how many you've sent, who has replied so far, and other important details (especially if you send a link to more information about the event, like speakers and parking information).
Platforms like ours can even keep your Analytics organized in one place so you can see who is and isn't engaging with your messages.
2. It's cost-effective
Ditch the expensive stationery and postage — sending out mass text invitations is a much smarter investment. With software like SimpleTexting, you can send hundreds of event text messages starting at $29/month.
3. It's fast and reliable
Texts won't get lost in the mail, and they can be pulled back up for reference with just a few clicks.
Plus, you can schedule reminder messages leading up to your event to ensure none of your attendees forget about your big day (and to make sure you don't forget to remind them).
4. It's personalized
A big misconception about text invites is that they're impersonal. That idea mostly comes from the overly general marketing texts many of us have received, and it couldn't be less true.
Using custom fields, you can make each text invitation unique by including first or last names (or any other details you know about your contacts) in your message. Send personalized invitations to all your guests with just a few clicks.
5. It's environmentally friendly
Paper invites are nice to hang on the fridge for a while, but eventually, they'll end up in a landfill. Send invitations by SMS to do your part in going paperless and saving the Earth.
12 sample text message invitations to events
It might be good to review successful text message invitation samples while you craft your own. Here are 16 examples of text message invitations for various events:
1. Invitation to a soft opening
The following is an example of an invitation for a grand opening of a retail establishment.
Lord's Food and Drink: 11/20 @ noon, we'll hold a soft opening party to welcome new customers to our business. In preparation for the grand opening, we would want to host a special evening for our most generous patrons. We'll have some refreshments and appetizers available. Reply to RSVP.
2. Invitation to a store's anniversary party
This is an example of an invitation to a party celebrating the opening of a grocery shop.
Family Foods: This weekend is our 25th anniversary, so we're throwing a celebration and encouraging community members to join us! Visit our store this Saturday 10am-6pm for free ice cream and take advantage of our discounts on fruit and vegetables.
3. Invitation to a networking function
An invitation to a business function may look like this:
FargoNetwork: We want to see you at the end-of-year citywide business networking event. Lunch is provided at the next networking event Monday 10 am-5 pm @ City Hall. If you want to attend, let us know by responding to this message.
4. Invite to a benefit for charity
A sample invitation to a charity event reads as follows:
TruHealth: Announcing the Over the Rainbow Grand Ball, which takes place on June 29 from 7-11pm. Silent auction, food, and dancing. Dress in your '50s finest. The entire amount will be donated to Community Help. Buy your tickets by May 30. [LINK]
5. Announcement of product release party
This example invites people to a product launch party:
Fable Toys: Let's celebrate! There will be an accessible product line debut by Fable Toys, and you're invited. Visit our shop at 4591 Telegraph Avenue on March 1 between the hours of 9AM-2PM to check out our brand-new selection! There's a chance you'll win a free toy.
6. Announcement of grand opening party for new location
Promoting a new storefront is demonstrated here; take note!
The formal launch of Fancy Footwear will take place on June 12 and is being hosted by its owner, Catherine Taylor. Drop by with a friend between 10-5 today to search for your new favorite pair of shoes.
7. Invitation to a job fair
To help you promote an event to attract job seekers, below is a sample that you may use as a guide:
You're invited to the Portsmouth South End Community Center's 65th annual hiring event! This is a great time to get a job, so keep an eye out for yourself, your loved ones, and your friends. This Saturday, from 10am-6pm at the center.
8. Invitation to a pop-up event
Here's a case in point that exemplifies how to attract attendees to a pop-up event or to any other entertainment event:
Definitely don't want to miss this!
CosMa: We're hosting a unique pop-up event at West Acres Mall to promote our cosmetics company. Come by our booth on Tuesday 9AM-12PM for exclusive discounts and a chance to win a $50 gift card.
9. Invitation to a reception
An invitation to a company event may look like this:
Help us celebrate the newest Carnegie Public Relations team member this Friday at 4pm. Our new CIO, Sarah Klein, started with the company last week. Help Sarah settle into her new digs with a few drinks and snacks as the work week winds down. Invite a friend!
10. Announcing the grand opening of a restaurant
An example invitation that a new restaurant may send out looks like this:
Please join us in celebrating the launch of Charlie and Mike's Hotdogs, a family-run business. Get a free hot dog and mingle with neighbors between the hours of 11-3 Saturday @ 123 Main Ave. Tell your friends!
11. Invitation to a company party
This is an example of an invitation that a business may use for a formal event:
Brand One Marketing president Daniel Waters has been recognized as the Best Local Business Owner in the area, and we want you to celebrate with us. On June 6 at 7:30 p.m., head to the Emerald Star Inn for the celebration. Reply to RSVP.
12. Invitation for a closing event
In the case that you are shutting down a business, you may send out an invitation for people to attend the ceremony with a text message invitation that looks something like this:
Funky's: This Saturday, from 2-7pm, we will hold our farewell celebration, and our owner, Robin May, will say his final goodbyes to customers and employees. Light refreshments will also be provided.
Make your next event a success with text message invitations
You've worked hard on your event, and you want to make sure you have as many guests as possible on your big day. Get their attention with text message invitations (trust me, it's easier for both you and them).
Pssst…If you're still not sure whether you want to start sending invites via text, try SimpleTexting out for 14 days, totally free. If you need any help, our support team is available every day of the week to answer any questions you may have.
This piece was originally published March 12, 2019. It was refreshed March 16, 2023, August 1, 2023, and August 22, 2023. Rana Bano and Nathan Ellering contributed to this piece.