Dale Carnegie is best known for the book "How to Make Friends and Influence People." Leaders like Warren Buffet swear by it, and the book has sold over 30 million copies.
One of the core lessons of the book is the importance of "seeking common ground." The idea here is that if you begin on bad terms with someone, you'll never be able to recover and risk losing all credibility.
The same idea applies to your customer service strategy. If you begin by communicating with someone on a channel they don't like, you're already placing yourself at a disadvantage.
You've been there. Your phone rings, and you sigh in annoyance. It's a customer service agent, and they're calling you about an issue. You're in the middle of dinner. Don't answer it, and your ticket remains open. Answer it, and your meal goes cold.
That's no way to "make friends and influence people." If you don't want your customers to experience this, then you need an SMS ticketing system. In this article, we cover:
Why Use SMS Ticketing Software?
It's not groundbreaking to suggest that customers don't want long hold times, slow responses, and confusing email threads. Yet, this is what they experience on a near-daily basis.
We get it––old habits are hard to break. Most companies know they need to innovate on their customer service offering, but they have no idea where to start. One of the best ways to decide where investment is necessary is to look at evolving consumer behavior and environments.
Source: Pew Research Center
Cellphone ownership in the US is close to 100% across nearly all demographics. Now take a look at consumer's preferred customer service channels––messaging is number one in the US by a significant margin.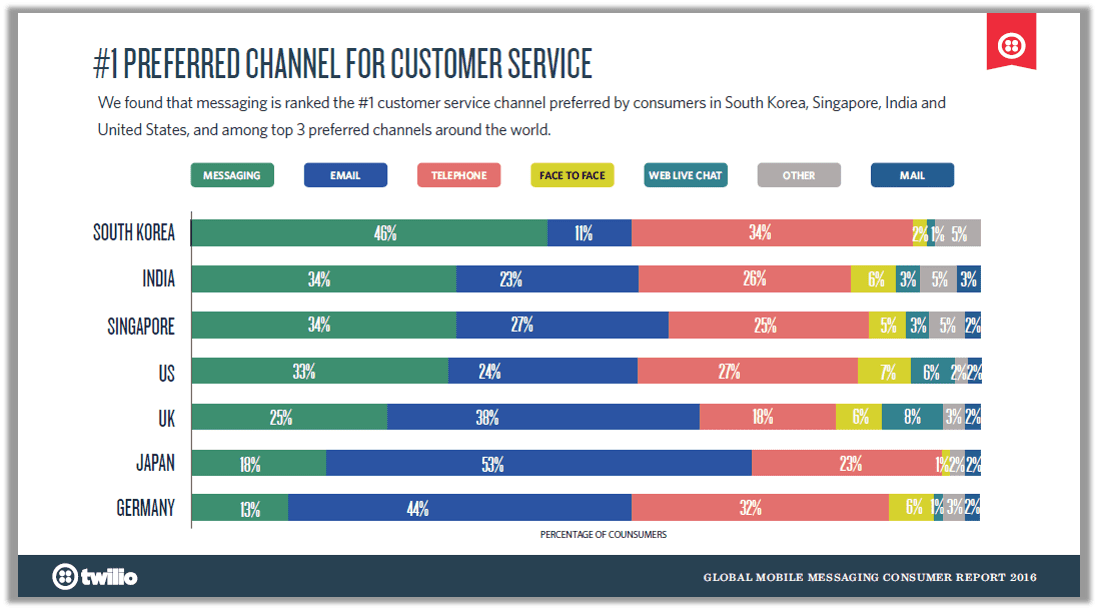 Source: Twilio
What becomes overwhelming evident from these two charts is how ubiquitous cellphone ownership is and how comfortable consumers are texting businesses. Customers want you to use SMS for customer support. There are even more benefits to consider:
Unlike live support, you don't have to be glued to your phone and re-explain the issue. That means no more rude interruptions.
It's immediate and fast. 97% of text messages are opened, and 90 percent of those are read in less than three minutes of being received.
It's convenient for your employees as they can message multiple customers at once.
If you want to take advantage of the overwhelming benefits and your customers' preferences, here's how to implement an SMS ticketing software.
How to Implement an SMS Ticketing System From Scratch
Two-way text messaging can offer you a new way to quickly and efficiently resolve customer issues while still providing a human touch. You can get started in three easy steps:
1. Choose Your Customer Support Number
After upgrading your SimpleTexting plan, you have choices when it comes to your virtual SMS number:
You can use a new local or toll-free number (just be sure to have any local number you use registered).
It's also possible to text-enable your current landline phone number or a VoIP line. Text-enabling your landline or existing phone number will not impact your voice service in any way.
You can lease a dedicated short code for your business. Learn a little more about dedicated short codes here.
Note: If you choose a toll-free number, know that carriers are currently imposing limits on toll-free number traffic, and that those limits will increase until you submit your verification form. Make sure to get your toll-free number verified to avoid disruptions.
If you want to "try before you buy," you can take our platform for a spin and create a free trial account. No credit card is required to sign up.
2. Advertise Your New Customer Service Channel
The next step is to promote your text-enabled number on your website, social media, or in your physical locations. Our click-to-text button generator is a great way to encourage customers to contact you via SMS. Take a look at how it works:
3. Respond From Your Inbox or the Mobile App
Once you receive an SMS from a customer into your shared inbox, you can prioritize conversations by time waiting or most recently received. You can also:
Set an away message and respond automatically to out of hours texts
Leave private notes for your team
Respond immediately
Snooze a conversation for a set period
Mark conversations as resolved
Use a template
Schedule a response for a later date
Manage your customer support text messages from your cellphone with our mobile app
Here's an excellent resource for learning more about SMS for customer service and support.

How to Integrate SMS with Your Existing Ticketing Software
If you already have an existing customer service ticketing system like Zendesk or LiveAgent and want to layer in SMS, then we recommend you use our Zapier integration.
This connection means that processes and tasks happen on your behalf behind the scenes. There's nothing you have to do to keep up with or remember them. All you need are Zaps—Zapier's automated workflows—that support your workflows.
To illustrate how you can do this, we're going to use Zendesk as an example customer service platform. You could connect any customer service platform that has a Zapier integration. (To create this workflow, you'll need a Zapier account too.)
When someone sends a customer support query via text message, you can trigger the creation of a ticket in Zendesk.

You can also trigger a text message to go out when a new action on a ticket in Zendesk occurs.
It's no secret to anyone that businesses build their reputations and bottom lines on providing personalized service. A great way to bolster your efforts there is to incorporate text-based customer service into your channel offering. It's fast, cheap, and highly popular with customers. And as you can see from the above, it's easy to implement.