Get a 10DLC number in a day
Most SimpleTexting customers register and start using their 10DLC in a day. Sign up today to start reliably messaging large contact groups from a number they recognize and trust.
Approved by carriers for A2P SMS messaging
Faster set-up and more affordable than short codes
Compatible with new and existing local numbers
The world's top brands trust SimpleTexting
10DLC is a 10-digit long code that wireless carriers have approved for sending business texts from a local number. When you see 10DLC, think of a local number with an area code that matches the business or organization's location (for example: 404-206-6179 for a business in Atlanta).
It's sometimes referred to as "A2P 10DLC messaging" because carriers have approved A2P (application-to-person) messaging on 10DLC.
Before 10DLC, 10-digit numbers were only sanctioned for P2P (person-to-person) messaging. Now, businesses can access a much higher throughput rate.
In other words, more messages per minute can be sent on local numbers than on traditional 10-digit numbers. This makes a local number an attractive option for businesses that want to engage in SMS marketing.
Why should you use 10DLC?
Faster, more reliable, and trusted by customers. Local numbers are the next generation of text messaging.
Recognizable area code
Ever received a call from an unfamiliar area code? You probably ignored it. Your customers do the same thing! Even with texts. Reach them more effectively with a local number.
Reliable, fast delivery
With a local number, your messages are sent from a number sanctioned for A2P messaging. This means you can count on them to be delivered quickly.
Affordable pricing
Want the security and reliability of a
dedicated short code
, without the high cost? A local number is a more cost-effective alternative.
All about local number registration
Mobile carriers require local numbers to be
registered
to cut down on spam texts from businesses. This is an important and exciting change to the whole SMS industry, as it will make texting one of the most trustworthy communication channels available.
Registering your 10DLC number means that you can send texts without the risk that they'll be flagged or blocked, and that your customers can trust the texts they get from you.
Local numbers are also the best option if you want to get up and running quickly. We're faster than most alternate providers, and we can generally get you set up with a local number in a day. We've worked to keep the registration process smooth and fast, too—you'll just need to provide basic details about your business and the type of texts you'll be sending.
How to Get Started with 10DLC
It takes a few steps to register your local number. When you partner with us, our team guides you through the whole process.
Obtain your trust score
We'll help you submit information about your brand and use case to receive a trust score from an independent rating agency. Carriers use this to determine your throughput per second (TPS).
This step is optional but recommended
Trust scores range from 1-100
A higher score could lead to higher TPS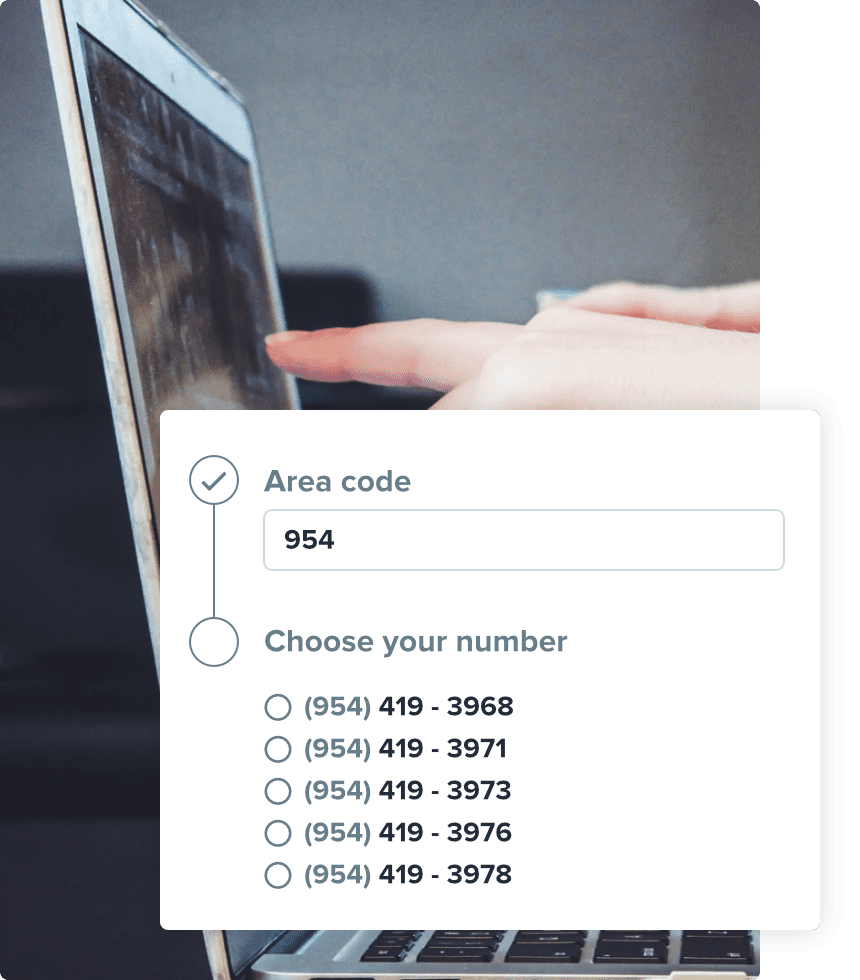 Text-enable your number or get a new one
Select the number you'd like to send your messages from. This number is all yours. You don't share it with any other brands.
Text-enable your existing virtual or landline number
Your voice service will continue as normal
Select an area code and get a new number
Send and receive messages
Built for more than just bulk texts, our platform lets you hold one-on-one conversations with your customers using your local number, too.
Use MMS to send photos and rich media
Leverage advanced features like automated texts
Add teammates to help manage replies
A2P local numbers vs. alternatives
See how local number SMS stacks up to messaging on other phone number types, like dedicated short codes and toll-free numbers:
| Name | Dedicated Short Codes | Toll-Free Numbers | Local Numbers |
| --- | --- | --- | --- |
| Approved for A2P Messaging | Yes | Yes | Yes |
| Supports Voice Calls | No | Yes | Yes |
| Local Area Code | No | No | Yes |
| Number of Msgs Per Second | High | Medium | High |
Frequently asked questions about local number SMS
Published: September 25th 2023