SimpleTexting is the stress-free Twilio alternative
If you're tired of wrestling with Twilio's complexities instead of focusing on your own software, it may be time to switch.
Have our experts help you with your 10DLC registration
Go from sign-up to approved and texting within 24 hours
Get support by chat, phone, or email 7 days per week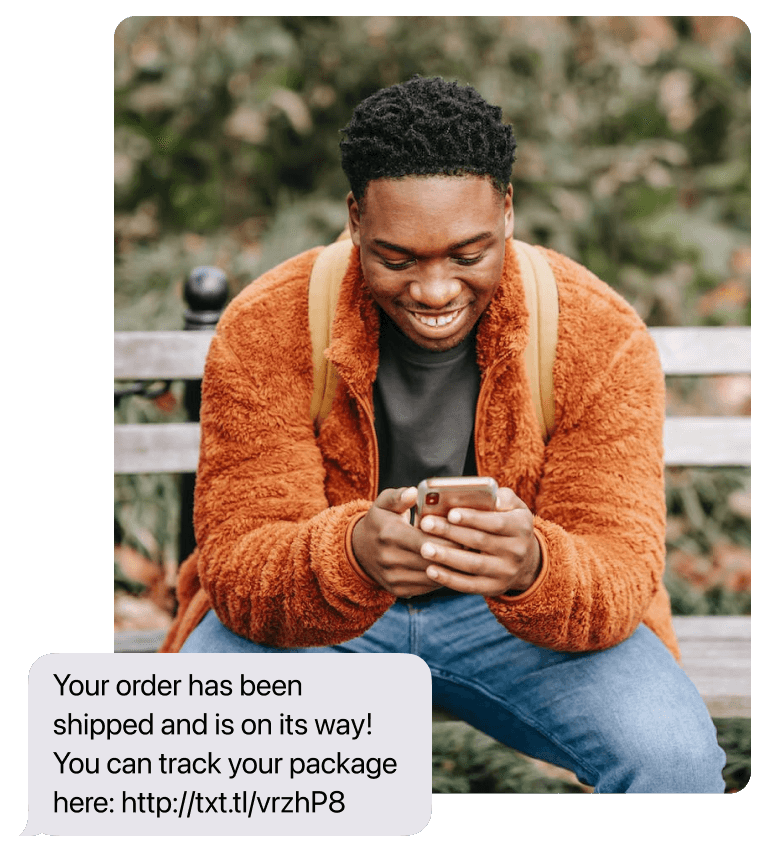 10+ years in business. 15,000+ customers. Billions of texts delivered.
We're hyper-focused on texting
SimpleTexting isn't for everyone. We don't offer video or WhatsApp. Instead, we're all in on providing a reliable SMS platform for businesses big and small.
Get approved for sending within hours not weeks
Tired of seeing your phone number stuck on pending? With 10+ years of experience and strong relationships with carriers, we get most of our clients from sign-up to greenlit for texting within 24 hours. If there's an issue with your application, we'll dive in and get to the bottom of things.
Great support for everyone, not just massive senders
It shouldn't be an up-charge just to get help from a human. With Twilio, phone support starts at $1,500/mo. Not here. Live chat, phone, and email support are baked into all of our plans. Get a dedicated customer support manager on our $899/mo plan.
Say farewell to endless GitHub scavenger hunts
We have clear, comprehensive developer documentation that can be easily searched. No need to dig through public GitHubs, scroll through forums, or reference examples.
4 more reasons to love SimpleTexting
More than 15,000 businesses choose SimpleTexting to send their messages. Here's why.
User-friendly app for non-devs
You don't have to be a developer to use SimpleTexting. Every plan comes with access to our web and mobile app. No need to use TwiML just to see your message history.
Searchable API transactions
Our search page lets you quickly check whether your API calls are being accepted. We have straightforward webhooks you can use, too.
No charge for incoming SMS
With Twilio, it costs $0.0079 each time someone sends you an SMS. With SimpleTexting, you don't rack up charges for incoming SMS—they're free.
Enterprise-grade deliverability for all
Send with confidence knowing you're using a robust platform that's been in business for over 10 years. From a few messages to millions per day, we can handle it.
Let's talk pricing
We don't charge for incoming SMS messages and great support is included with every plan.
Unlimited contacts
Free Incoming SMS messages
Support 7 days per week
No monthly contracts
Unlimited keywords
Rollover credits
No setup fees
SMS and MMS messaging
API access
Read what real customers have to say about SimpleTexting
Hear what others have to say about how we measure up to the competition.
"SimpleTexting is one of the easiest solutions to get started with. We're able to directly contact our users to update them or get them to opt-in to our community. You don't have to have any development experience. You can just sign up and have a way to directly text your users."
"I use SimpleTexting to better connect with my audience and build relationships with them on a 1-on-1 basis. I love that there's an app and that I can send things out from my phone. Texts are way more personal than sending an email blast or putting something out on social."
"What I like best about SimpleTexting is that it allows me to interact with my clients on a regular basis. I send out a monthly market update along with an invitation to enter a drawing for a $25 gift card. This interaction keeps me top of mind for referrals and directs clients to my website."
"We needed a simple way to drive app downloads for our company, and SimpleTexting provides that. It's so easy to add the shortcode and keyword to our marketing materials. The platform even integrates with our website, allowing visitors to request a download link to their phone."
"SimpleTexting makes my work easier. It has helped us streamline communication and cut down our communication time significantly. I like being able to send mass texts to my beneficiaries and also engage with them one on one. It's super useful to automate messages."
"We have been using SimpleTexting for almost a year now and I appreciate the ease of use of the software. To get through the basic task of setting up an SMS campaign, sending it, and tracking responses, it does the job without making it difficult. It's great software at a good price point."
Published: September 13th 2023