Easily Collect Feedback and Data with Text Surveys
Text message surveys make it easy to gather data, capture feedback, improve your product or service, and grow your business.
Send mobile surveys to groups
Collect votes by text and tally results!
Follow up with respondents
Try Us Free
Trusted by Businesses of All Sizes
How Text Message Surveys Work
Text message surveys allow you to send a series of questions to your customers or employees to request their feedback. Whether you need to measure satisfaction with NPS scores or collect votes for a contest, text surveys can help.
Watch along with our on-demand demo to learn how to set up a popular type of survey known as "text to vote." To participate, all your audience has to do is text a keyword to your number. They'll instantly receive a message with multiple-choice options. Then they just text in their choice and our platform will tally the results!
Benefits of SMS Surveys
Why do text message or SMS surveys work? Because people always check their phones.
Fast Feedback
Inspire members who haven't been around in a while to return. Send the highlights from the latest service they missed.
Engagement at Scale
Make your subscribers feel valued and included by asking for their input and sending them the survey results.
Automatic Responses
Customize your SMS survey and automatically send out a thank-you-text to everyone who replies with an answer
Simplicity All Around
Your subscribers will love how easy it is to take an SMS survey. And you'll love how easy it is to set one up.
Affordable Info
A text message survey will only run you a few pennies per text. Cost-effective consumer insights, anyone?
Reach More People
Everyone has a cellphone, and everyone reads their texts. Reach people, even when you don't have their email address.
3 Ways to Send SMS Surveys
Need to collect votes, feedback, or NPS scores? We make it easy to send the right type of text message survey to your customers.
Why Choose SimpleTexting For Your Text Surveys?
Work with the text message survey software trusted by brands across the U.S. Just take a look at the results our customers see:
Learn how Matykos Beauty uses SMS to encourage sales, improve their collections, and collect thousands of valuable customer reviews!
Read their success story
SoGal is a nonprofit whose mission is to close the diversity gap in entrepreneurship and venture capital. Find out how text messages help them measure their impact.
Read their success story
Collecting daily information from nearly 150 participants is tricky. Find out why the team at WFU turned to text messages to facilitate their research.
Read their success story
SMS Survey Ideas
Need some ideas for an SMS survey? Here are a few quick industry-specific brainstorms to help you get started.
Ask your congregation for input on the next sermon series, find out their availability for events, or request feedback regarding those events.
Invite customers to vote on their favorite menu item, send them service satisfaction questionnaires, or offer discounts in exchange for leaving reviews.
Encourage supporters to spread the word about an upcoming fundraiser, share their schedule for volunteer opportunities, or vote on themes for fundraisers.
Improve your quality of care and patient satisfaction by uncovering insights about your practice. Plus, you can use SimpleTexting to send appointment reminders!
Gather feedback and ideas from attendees after an event, find out what artists or shows people are interested in seeing, or investigate the quality of your on-site amenities.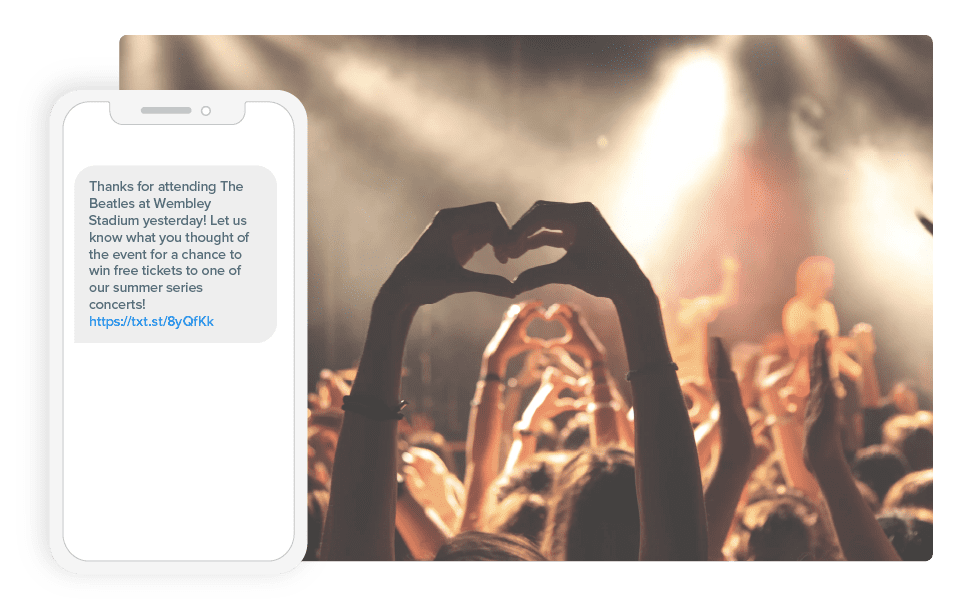 Share customer satisfaction surveys out after each purchase, learn what products or deals interest them, or assess the efficiency of your customer support services.
Have a "how did you hear about us" survey on hand to learn more about your customer base, find out how well your location stands up to competitors, or ask your audience their opinion on upcoming sales or specials.
Frequently Asked Questions About SMS Surveys
After nearly a decade sending SMS surveys, we've received a lot of questions. These are the most common.