In today's fast-paced world, where communication is key, and our lives seem to revolve around our trusty smartphones, knowing how to forward text messages is an essential skill.
Whether you're a digital multitasker juggling multiple cell phones, a team player wanting to share a lengthy message with your team, or a master communicator trying to forward business texts to another phone or email address, text forwarding is the easiest way to stay in sync.
In this article, we'll share three seamless and quick ways to forward a text message. Let's dive right in!
TABLE OF CONTENTS
How to forward text messages from Android devices
To forward a text on your Android device, follow these steps:
Launch the Messages app from your Android device.
Open the text conversation containing the message you want to forward.
Press and hold the SMS message you intend to forward until it's selected.
Tap the three vertical dots located at the top-right corner of the screen and tap on Forward.
A list of contacts will appear. Choose the specific contact to whom you want to forward the message.
In case the message is for someone not on your contact list or a group of contacts, select New message. Then, enter the phone number or pick the desired group for message forwarding.
When you're done, tap on Send. Your forwarded message will then be on its way!
How to forward text messages from iPhone devices
Let's break down the steps for forwarding text messages on an iPhone:
Launch the Messages app.
Open the text message bubble you want to forward and tap and hold it. From the ensuing pop-up menu, opt for "More…"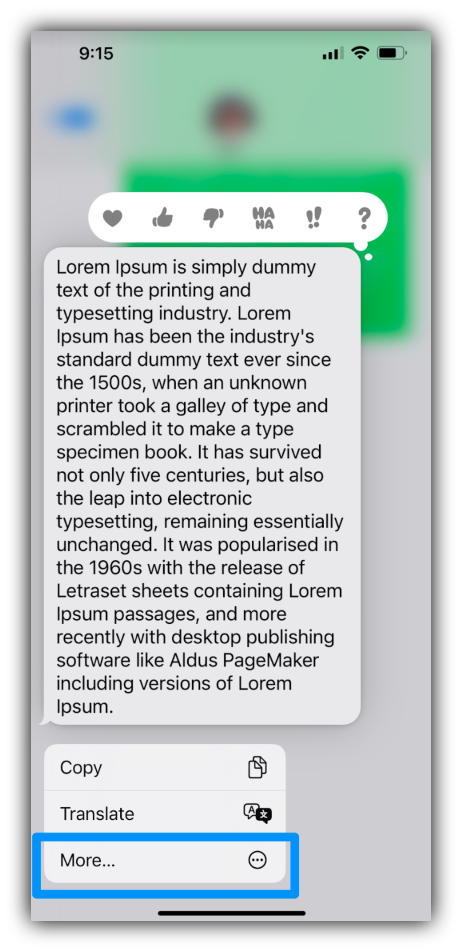 A blue checkmark icon accompanies the selected message, allowing you to select additional messages to forward. Next, locate and tap the arrow icon located in the lower right-hand corner of your screen.
Enter the name of the contact to whom you want to forward the text, followed by tapping the Send arrow.
Once the task is complete, exit the text message forwarding selection screen by selecting Cancel at the top-right corner of your screen.
How to forward a text message with SimpleTexting
While forwarding texts from your Android or iPhone might seem simple at first, the process can swiftly turn overwhelming when you're dealing with several messages sent to multiple recipients. This is precisely where a texting service like SimpleTexting steps in, offering a convenient solution to ease the burden.
Let's assume you've already signed up for your free SimpleTexting trial.
When it comes to forwarding texts where they need to be, we've got you covered with two nifty methods: Account Level Forwarding and Keyword Opt-In Forwarding. Let's break it down into easy steps:
Account-level forwarding
What is it? This is for the big picture — all incoming messages, whether they're keyword opt-ins or direct replies, can be forwarded to you.
How to get started:
Go to your Profile — you can find it by clicking your profile icon on the top right of your Dashboard and selecting Profile).
Head to the Notifications tab, and use the Email tab to have messages sent to your email. Alternatively, you can use the Desktop tab for browser notifications when SimpleTexting is open.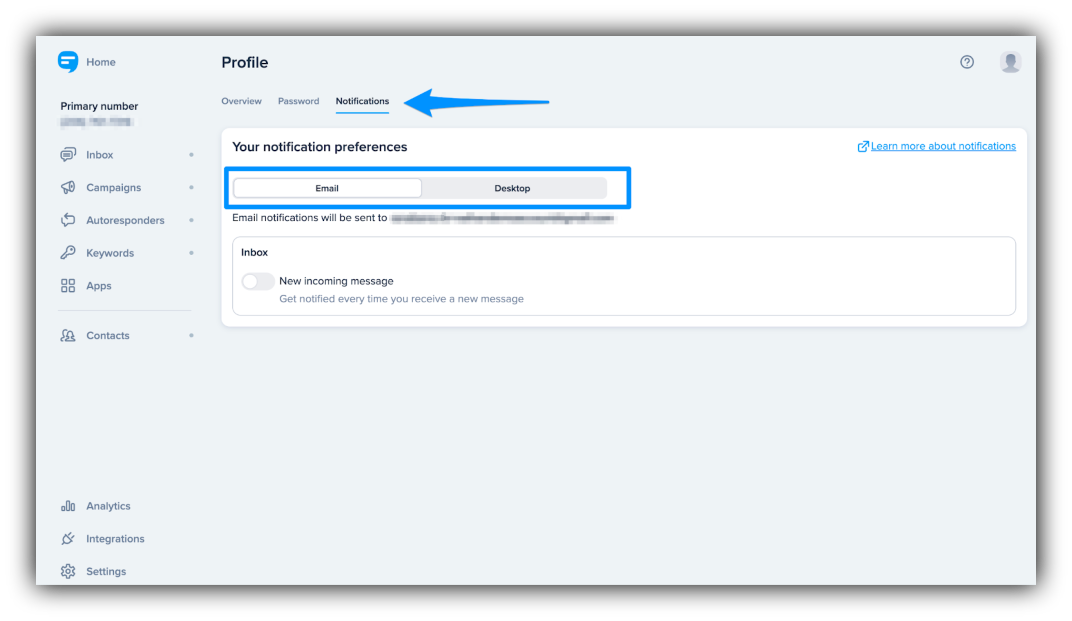 Click Save to save changes after tweaking your settings.
If you want to stop getting forwarded messages, simply remove your email from the settings. Note that these settings are personal; each team member can tweak them to their liking.
Keyword opt-in forwarding
What is it? If you only care about certain keywords or want specific team members to know when someone joins certain keywords, this is for you.
How to get started:
Head to Keywords on the left-hand side of your dashboard.
If you don't have a keyword yet, create one. If you do, choose the keyword you're interested in.
Scroll down to Additional parameters. Check the email box and enter your email to get notifications when someone opts in.
Repeat the same steps if you want text notifications. Note that text notifications cost 1 credit each.
Select Save keyword to activate the notifications.
To stop text notifications, simply uncheck the respective box. You can also create a group email and forward it to your team if you want emails sent to multiple addresses.
Embrace the power of omnichannel with SimpleTexting
Experience seamless text message forwarding by trying out SimpleTexting. This exceptional all-in-one business text messaging service not only streamlines SMS marketing campaign management but also enables you to send messages from landlines, computers, and mobile apps. User-friendly and budget-conscious, SimpleTexting is designed to meet your communication needs. If phone calls are a big part of your strategy, worry not – with SimpleTexting, you can activate call forwarding, ensuring your audience can be reached through calls and SMS alike.