Make an Impact with Text Messaging for Churches
Our group texting service for churches can help your church or ministry improve communications and reach people where they already are—on their phones.
Why Do Churches Use Text Messaging?
Thriving churches across the nation use text messages because they're a powerful, proven way to connect with congregations. People want to text. Don't just take our word for it. Look at the numbers.
of millennials open texts within 90 seconds.
Inspire a younger generation with a modern communication strategy.
of text messages are opened within 3 minutes.
Even in a busy world, texts help you get in front of your church members.
of people prefer texting over phone and email.
Keep your members informed by connecting with them instantly.
How to Use Text Messaging for Your Church or Ministry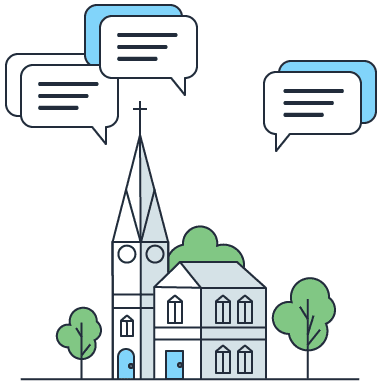 Your church can use text messaging and mobile marketing to connect with your community. Our texting service allows churches, ministries, and other religious organizations to deliver important messages to their congregations or supporters via our easy-to-use messaging platform. Here are just a few examples of what church text messaging can be used for:
Text Bible quotes relevant to each week's message.
Share important prayer requests with the whole congregation via text message.
Your church can send friendly text message reminders about Scripture reading plans.
Text a link to ask members for online donations to your church or religious organization.
Stay in touch with your church staff and volunteers with convenient text messages.
Send a text message to instantly notify your church congregation about schedule changes or special events.
More Benefits of Using a Church Texting Service
Whether you need to let your parishioners know about service opportunities or raise money for a mission trip, text messages can help you build better relationships.
Empower Your Church Today, for Free
It's risk-free to get your church or ministry started with SMS messaging. Sign up for a free trial of our texting platform and get 14 days of access to all of our features. You'll even get 50 outgoing messages at no charge.
How Eagle Brook Church Welcomes New Believers with Texts
Eagle Brook Church was growing fast and needed a simple, effective way to keep track of new believers. So, they leveled up their communications with a SimpleTexting campaign—and over 800 people texted in about their decisions for Christ.
"It's scary to even think of how many people wouldn't have told us about their decisions if we didn't have this really simple, clean opportunity for them to take advantage of."
All of our accounts come with unlimited logins which means Eagle Brook can empower their pastors and youth leaders with access to the platform.
Why C3 San Diego Uses Texts to Connect with Their Congregation
With four locations and a congregation of 4,000+ people, C3 Church needed an effective way to stay in touch with their congregation. Almost everyone has cell phones, so text messaging was the obvious choice. C3 Church San Diego turned to SimpleTexting. Today, over 8,000 people are subscribed to receive updates from C3 Church San Diego.
"Before texting, we relied on calling and emails. These weren't effective. With SimpleTexting, it's been much easier to reach out and connect with people."
Our list feature lets C3 organize their members so specific ministries can reach just the people they need.
Text Marketing Features Made for Churches
Hundreds of pastors and community leaders choose our platform for our easy-to-use, powerful features.
Memorable Short Code
Send your messages from an easy-to-remember number, 555888. Members can text this number to receive your church's latest updates and information.
Unlimited Keywords
Set up a custom phrase or word that members can text to your short code to opt-in for messages. Add unique keywords for different church events!
Bulk Campaigns
Send updates, bible reading plans, prayers or invitations to all of your members via text in just a few clicks. There's nothing for them to install. It just works.
Unlimited Lists
Organize your members in a way that works for your church. Create a list just for volunteers or a list just for students. Send highly relevant messages, every time.
1-On-1 Conversations
Our church texting service lets your pastors or ministry leaders have personal conversations with members. Manage replies in one user-friendly inbox.
MMS
Connect with a younger audience and make your texts more engaging by including photos, gifs, audio files, and video files with MMS (multimedia messaging).
Autoresponders
Perfect for follow-up messages or bible reading plans, Autoresponders are pre-scheduled texts that send automatically after a few days, weeks, or months.
Data Collection
Our data collection feature lets you request more information from subscribers such as first or last name. Use this info to make your texts feel more personal.
Love Your Neighbor. Text Them, Too.
Text messaging can never replace personal connection, but it can empower it. A church texting service lets you reach people's phones, and hearts, one message at a time.
Picking the Right Church Texting Service for You
What should ministries look for in a texting software? Here are key features to look for when comparing bulk text message providers for churches.
Feature
SimpleTexting
EZTexting
Flocknote
TextInChurch
Keywords

Unlimited

1 Free
$25/Month per Additional Keywords
1 Free
$4/Month per Additional Keywords
Free Unlimited Keywords
Contacts

Unlimited

Unlimited
Unlimited
Unlimited
Support

7-Day Per Week


Phone, Chat and Email Support
No Weekend Support
No Phone or Chat Support
No Weekend Support
Zapier Integration

Yes

No
No
No
MMS

Yes

Yes
Yes
Yes
2-Way Messaging

Yes

Yes
Yes
Yes
Mobile App

Yes


iOS and Android
No
No
Yes
iOS and Android
Free Trial

50 Free Texts


No Credit Card Required
20 Free Texts
No Credit Card Required
No Credit Card Required
Credit Card Required
How to Get Started with Church Text Messaging
Setting up your church texting service with SimpleTexting is easy and convenient! You can upload contacts one at a time or as a mass upload using spreadsheets. When you upload contacts, you'll have the option to upload them to a master list or load them into groups you created and customized. Groups help you more strategically reach out to congregants since not every message you want to send will be relevant to everyone on your list. Segmenting groups can help you lower costs and stretch your budget in a positive way.
Start Your 14-Day Free Trial
No credit card. No strings attached. We know you, and your church, will love using text messages and SMS to stay connected. Sign up today and get access to all of our features for free.