Make an Impact with Our Church Texting Service
Our group texting service for churches can help your church or ministry improve communications and reach people where they already are—on their phones.
Why Do Churches Use Text Messaging?
Thriving churches across the nation use text messages because they're a powerful, proven way to connect with congregations. People want to text and connect with their religious community. Don't just take our word for it. Look at the numbers.
of text messages are opened within 3 minutes.
Even in a busy world, texts help you get in front of your church members.
of Americans say they believe in God.
But on average only 36% of people identify as weekly religious service attendees.
of people prefer texting over phone and email.
Keep your members informed by connecting with them instantly.
How And Why to Use Text Messaging for Your Church or Ministry
Your church or youth ministry can use text messaging and mobile marketing to connect with your congregation and community. Our SMS service allows churches, ministries, and other religious organizations to deliver important messages or alerts via our easy-to-use text messaging platform.
SMS can be used by your congregation to increase attendance, follow up with guests, collect information from church members, and connect everyone on a spiritual and social level.
Here are just a few examples of what church text messaging can be used for:
Text relevant Bible quotes
Text important prayer requests
Send text reminders about Scripture readings
Text a link to ask for online donations
Stay in touch with your church staff and volunteers via SMS
Send a text & instantly notify congregations of schedule changes/special events
Text Marketing Features Made for Churches
Hundreds of pastors and community leaders choose our platform for our easy-to-use, powerful features.
Memorable Short Code
Send your messages from an easy-to-remember number, 555888. Members can text this number to receive your church's latest updates and information.
Unlimited Keywords
Set up a custom phrase or word that members can text to your short code to opt-in for messages. Add unique keywords for different church events!
Bulk Campaigns
Send updates, bible reading plans, prayers or invitations to all of your members via text in just a few clicks. There's nothing for them to install. It just works.
Unlimited Lists
Organize your members in a way that works for your church. Create a list just for volunteers or a list just for students. Send highly relevant messages, every time.
1-On-1 Conversations
Our church texting service lets your pastors or ministry leaders have personal conversations with members. Manage replies in one user-friendly inbox.
MMS
Connect with a younger audience and make your texts more engaging by including photos, gifs, audio files, and video files with MMS (multimedia messaging).
Autoresponders
Perfect for follow-up messages or bible reading plans, Autoresponders are pre-scheduled texts that send automatically after a few days, weeks, or months.
Data Collection
Our data collection feature lets you request more information from subscribers such as first or last name. Use this info to make your texts feel more personal.
More Benefits of Using a Church Texting Service
Whether you need to let your parishioners know about service opportunities or raise money for a mission trip, text messages can help you build better relationships.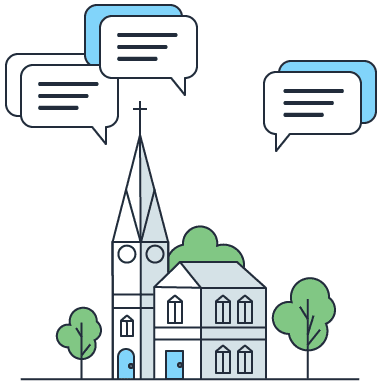 How to Get Started with Church Text Messaging
Setting up your church texting service with SimpleTexting is easy and convenient! You can upload contacts one at a time or as a mass upload using spreadsheets. When you upload contacts, you'll have the option to upload them to a master list or load them into groups you created and customized. Groups help you more strategically reach out to congregants since not every message you want to send will be relevant to everyone on your list. Segmenting groups can help you lower costs and stretch your budget in a positive way.
Use Texting to Empower Your Church Today, for Free.
It's risk-free to get your church or ministry started with SMS messaging. Sign up for a free trial of our texting platform and get 14 days of access to all of our features. You'll even get 50 outgoing messages at no charge.
"It's scary to even think of how many people wouldn't have told us about their decisions if we didn't have this really simple, clean opportunity for them to take advantage of."
"Before texting, we relied on calling and emails. These weren't effective. With SimpleTexting, it's been much easier to reach out and connect with people."
Love Your Neighbor. Text Them, Too.
Text messaging can never replace personal connection, but it can empower it. A church texting service lets you reach people's phones, and hearts, one message at a time.