The Leading Computer Texting Software
Send text messages using your computer with SimpleTexting's two-way texting and bulk SMS software.
Reach your entire list of phone numbers at once
Manage replies and chat 1-on-1 with contacts
Upload your contacts or build a list from the ground up
Businesses Love SimpleTexting's Computer Texting Software
What Is Computer Texting Software?
Computer texting software is an online program that makes it possible to send and receive text messages from your PC or Mac.
In addition to sending mass texts, SMS software can be used to have two-way conversations. Common use cases include SMS marketing and customer service.
SimpleTexting, a kind of computer texting software, is a text program that can be accessed from any computer making it convenient for desktop texting. Need to send texts while on-the-go? Our app is available for iOS and Android too!
How Do You Use Software to Send Text Messages From a Computer?
Sending SMS messages through computer texting software involves three simple steps.
Sign Up For an Account
In just a few minutes, you can start sending bulk SMS from your computer.
Get started with a risk, free two-week trial. No credit card required
Text-enable your business phone or select a new number
Access your account from a desktop or your phone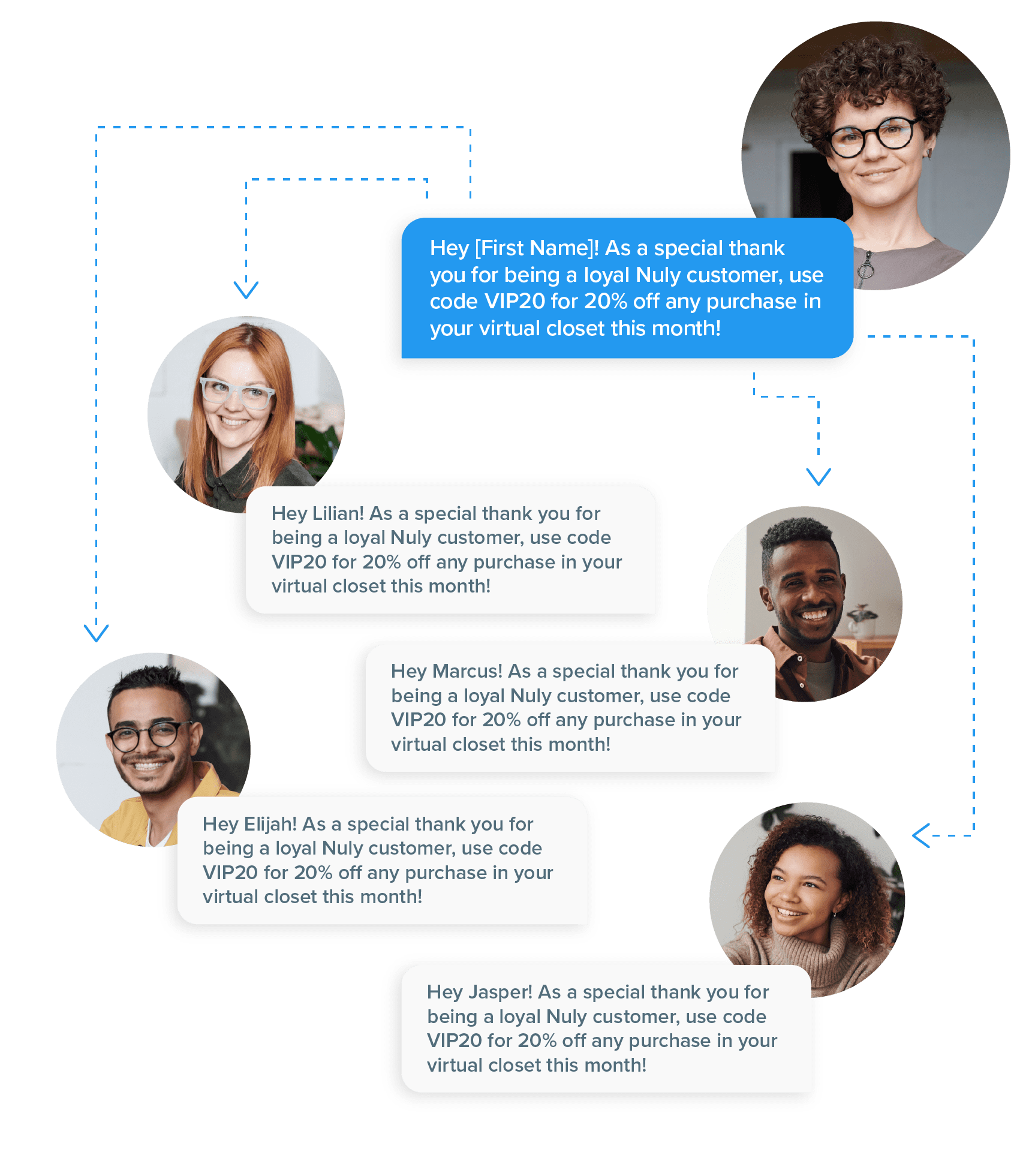 Upload or Build Your List of Phone Numbers
Already have a list of phone numbers who have given you
express written consent
to text them? Upload them in just a few clicks. We also provide tools to help you build your list:
Collect phone numbers with a text-to-join keyword
Customize a web form and copy/paste the code onto your site
Create a mobile sign-up widget to rapidly convert site visitors into subscribers
Start Sending Messages
You're ready to start texting with your customers! Send
bulk text messages
or have two-way conversations.
Quickly send group texting from your PC, Mac, or phone
Reach specific groups or your entire list with our audience management tools
Manage replies from our easy-to-use inbox
How Can Your Business Use Computer Texting Software?
There are a lot of reasons why individuals and businesses of all sizes sign up to use computer texting software. Here are some of the most popular.
Share Promotions
Reach hundreds of customers at once with deals and discounts they can act on right away from their phone.
Automate Your Messaging
Schedule, trigger, and automate messages to send exactly when you need them to, without manual intervention.
Provide Customer Service
Answer customer inquiries quickly and efficiently when you offer a text-for information customer service solution.
Drive Traffic to Your Website
Text out links to your website or social media pages and automatically follow up with those who clicked, or didn't.
Share Time Sensitive Alerts
With 90% of text messages read within the first three minutes of receipt, it's perfect to share important, time sensitive updates.
Follow Up With Leads Faster
Never miss out on a lead by setting up automatic replies to any request for more information you may receive.
Examples of Businesses Using Computer Texting Software
See how businesses like yours have benefited from text-enabling their communications.
Retail
Learn how the multi-location tanning brand Year Round Brown used texting to inform customers of the biggest sale of the year.
Read their success story
Computer Texting Software FAQs
Still have questions? Explore these answers to the most common queries, or click the blue chat button in the corner of your screen to connect with a team member!
Published: August 11th 2023