If you've found yourself scanning Google for instructions on how to text a GIF, you're in good company.
As a business texting company ourselves, this is a common question we get from business owners looking to spice up their texts and give them some extra personality. The good news is, you can easily put a GIF in a text in just a few steps.
For starters, here's how to text a GIF with your iPhone and Android smartphone:
Copy GIF from a GIF app or website like GIPHY.
Open your text app.
Paste the GIF.
Text the GIF.
Now, you might be a little confused as to why we're talking about how to add a GIF to a text from your own device, given that we offer a text marketing software ourselves.
The fact is, you can add GIFs to text in a number of ways, including using software like ours (and for business owners, it's honestly the best option).
We'll go into detail about how to send a GIF in a text, and when and why they're useful.
How to Text a GIF for Your Business
With SimpleTexting, adding a GIF to your text message is easy. It only takes four steps.
Go to the Campaigns tab and create a new campaign.
Choose MMS as the message type.
Click the paperclip icon above the message box and upload your GIF. Select the GIF from your upload library and press the blue "Include" button.
Type out and send or schedule your campaign as you normally would. Your recipient will receive the full-size GIF in the body of their text message.
Here is an example of what your recipient will see when you send a GIF via text message: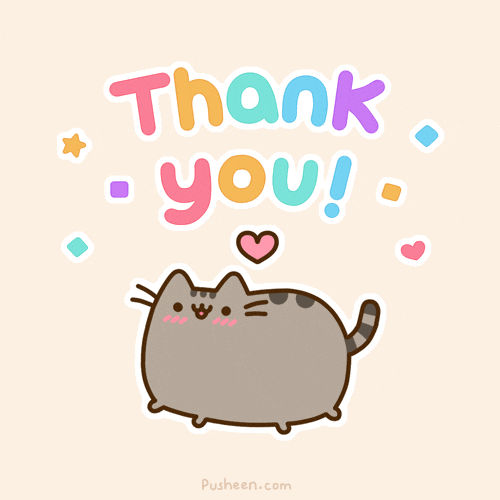 Thanks for your order! We'll notify you when it ships. -Chewy Team
When to Use GIFs in Business Text Messages
When deciding whether or not to put a GIF in a text, ask yourself the following questions.
Is this primary or secondary communication?
Are you reinforcing your brand messaging?
Are you telling a story?
1. Is This Primary or Secondary Communication?
If you're adding extra flair to a text, a GIF can be a great tool for emphasizing your message. However, you don't want to use a GIF as your primary (or only) form of communication.
Way back in 2015, YouTube made this mistake when they responded to a reporter with a GIF instead of a more professional "no comment" response .That rubbed a lot of people the wrong way.
GIFs are excellent decoration, but expecting them to communicate your entire message is a bad idea.
2. Does the GIF Help You Reinforce Your Brand Messaging?
If you're looking for a way to bring emotion or emphasis to your brand's style or vision, GIF it up.
Try out GIFs from different sources and use different tones to see what your audience responds to best.
3. Are You Telling a Story?
Storytelling is the perfect type of text to send a GIF with. It's an extra visual that makes material more memorable for readers and an easy way to practice "show don't tell" content creation.
Other compelling ways to use a GIF include:
Spicing up a graphic or infographic
Demonstrating how a product or service works
Adding some personality to an email or text (where appropriate — letting someone know their order was delayed won't be made easier by including a "hang in there" GIF)
Interacting with customers on social media
Why Use GIFs in Your Business's Text Messages?
Okay, so, we know there are plenty of applications for sending GIFs in texts. But why do it in the first place?
They're eye-catching. Let's be honest, most of us get many, many texts every day. Unfortunately, your customers can sometimes zone out when they open your message and miss the point. GIFs help add a striking visual element that's hard to ignore.
They're current. GIFs are all over social media, blogs, and text messages at the moment. Using them gives your audience the impression that you're up-to-date on trends.
They communicate more than words can. A picture's worth a thousand words, and so is a GIF. They can set the tone of your message, add humor, and even illustrate things like your products or services.
Where to Find GIFs to Text for Your Business
Because GIFs are so common lately, you can find them online in a lot of different places, but the top 3 sites for convenience and selection have to be:
On these sites, you can find a large selection of GIFs from the serious to the silly and even occasion-specific GIFs. From there, you can download the ones you want to add to your texts.
How to Create GIFs to Text for Your Business
Creating GIFs is pretty simple, and GIPHY even has an entire guide on how the process works.
The basics are:
Upload your video to a GIF-making service (in this case, GIPHY) either from a file on your device or from a URL.
Choose how long your GIF should be and the start/end times within the video.
Add a caption if you'd like.
Add tags and a source link (optional).
Create your GIF and share it.
Examples of How Real Businesses Added GIFs to Text Messages
Having a tough time visualizing GIFs in real-life business texts? No worries. Here are three examples directly from my own text inbox.
DragQueenMerch
Although GIFs are a frequent sight in this retailer's texts, one recent example caught my eye in particular.
DragQueenMerch often launches and advertises collections based on a particular performer, and they sent me a text a little while back naming the collection and showing a GIF of the queen who inspired it.
This mattered not only because it was a gorgeous visual, but also because I wasn't familiar with that performer beforehand. If they'd simply said the name, I wouldn't have thought twice about it. Seeing that the queen in question made great art piqued my interest.
Vegamour
I associate the brand name Vegamour with two things: fabulous hair care and an immediately identifiable aesthetic.
As you can see from this example, they included their signature pink-and-green colors and iconic bottles in the accompanying GIF and added some helpful information about the upcoming sale.
Be The Match
Although it's not a retailer or other sales-focused business, nonprofit Be The Match still runs a thriving text program with informational resources for donors, fundraising opportunities, and more.
They also send out a text to wish me a happy birthday every year, complete with a sweet GIF to make the whole message prettier.
The important thing to note here is that Be The Match isn't trying to sell me anything or get me to take action. They just reached out to let me know they appreciate me, and that matters.
Best Practices for Sending GIFs in Text Messages From Your Business
You're almost ready to start sending GIFs in your text messages. Before you do, though, here are a few best practices to keep in mind.
Keep in alignment with your brand's voice and your audience. If you're a life coach with a reputation for being deep, empathetic, and thoughtful, maybe a GIF from a silly sitcom isn't the way to go.
If you're just starting out texting GIFs, consider sending a test message to yourself to get a good idea of how the process works and what the final product looks like.
Keep it on topic. Don't pair your goofy Minions GIF with a sincere fundraising request for the local animal shelter.
Avoid inappropriate sources. Even if the GIF you're using is appropriate in itself, do your due diligence and make sure it doesn't come from an overly vulgar TV show, movie, or other source. That could definitely give your subscribers the wrong impression.
What is a GIF?
GIF is short for "graphics interface format," a type of low-resolution format. Although we think of them as moving images, GIFs can also be still images. It's the low quality and formatting of the image (not the motion) that defines it.
That said, for this discussion, we're focusing on the well-loved moving images found on almost every messaging and communication platform.
So, what's behind the immense popularity of GIFs, and why should you be taking advantage of their casual, fun energy in your marketing messages?
Why Are GIFs in Texts so Popular?
As we mentioned, GIFs typically involve some slight motion accompanied by text.
As anyone who has poured weeks into developing a short video knows, it takes time to create that form of content. While photos are much easier to come by, they don't usually reach the level of engagement video achieves.
So why are GIFs so popular? Because they're the easy, beautiful combination of the two mediums.
The movement adds a dimensional element that static images just don't have. And creating them is easy and quick, oftentimes requiring no technical ability at all.
Why Do GIFs Work?
Sometimes they're silly, but on a psychological level GIFs pack a surprisingly powerful amount of influence. In a small amount of space, GIFs do a few important tasks:
They draw the viewer's eye with motion and color.
They often lift the mood and bring a fun emotional element.
They frequently make connections to a recognizable element like pop culture or familiar visual branding that viewers can grasp instantly.
Sending a GIF also demonstrates something concrete about the identity of the sender. Are you hip, funny, clever, quirky? Expressing yourself with a well-chosen GIF makes you relatable and exciting to your audience.
Another reason GIFs are a great communication tool is because they are inherently shareable. You want to create bite-sized elements for customers that will encourage them to share. Adding on a GIF is a fun and easy way to create material that is far more engaging and thus likely to be shared.
How to Use GIFs in an iMessage
If you have an iPhone, Apple has made it incredibly easy to send out GIFs with your messages.
Open up your iMessage app and create a new text message.
Select the blue app store icon next to the text message box.
Tap the pink magnifying glass icon, and use the search bar to find images related to your message. If you change your mind about a GIF, you can hit the 'x' in the top right corner to remove the GIF from your message.
Type out your own message, and hit send to send them together.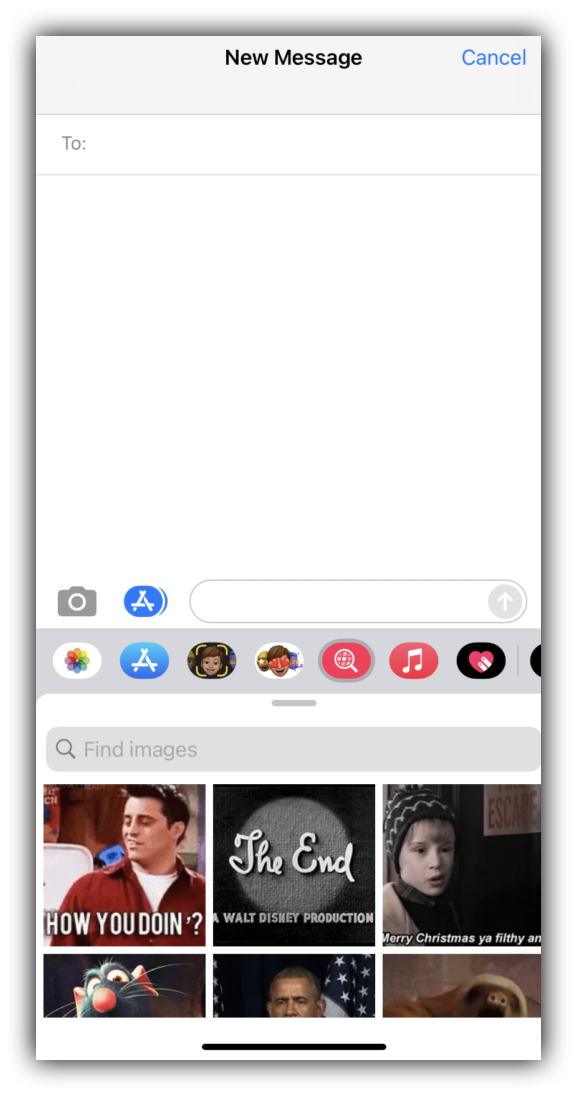 How to Use GIFs on an Android
Much like on iMessage, GIFs have become a must-have feature for native android messaging apps. Finding and sending a GIF couldn't be more simple.
Open your native messaging app and write your text message.
Select the smiley face, then in the bottom right of the screen, tap on GIF.
Search for a GIF using the search bar, or browse the most popular ones that automatically pop up.
Select the GIF you want, and hit send to send your message.
Using a GIF Successfully Comes Down to Audience
The number one thing that matters when sending a GIF is who you're sending it to. Whichever platform you send it on, your audience is your priority.
Just as you tailor messages to different audiences, your GIF needs to align with who is receiving it.
Start by asking yourself a few key questions:
What demographic are you trying to reach and which media might they be familiar with?
Does your GIF add to the point you're communicating or distract from it?
Does your audience need to see a niche, extremely specific GIF pertaining to one topic, or a more general GIF related to your industry?
It also helps to know who your audience is to begin with, along with what they need from your brand. With the above answers and a clear audience persona in mind, you're all set to GIF like a pro.
This article was originally published April 24, 2019. It was significantly updated July 11, 2023. Meghan Tocci contributed to this article.