It can happen to anyone. You're searching your phone for an important text and that's when you realize that it was accidentally deleted.
Don't panic.
We've learned a thing or two after helping thousands of customers send out millions of messages, and let us reassure you:
It's possible to retrieve deleted text messages.
Follow this step-by step guide to quickly and safely recover your deleted messages.
How to Recover Deleted Texts on Android
The good news is, if you accidentally delete messages from your Android phone, your data sticks around–but only for a limited time.
That means the best way to recover your messages is to act quickly.
Google Drive Backup
This option requires you to have Google Drive backups enabled on your device already.
If so, all you need to do is navigate to your phone's Settings app, choose "System," then "Backup," to locate your backed up data.
The other way to restore your data in this case is to initiate a factory reset.
When your phone prompts you to sign into your Google account, use the account you used to backup your data in the first place.
Finally, just choose the "SMS Messages" button to recover your texts.
How To Restore Deleted Text Messages Using iCloud
Most iPhones automatically backup text messages to the iCloud. All iPhone users receive 5GB of free iCloud space.
If you've upgraded your account, it's likely that all of your text message data is stored safely.
First, check to see if there's a backup from before the messages were deleted. Go to Settings > [Your Name] > iCloud > Manage Storage > Backups
(Note that anything added to your device after the backup you select will not be restored and will require its own backup).
2. Once you find the right backup, you'll need to reset your device by going to Settings > General > Reset > Erase All Content and Settings.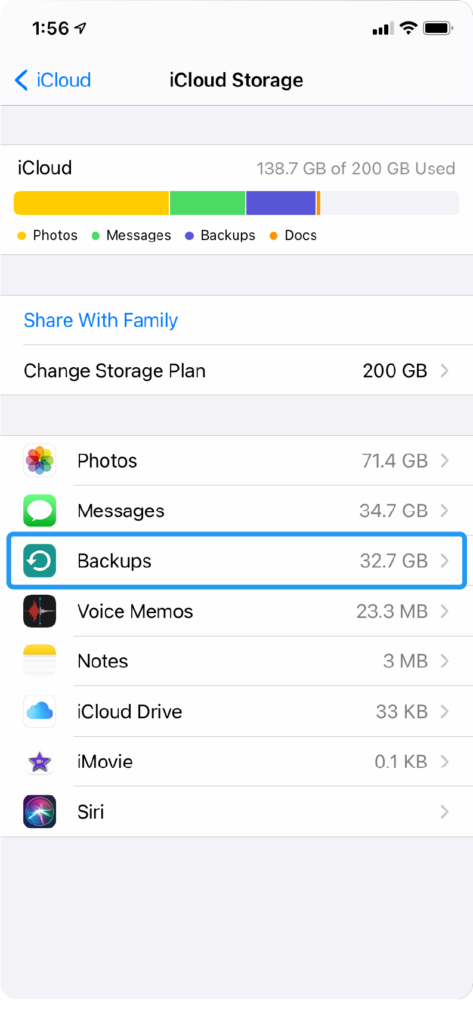 3. Your device will ask how you'd like to set up the device. Select the option to restore it from an iCloud Backup.
4. Your device will then restore its data to the selected backup and the lost messages will be recovered.
How To Recover Deleted Text Messages Using Finder
If you regularly backup your iPhone to your computer, this is the easiest way to recover your lost text messages.
Connect your iPhone to your computer.
Open Finder (or iTunes in macOS Mojave and earlier) if it does not automatically open.
Go to the side bar and select your device.
Then click on "Restore iPhone."
That's it. All the texts from your most recent backup are now on your device.
Please note that this method will replace your current data with your most recent backup.
How To Restore Deleted Text Messages Using Third Party Apps
Just because you clicked "delete" doesn't necessarily mean your message is gone.
If you don't use iTunes or iCloud to keep your data backed up, you may still be able to recover deleted iPhone data using a third-party data recovery app. These apps also work with Android devices.
Be aware, though, that there is a large market for data recovery apps that don't actually work very well.
If the companies don't have a clear explanation of how the recovery process will work or any contact information on their websites, it's best to stay away.
Two companies with good reputations are Tenorshare Ulta iPhone Data Recovery and PhoneRescue by iMobie.
Tips for Getting Old Messages Back
Now that you know how to recover your messages after they're lost, let's go over a few more helpful tips for preventing and retrieving lost messages.
Avoid Headaches with Regular Backups
It's always a good idea to maintain an up-to-date backup of your important data and messages.
That way, you never have to worry about accidentally deleting an important text message and losing it forever.
Don't Use Your Personal Phone
Every day we hear from customers who use their personal phones for business matters.
This is tempting, especially if you're a small business owner on a budget.
But while this may be convenient at first, it soon becomes hard to manage.
It can also lead to costly mistakes if you delete important business messages when all you really meant to do was remove yourself from a group text you're not interested in.
If you're sending texts for a professional purpose, it's best to use a business texting service instead.
Contact Your Carrier
One last method you can use to potentially recover your deleted or lost texts is to raise the issue to your cell phone carrier.
How long carriers keep text messages varies by company, and you may need a court order to access your old data, but it's worth the effort if you can't recover your messages any other way.
The Wrap on Recovering Deleted Texts
Mistakes happen, and everyone loses a message now and then.
But if texting is a huge part of your business' communication strategy, it pays to keep all your messages safe and central in one location (not your cellphone).
Try streamlining your SMS efforts with a 14-day SimpleTexting trial–no credit card required.