The rate of employee burnout is increasing. From increased demands to longer hours to working from home blurring the work/life balance, there are a variety of reasons why this could be.
For the majority of us working behind screens, even the timeout spent scrolling on social media or watching television is an extension of the working day. The unrelenting consumption of information has made downtime harder than ever to find, and it can cause employee exhaustion.
But what do we really mean by employee burnout – and how bad is it?
What is Employee Burnout?
You may have heard of "The Great Resignation" or "The Big Quit"––informal names for the approximately 47 million workers that quit their jobs in 2021. Mass quitting can become the unfortunate byproduct of employee burnout in the workplace.
The World Health Organization defines burnout as "feelings of energy depletion or exhaustion; increased mental distance from one's job; feelings of negativity or cynicism related to one's job, or reduced professional efficacy."
While this is the official definition, the question remains: what's causing employee burnout these days? Is it stagnant pay, lack of career growth, COVID fatigue, staff shortages, or lack of recognition from employers? How much does burnout vary by generation or across industries? And how does it impact quitting across the U.S.?
These are questions that needed answering, so we sent out a survey and dove into the responses.
Methodology
In this campaign, we surveyed 1,000 full-time employees across the U.S. (hourly and salaried, remote and non-remote, office work and skilled trades, etc.) about their experiences with employee burnout and its impact on their desire to quit their jobs.
The survey ran from February 15 to February 18, 2022. Additionally, we analyzed quit rates in 2021 by industry, state, and region using data from the Bureau of Labor Statistics.
How common is employee burnout? According to our employee burnout statistics, four out of five employees say they've experienced burnout in the last year.
Meanwhile, a little more than 40% say they feel burned out on either a weekly or daily basis. And for as much pain as finding and landing a new job is, one in ten hospitality and retail workers say they're willing to quit their current job and find a new one if it means they'll no longer feel burned out.
Temperature Check
Close to three in four employees don't tell their manager when they're feeling burned out. In the tech industry specifically, 46% don't express when they experience burnout because they don't want their manager to question their competence or ability to do the job required.
Among the generations, Gen Zers are the least likely to tell their manager if they're feeling burned out. This could be a sign of the cutthroat nature of some of the industries that Gen Zers are flocking towards (like tech) or the stigma that mental health concerns carry in the modern workplace.
In fact, 60% of the Gen Zers we interviewed said they feel uncomfortable talking about their mental health with their manager.
Running on Fumes
What causes employee exhaustion and burnout in the first place? According to over half of our respondents, the answer is a heavier workload.
However, almost just as many cited stagnant wages, and about 40% said they feel burned out when their place of business is consistently understaffed (which typically results in a heavier workload).
Even though 70% of our respondents say that a pay increase would help with burnout, and stagnant wages were the second most common cause of burnout, there's still a large category of people in the hospitality and restaurant industries that say even a raise wouldn't be enough to alleviate their feelings of burnout.
The remote-work trend that the pandemic has accelerated plays a role in employee burnout too. For example, 55% of non-remote workers say they'd feel less burned out if they worked fully remote, and 85% of workers that are currently remote have no desire to go back to working in-person full-time.
Employee Resignation Statistics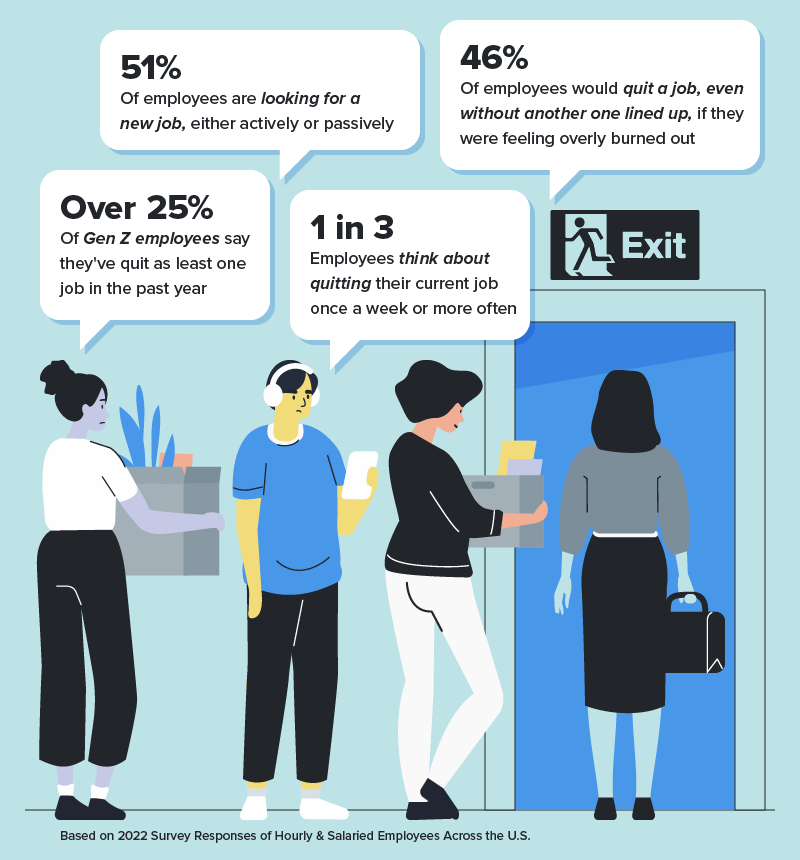 So the majority of employees have experienced or are currently experiencing burnout, but how many people are actually quitting their job?
If you're a Gen Zer, there's about a one in four chance you've quit a job sometime in the last year (these are the highest odds out of all the generations).
But it's not just Gen Zers that aren't afraid to put themselves before a company:
1) One in three respondents think about quitting their job once a week or more.
2) 46% of respondents say they would quit their job, even without another one lined up, if they started feeling too burned out
3) 51% of respondents say they're currently looking for a new job either actively or passively.
While higher pay or better benefits may not be able to erase the feelings of burnout in every employee, 64% of our respondents say those perks would at least prevent them from quitting.
No other answer comes close to higher pay or better benefits, but there was still a lot of support for more time off, more career growth opportunities, a lighter workload, and a shorter workweek.
American Quit Rates
Mass resignation in the U.S. has been coined "The Big Quit" for good reason. The national average quit rate in fall/winter 2021 (August – December 2021) was 2.9%. Year over year, the national quit rate jumped by 20.83% between December 2020 and December 2021.
Georgia, Hawaii, Montana, Kentucky, and Colorado were the states with the highest average quit rates between August and November 2021. In fact, Georgia's average quit rate during that time period was 31.9% higher than the national average.
Alternatively, D.C., New York, California, Pennsylvania, and Washington were the locations with the lowest average quit rates during that time period. Hover over your state to see its average employee quit rate between August and November 2021.
Other Key Findings
Accommodation and food services, leisure and hospitality, and retail were the industry sectors with the highest average quit rates between August and December 2021––6.3%, 5.9%, and 4.6%, respectively (Source: U.S. Bureau of Labor Statistics)
During that same time period, the accommodation and food services sector, which includes restaurant & hotel workers, had a quit rate that was 73.9% higher than the national average (Source: U.S. Bureau of Labor Statistics)
According to survey responses, hourly workers are 12% more likely than salaried workers to have experienced burnout in the last year
81% of education employees and 87% of healthcare employees have experienced burnout in the last year
Over 20% of education, healthcare, and hospitality employees say they feel uncomfortable taking their vacation time during the pandemic
Nearly 40% of Gen Z employees say burnout has negatively impacted their desire to be social outside of work
61% of Gen Z employees say working amidst the COVID-19 news cycle makes them feel more burned out
Nearly 50% of non-remote workers think about quitting their current job once a week or more often
Closing Thoughts
Employee burnout touches all industries, from tech and healthcare to retail and hospitality, and can affect job performance and workplace happiness. And as we now know, the majority of employees don't like to tell their bosses when they are feeling burned out.
So what can a company do about this? One option is to use SMS internally to conduct polls or surveys that can collect anonymous employee feedback and gauge average burnout levels among staff. Learn more about what SimpleTexting can do for your business and start your 14-day free trial!