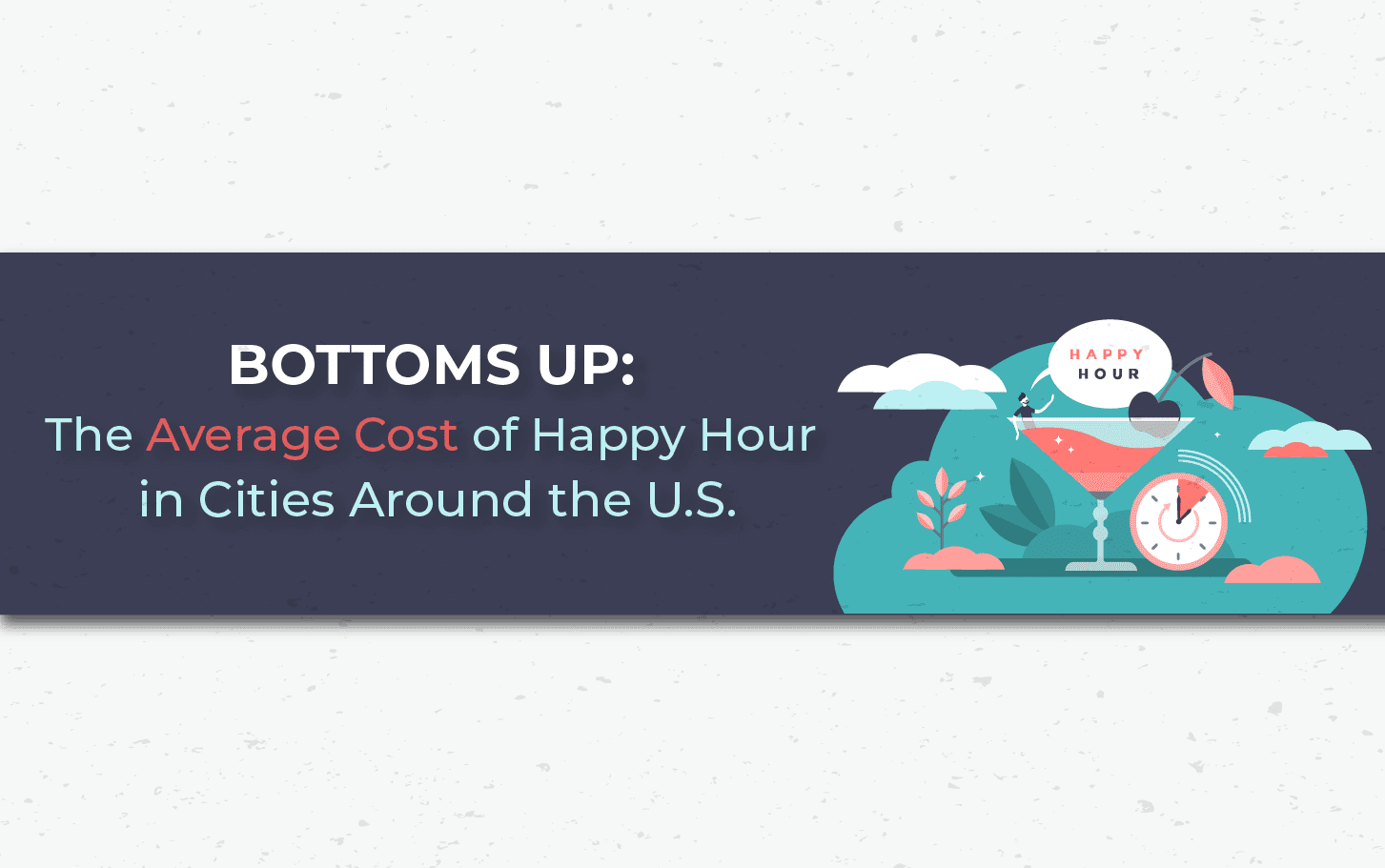 Whether you're Mad Men's Don Draper taking a swig of your old-fashioned after a day of client meetings or you're Sex & the City's Carrie Bradshaw, sipping a cosmo after she "couldn't help but wonder," one thing's for certain: Americans love a good happy hour. The victorious feeling when the work day is in fact, over. At SimpleTexting we savor the moment when we can saddle up on a barstool with our coworkers to network, crack jokes, and most importantly, unwind.
Happy hour is a sacred tradition, but not always an inexpensive one. With apps, small plates, and drinks, the average happy hour check in the US is $68.99, according to Nielson. The hours of 5-7 pm are proven to be significant revenue generators and foot-traffic drivers in an industry notorious for slim profit margins. Bars and restaurants are jumping at the opportunity to capitalize on this spike in traffic. In light of this fact and depending on where you hail from, costs can range from minor expenses to hefty tabs.
To delve deeper into how much happy hours can set people back, we decided to conduct a data study to determine which cities in the US have the most and least expensive happy hours.
Methodology
To determine the average cost of happy hour in major cities around the U.S., we looked at three different factors: (1) the cost of two drinks, (2) the cost of half of an appetizer, assuming the appetizer would be split between two or more people, and (3) the average price of a one-way rideshare home.
To calculate the average cost of half of an appetizer, we looked at the top five restaurants for happy hour according to Yelp in each city. We then calculated the average cost of an appetizer at each restaurant based on menu prices followed by the overall average price for the city. Finally, we collected the total average cost of a happy hour for each city by calculating the sum of the three factors.
The factors are listed below with their corresponding source data:
Cost of two drinks
Source: Expatistan
Average cost of half of an appetizer
Source: Yelp
Cost of a one-way ride share home
Source: Uber
The Most Expensive Cities for Happy Hour in the U.S.
With cocktails ringing in at $17 a pop and the average appetizer selling for $13.31, it's no shocker that NYC ranks at the top of our list with a whopping happy hour cost of $50.38. New Yorkers feel obligated to mark up their alcoholic beverages to compensate for their ever-rising overhead costs. So, with $50 you can help fund a kickstarter campaign, buy a tripod for your smartphone, or participate in a NYC happy hour. Take your pick.
For our friends in Seattle, you'll be hard-pressed to find a happy hour under $40 when the beers are $7 and an average one-way ride is $16.40. Surprisingly enough, St. Louis ranks higher on our list than the City of Brotherly Love, Philadelphia, and the country music, drinking capital of the US, Nashville. ANd what's more, the heart of Silicon Valley, San Jose, ranks 4th on our list, four spots higher than LA. In fact, the cost of two drinks is 4.6% higher in San Jose than in LA.
The Least Expensive Cities for Happy Hour in the U.S.
Meanwhile, happy hour goers in San Antonio and Indianapolis are living their best lives, paying the budget-friendly amounts of $26.76 and $29.36, respectively. In San Antonio you can purchase half of an appetizer and two drinks for the economical price of $15.28. As the old adage goes: "don't mess with Texas." Additionally, one-way ride share costs are particularly low in Atlanta and Oklahoma City, at $9.86 and $9.91. Uber lovers, eat your heart out!

Notice that you won't find any west coast locations on the least expensive cities ranking. This is simply because the cost of living overall is higher on the west coast than in most cities anywhere else. Due in part to the tech boom, the median price of a San Francisco one-bedroom apartment rental is $700 more expensive than the average one-bedroom in New York. Other than housing, factors like food, healthcare, transportation, consumer goods, and even climate contribute to the West Coast's big-budget culture — and happy hour is no exception.
In Conclusion
In summary, happy hour is a mutually beneficial occasion for both employees and bars & restaurants alike. Restaurants earn around 60% of their average weekly sales from the surge in traffic during these post-work hours, while employees enjoy a couple alleviated hours of camaraderie and decompression, no matter the bill amount. After a full day of managing a robust SMS marketing platform, you can certainly find us at 5pm doing the same.