Over 85% of Americans use a smartphone to communicate on a daily basis. It's no surprise that some of the text messages sent and received contain important information that requires printing.
Whether it's for sentimental reasons, backup purposes, or even for court, there are many reasons people may want to print out their text messages.
While some messaging platforms have desktop applications you can use to print from a computer, it's useful to know how to print directly from your phone.
We're going to walk you through how to do this from both an iPhone and an android.
What Do I Need to Print Text Messages From a Smartphone?
Before you start, there are a couple of requirements you'll need to meet no matter which type of smartphone you want to print from.
You need a printer that can connect to Wi-Fi. As you won't be using leads to print your text messages, your printer and phone will use the same Wi-Fi connection. To check if your printer connects to Wi-Fi, check its manual.

Your phone must be able to connect to the printer. iPhones can connect to printers through Wi-Fi, however, some android models are unable to.

Search for 'print' within your phone's settings to check if there are services available. If options appear for printing, your smartphone will be capable of printing directly.

When your printer and smartphone are connected to the same wifi, you're good to go.
How to Print Text Messages From an iPhone
If you're one of the 45% of the US population who owns an iPhone, you'll need to screenshot your messages to print them directly. Here's how you do it.
To take screenshots on an iPhone model with a home button, press the home button and lock button at the same time. Your screen will flash once, and you will find the screenshot in your photos library.

To take screenshots on the later models, press the lock button and volume up button at the same time. Once again, your screen will flash and you can find the screenshot in the photos library.
2. Open the screenshots you intend to print, and select the square button with an arrow in the bottom left.
Scroll through the options, and find 'print'. Tap 'select printer' and choose the printer you previously connected to your Wi-Fi.
You shouldn't need to do anything else. If your printer is set up properly and has paper, it will start to print automatically.
How to Print Text Messages From an Android
For those who have an android, the same method of screenshotting your conversation is required.
Take a screenshot from your phone by bringing up the conversation you'd like to print holding down the power button and volume button at the same time. You can then find your screenshots within the Screenshots folder in your Files.
2. Open your Screenshots folder and find the image you'd like to print. Select it and, if necessary, open it in the native photos app for your phone.

3. Select either the share button, a square with an arrow, or the options button, three connected circles. From the options, select the printing icon.

4. If there are multiple printers available, select the one connected to your Wi-Fi. You can then adjust any of the necessary settings and options, including the number of copies you want to print.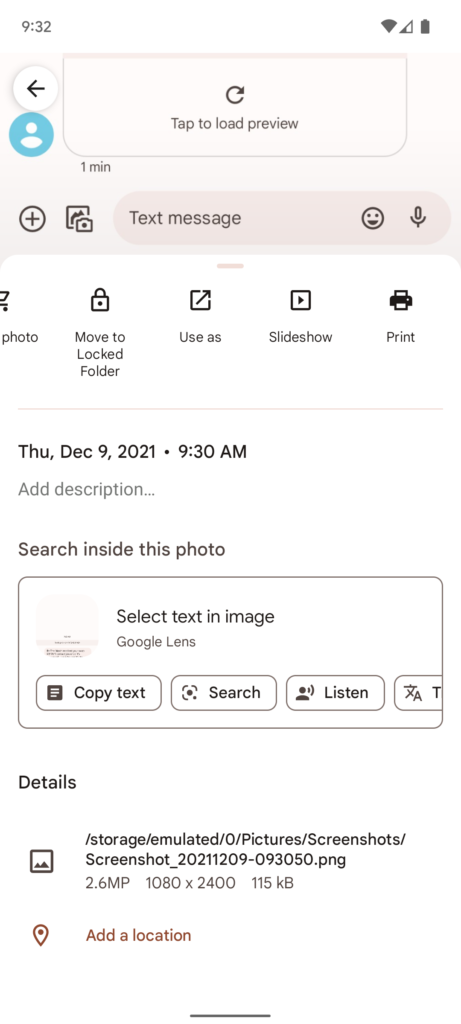 5. Tap print, and your printing should begin immediately.
If you need to print multiple conversations or screenshots, repeat the steps.
Make It Easy to Print Text Messages
Rather than going through your computer or laptop, you can use our steps to print directly from your phone.
While both androids and iPhones continue to be unable to print direct conversations, using screenshots remains an effective, easy way to get carbon copies of your messages.
The good news is, you can use the screenshots message for anything on your phone. If you use a business messaging platform such as SimpleTexting, you can take screenshots of conversations and print them for your records in exactly the same way.
Alice Dodd
Alice is a copywriter at SimpleTexting. When not teaching the world about the benefits of business texting, you can find her feeding family, friends and strangers with her latest baking experiment.
More Posts from Alice Dodd