Just press delete. That's it, that's the whole blog….!
Kidding, we wish it were that easy. In reality, deleting Google reviews isn't something we usually recommend. But there are some circumstances where it's what's best and appropriate for your business. However, it's not as simple as just clicking 'delete review'.
In order to make sure you protect your business from misinformation and shady public perception, we'll walk you through all the proper steps for how to responsibly remove a Google review.
But first, let's begin with the reasons you may want to remove one the first place.
When Should You Report a Google Review?
You should only report and attempt to remove Google reviews if they contain false or misrepresentative information. As tempting as it is to delete negative reviews, it's actually a better look on your business if you take the time to respond and correct the issue as opposed to sweeping it under the rug.
The truth is, products and services are seldom everyone's cup of tea. In fact, research has shown that people need to see negative reviews in order to trust the positive ones. A handful of negative reviews will hardly dissuade the masses from visiting your business.
If you don't believe us just ask the person who left a 1-star review on the GREAT WALL OF CHINA with the comment "Not very tall. Or big. Just sayin. I kinda liked it. Sort of."
Clearly tourism for the Great Wall hasn't suffered despite this scathing commentary. Sometimes one or two bad reviews amidst a sea of praise just makes your organization feel more credible.
With that being said, there are times your business is well within its rights to delete a Google review. Some of those cases include:
Reviews with obscene language
Reviews left on your business incorrectly (they reviewed the wrong business)
Explicit or violent reviews (either towards your business or employees)
Reviews containing false or incorrect information
If you have reason to believe this is a fake review written by a bot (signs of this are typically a burst of reviews from one account during a singular time period or reviews with no additional commentary)
Reviews unrelated to your business
Reviews that are in clear support of a competitor
Can Your Business Actually Remove a Google Review?
Yes, removing a Google review is possible. It's just not always as simple as erasing or hiding it from your page. There are a few other steps you'll have to take in between, many safeguards placed by Google to avoid repeat behavior on your page again.
Getting rid of a Google review has two main steps: report and remove.
How to Report and Remove a Google Review
The first step in potentially removing a negative review is to make Google aware of the review in question. Once you verify that the review is in violation of their policy, you can flag it. All you need to do is:
Log in to your Google My Business account. This is the account you create when you "claim" your business listing on Google.
Select the location (if your business has more than one)
Click "Reviews" from your menu
Select the review you want to flag and click the three dots next to it. From here, click "flag as inappropriate.
A Google representative should review your case within a few days to determine if there are grounds for removal. Note that a review can be flagged more than once by multiple people.
Should you report get approved, Google will ensure the review is taken down as soon as possible.
How to Challenge a Google Review
In the case that your flag didn't result in a review's removal, you can dispute the decision. You'll have to reach out to Google My Business Support and select "Contact us". Usually, within 24 hours a Google rep will reach out to you to find out more about the review.
It's best for you to prepare your argument complete with any facts you have as to why this review should be removed and what specific policies it violates. Any concrete evidence you can present will strengthen your case.
Depending on your case, your review may be sent to a specialist who has the final say on the outcome. Unfortunately, all that's left to do is wait.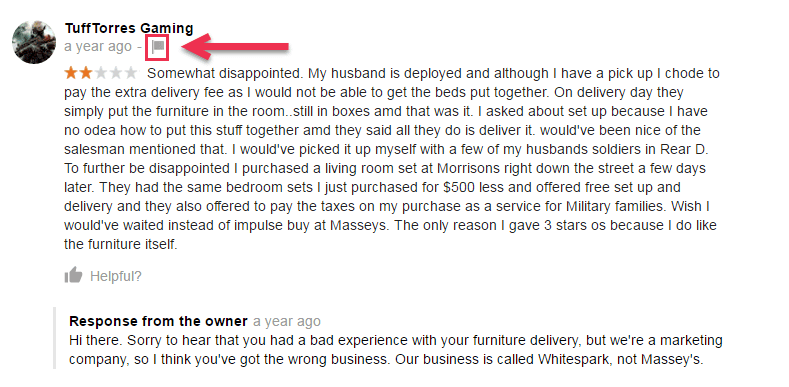 Google understands that reviews can make or break your business, so they take these reports seriously.
While you wait for Google's team to reach a conclusion, know that you always have the option to respond to the review. You can offset someone's action by how you react. To include your perspective in the narrative can help mitigate some of the damage a phony review may cause.