At SimpleTexting we help businesses send thousands of texts every day. Hundreds of these messages include photos! From dog walkers texting pictures of happy pups to their owners, to snapshots of the weekly lunch menu at a daycare in New Mexico.
Sometimes words aren't enough, and when that happens a photo just might be what you need to get the message across. So how do you attach an image to a text message?
We have two different ways for you to add that extra💥 to your communications.
Attaching Pictures to Text Messages with MMS
There are two kinds of text messages, SMS and MMS. SMS stands for "short message service" and is mainly meant for including text. MMS, which stands for "multimedia messaging service," was developed specifically to enable the transmission of rich media, like photos and videos, across mobile devices.
When sending a photo within an MMS message, the image will appear directly in the body of the text.
In the rare chance your recipient's cell phone plan doesn't allow them to receive photos, they will receive something known as a "fallback" automatically. A fallback is simply a link out to the image, and it looks similar to images sent with SMS.
Show this text to redeem free guac with your burrito! Offer valid until 3/30. Reply STOP to stop.
Receive Our Latest Posts
Have our best marketing and business texting content delivered to your inbox once a week.
How to Send an Image in an MMS Message
Sending an MMS message with an image attached takes six simple steps.
Create a new campaign.
Select "MMS" as the type of campaign you'd like to send.
3. In the body of the MMS message, click the paperclip icon with "Media" hovering over it.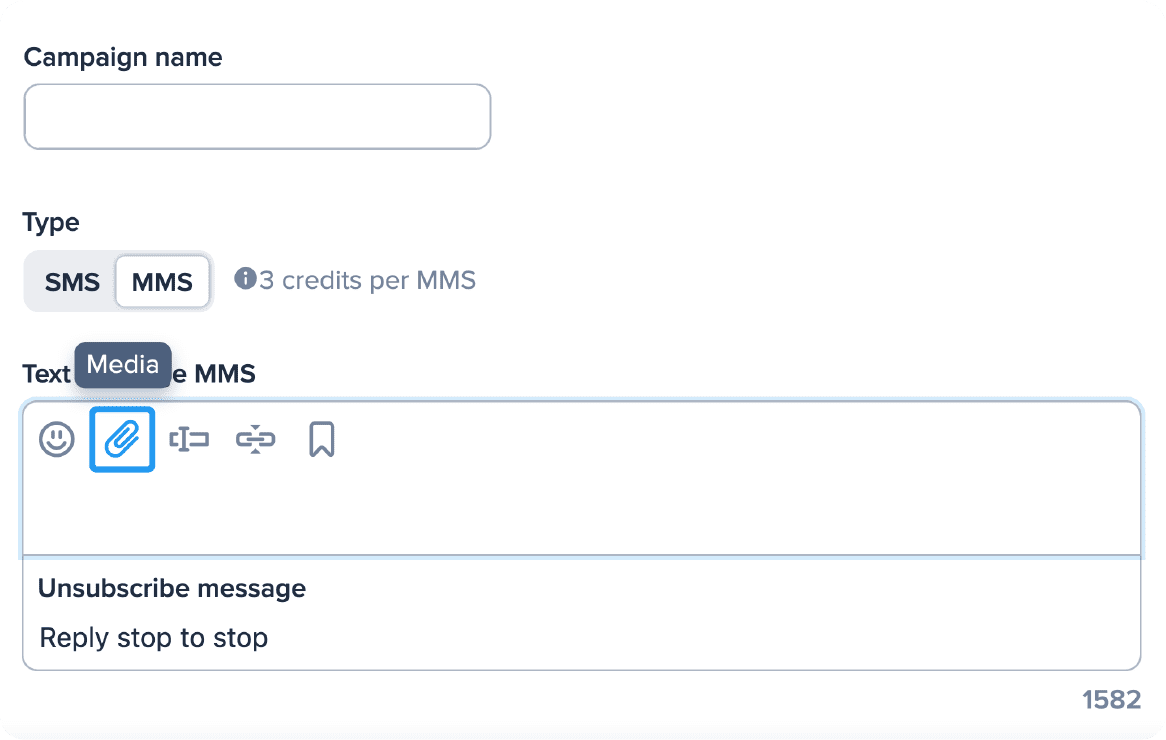 4. Upload the image you'd like to include, or paste the URL that hosts it.
5. Select the image once it's uploaded and click the blue "include" button in the bottom right corner.
6. Continue sending your campaign as you usually would!
💡 SimpleTexting Tip: A typical SMS campaign costs you one credit, but an MMS campaign will cost you three. If you're unfamiliar with our pricing structure or want to learn more about credits, see here!
Sending Pictures as Links in SMS Text Messages
It's still possible to send photos without utilizing MMS, but it won't appear in the text message itself. With SMS you can instead include links that, when clicked, direct recipients to the photo online.
Six steps to attach an image to an SMS message
Open a new campaign.
Ensure SMS is selected as your campaign type.
Select the image icon with "Media" hovering over it inside the body of the message.
4. Either paste the URL where the image is hosted or browse your computer to upload a file. Any JPG, PNG, or GIF file up to 10MB is compatible.
5. Click the "insert" button.
6. Send the campaign as normal!
💡SimpleTexting Tip: The link that appears may seem long. Check out the phone preview on the right side of the screen to see the shortened URL that your recipients will see.
Images as a Marketing Tool
Just like that you're a few quick clicks away from sharing your visual story with customers around the country.
You may know exactly the photo you want to send to your audience. But if you've never sent an image to your subscribers, here are a few reasons why you should.
Images can help…
Present information in a more memorable way
Give clarity to more detailed ideas
Evoke emotion
Provide a shareable takeaway
Lighten the mood and share some fun!
Now go forth and spread some color across your campaigns!