It comes as no surprise that marketers are fond of including links in their SMS campaigns.
Include a link in your text message, and you'll benefit from an average click-through rate (CTR) of about 36%.
But what if there was a way to increase the CTR on your SMS messages even further?
The good news is that there is. The even better news is that it doesn't involve much extra effort. All you need to do is craft your texts to take advantage of the SMS link preview that displays in iOS and Android devices.
The international telecom company Vodafone reports a CTR 8 times higher for SMS with a link preview.
If you're wondering what an SMS link preview is, some mobile devices display previews for links contained in SMS or MMS messages. You may have noticed it if someone's sent you a message with a link and it's appeared like this:
In this article, we cover what an SMS link preview is, what it means for your SMS marketing campaigns, and how to take advantage of this functionality.
What Is an SMS Link Preview?
Before iOS 10, a link in a text message showed up as an underlined hyperlink that opened the Safari app. The same is true for Android smartphones for all models after–and including–the Samsung Galaxy S8. Now, the SMS URL shows as a preview of the landing page you're sending your customers to.
In most instances on iOS, the preview image will be a thumbnail with "Tap to Load Preview," once tapped, the web page renders.
What Are the Benefits of Using SMS Link Previews?
An SMS link preview provides credibility, creates a clean and professional look that is less spammy and more sophisticated.
The impressive increase in CTRs that Vodafone reported above is likely because:
The overall size of your SMS increase
The "click zone" is much bigger
You can customize the image and the information in the preview
There's more confidence because the contents of the web page are viewable immediately
The only drawback is that for your subscribers to see this preview, mobile data must be available, and users must have a mobile that is compatible with this functionality. (Most smartphones are.)
It's also important to highlight the fact that link generation is very device-specific. If you follow all the steps and don't see a result, it may be that your device has a "Tap to load preview" button you need to press, or you may have an older device that isn't compatible with link generation.
That being said, let's get into the two steps you need to know to get started.
How Do You Take Advantage of SMS Link Previews?
It's important to note that there are a couple of rules that you must follow if you want your texts to show up with the link preview. You can include only one link in your SMS, it must be at the beginning or end of your message, and it must start with http:// or https://.
1. Placement and Number of Links
Firstly, you can include only one link in the SMS, and it must be at the end or very beginning of the message. If you include one single word after the URL, then the link won't preview. It's okay to include a period, but that's about it.

For campaigns specifically, your link always needs to be at the beginning of the message. If you put the link at the end, the "reply STOP to stop" notice will show up after, which will prevent preview generation.
Note: If you have an iPhone, your phone number also needs to be saved as a contact, or you won't be able to preview the link.
2. Always Include http:// or https://
Tossing a URL anywhere in your message won't trigger the SMS link preview, and neither will a URL without http:// or https://.
For example, if we wanted to text our customers, we would use https://simpletexting.com/ in our message and not www.simpletexting.com.
For those of you using SimpleTexting's Tiny Links feature to shorten SMS URLs, the good news is that it works with it.
Can You Curate Your SMS Link Preview's Image and Text?
The preview works by reading the web page and displaying the first data that it collects, i.e., a title, a description, an image, and the URL.
Getting the right image and text to show up is a big part of a successful message. The Open Graph (OG) Protocol can help here, allowing you to assign an image and title to a particular website page using an OG tag. Images can match website content or be customized to include extras like promo codes.
Most content management systems (CMS) like WordPress, Squarespace, and Shopify offer you the ability to set this on individual pages in a couple of clicks. This great resource from Ahrefs explains how to set open graph meta tags for every major website builder.
If you want to check your open graph image and title, you can use the free Open Graph Check tool. Here's an example using a recent article from SimpleTexting's Navigating SMS blog.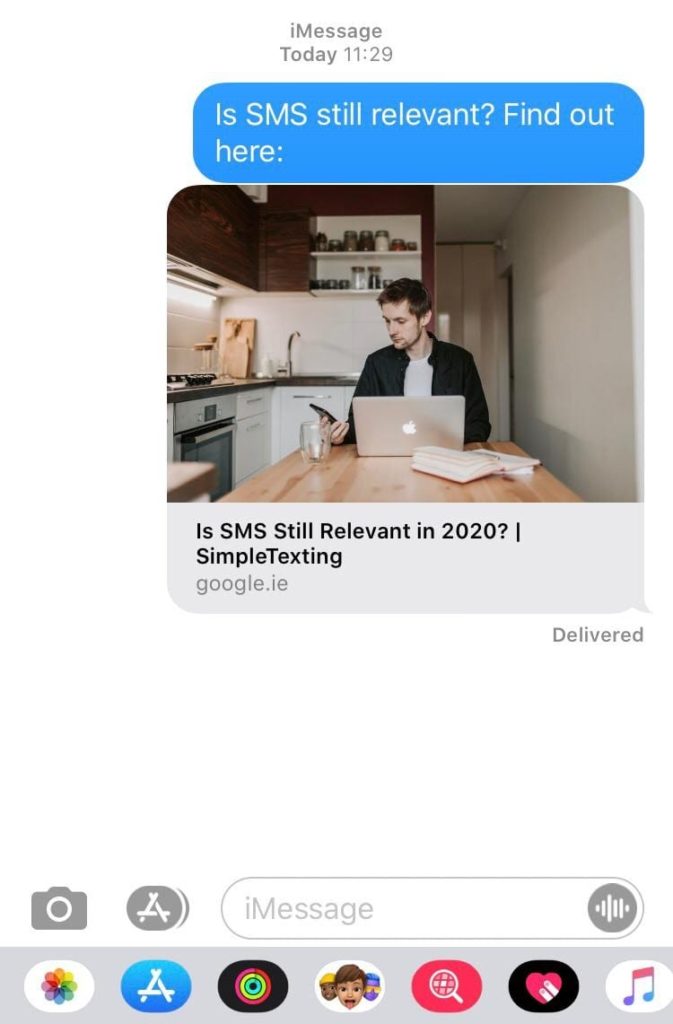 If you do not have an open graph image on your web page, the Favicon of your website will be displayed instead.
The Wrap on SMS Link Previews
This feature provides an enhanced experience for those on the receiving end of your text messages. And as you can see from the above, it's easy to start implementing link previews into your SMS marketing campaigns.
More Questions About SMS URLs and Link Previews?
Our team of texting experts would love to help. We're available 7 days a week. Text or call us at (866) 450-4185 or use the chat at the bottom of your screen.