Chances are, if you've Googled, "How to send a video message," you've come up with a lot of results.
That's because video is absolutely everywhere right now, and as a business using an SMS marketing strategy, you're probably wondering how it fits into your text flow.
The good news is that it's easy and effective to send a video via text, and the better news is that I've done quite a lot of it myself. I'll walk you through the why and the how of sending video via text.
Why should you send video text messages?
Video is a great way to break up the usual format of your texts with active, dynamic content. Emojis, GIFs, and photos are also great ways to do that, but they're just an appetizer.
Videos are the main course. Let's look at a few important numbers:
So, why do videos draw consumers so effectively? As a text marketing professional myself, I have some ideas:
Videos build trust
It's much easier to alter a product photo than it is to fake a video. A video experience gives customers a more accurate picture of what you're showing them.
Videos can improve SEO performance
Google uses how much time someone spends on your webpage as an indicator that you're providing valuable content. As a result, you're 53 times more likely to show up first on Google search results if you have a video embedded on your website.
Video is the most straightforward media to consume
If you had to put together a bookshelf, would you rather read the instructions or follow a video? I realize that it really does depend on each person and their learning style, there's a large portion of people out there who learn best by video.
Your customers are busy and they appreciate just sitting back and pressing play.
Video is shareable
The goal of a marketing campaign is to generate buzz, and video sharing is everywhere right now, from Instagram to TikTok to YouTube Shorts and beyond. By investing your time and effort into making videos for your brand, you set yourself up for more views and more engagement.
When to send a video text message (with examples)
As great of a tool as video is, you don't want to overdo it. When in doubt, stick to the situations where video shines.
How-to videos: If given the opportunity, providing instructional videos and text is a great way to give options and elevate the customer experience. The data suggests that 96% of people watch videos to learn more about specific products and services.
Example: How to Use ChatGPT
Product demos: Similar to the instructional video, the product demo gives customers a chance to see what they will buy in action. And, after watching a video, 64% of users are more likely to buy a product online.
Example: Air Fryer 101
Review videos: There are people out there who make millions of dollars each year from reviewing products/services and posting those videos on Youtube. Consumers trust their peers, and when they can see the person behind the review, that trust skyrockets.
Example: Peloton review
Storytelling: In industries like nonprofit work, creating videos with the sole purpose of telling a story is a great way to appeal to users emotionally. That appeal can help you accomplish your organization's goals, whether that's finding more volunteers or raising funds.
Example: St. Jude patient story

An example of a company that dominates video content is Newell Brands. Home to household names such as Sharpie, Rubbermaid, Marmot, and Coleman, Newell reaches their target audience for each brand through video.
Now, you might be wondering why you're reading about video marketing on a website all about texting. But the two are more connected than you might have thought. 90% of consumers watch videos on their mobile devices.
Check out the Newell Brands Youtube channel for some inspiration. Whether it's shining a light on company culture, or showing customers unique ways to use their products, Newell has mastered the art of video.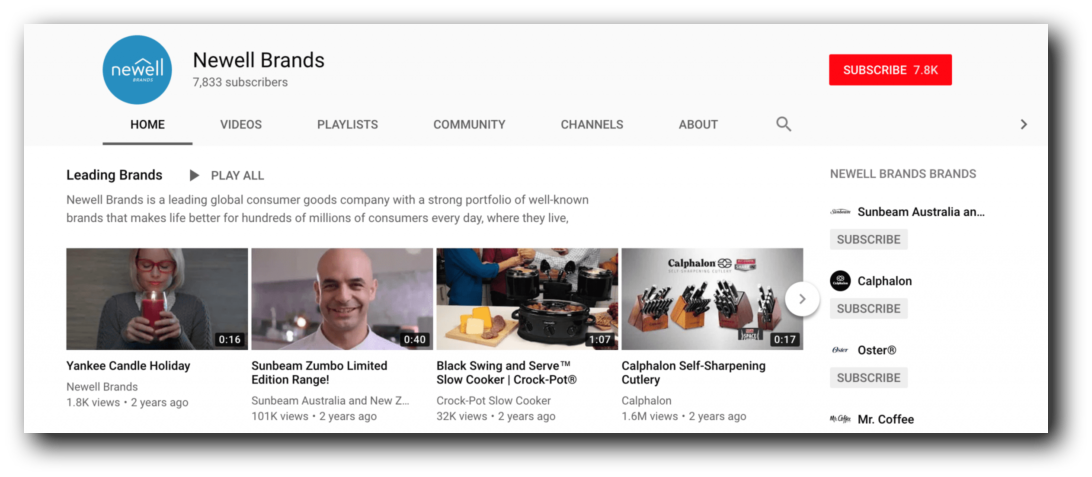 Two ways to send videos in a text message
There are two ways to send video text messages: SMS or MMS. SMS is a traditional text message built to support words and links. On the other hand, MMS is designed to send photos, videos, and other rich media.
While both can send video files, they'll show up a little differently depending on how you send them. But more on that in a moment.
There's one crucial thing you should keep in mind before you start texting out videos. It has to do with the size of your file.
If you want to send a video via text so that it appears directly in your message, the size limit for your video files is 1 MB or less.
Of course, we don't measure the length of the videos we watch in megabytes and gigabytes.
How long your video can be depends on the processing system your device uses and the quality of the video itself. The standard measure is 1 MB per minute, but better-quality videos will fill up a megabyte in less time.
If you know your video will be longer, you may instead want to send it as a link, which is the first method we'll walk you through.
💡SimpleTexting Tip: If you are using a toll-free number (don't forget to have it verified), these are the file types accepted:
15 MB upload limit for PNG, JPG/JPEG, GIF
600 KB upload limit for TXT, animated GIF
Note: These limits apply to MMS. SMS allows for additional types to be sent as a downloadable link.
Texting a video link
If you want to send your contacts a video larger than 1 MB, you will have to do this with a link. You can send that video link via a text message.
Begin by logging in to your SimpleTexting dashboard and starting a new campaign. Make sure you select SMS as the type.
Copy the link to a Youtube or Vimeo video of your choice and paste it into your message box.
Your video will appear as a link in the message box. The URL is automatically shortened, and it will appear in the preview box on the right just as it will appear to your recipient.
Type out your message as you normally would, and schedule/send your campaign.
The result is a message that looks like this to recipients. When they click the link, they will be redirected to view your video.
Learn how to set up your recently purchased DxO one camera! http://text.st/HSDSCZ
How to send a video directly through text
Once again, we'll reiterate that to send a video via text, the file must be 1 MB or less. If your video file size is larger than that, you can attempt to compress it. Depending on your level of expertise, there are a few ways to do this.
If you have the software, the easiest way to do this is through Adobe Premier. Here, you can directly set your amount of compression (aka 1 MB). There are other free tools out there that take a few extra steps, like HandBrake or Wondershare.
Once your video is compressed, save it as either MP4 or AMR. Once again, there are plenty of free tools on the Internet to assist you with the conversion.
From there, you're ready to send your video text message!
Begin by logging in to your SimpleTexting dashboard and starting a new campaign. Select MMS as the type.
In your message box, click on the paperclip icon.
Select upload, and proceed to select and upload your desired 1 MB video. You can also upload it by pasting in a URL. Once your video is uploaded, select it and press the blue "Include" button.
Your video will appear directly in your message for recipients to click and view right in the text.
How to text a YouTube video
If you're one of the many people Googling how to send YouTube videos over text, the good news is that YouTube's own platform makes the process simple.
You'll see a "Share" icon on your video's page.
Once you click the icon, you'll see a menu of options for where you can share the video link.
From there, simply pick your favorite messaging app, fill in the contact(s) you want to send the message to, and hit "send."
Videos in texts FAQs
You're almost an expert in how and why to put links in your texts, but I get that you may still have questions. Here are three of the most common questions I've seen from business owners.
How do I send video from Android to iPhone via text?
The simplest way to send a video from an Android to an iPhone via text is through the Messages app. To the left of the text message box, you'll see a plus sign and an image icon.
If your video is in your gallery, use the image icon and select your video. If it's elsewhere in your files, use the plus sign and choose the video you want from there.
For larger files, you can use a Google Drive link in your message instead.
Can you text a video from an iPhone?
Yes, definitely. iPhone users can text videos through iMessage.
The first way to text a video from an iPhone is with videos you record on that device.
Take the video on your iPhone.
Open Photos.
Tap the video you want to text.
Tap the share icon.
Tap Messages.
Enter the recipients you want to send the video to.
Hit the send icon.
The second way to text a video from your iPhone is to download a video to the device.
Select the video file from where you saved it (iCloud or Files are common).
Tap the share icon.
Tap Messages.
Enter the recipients you want to send the video to.
Hit the send icon.
The third way to text a video from your iPhone is to simply share a link to the video file.
Copy the video link from a website like YouTube, Facebook, TikTok, or another.
Open Messages.
Enter the recipients you want to send the video to.
Hit the send icon.
How can I send video from iPhone to Android via text?
You can send videos from iPhones to Android phones via text by embedding them into your text through iMessage using the steps above.
This piece was originally published April 29, 2019. It was significantly updated August 2, 2023. Meghan Tocci contributed to this piece.