Do you remember the last picture someone texted you? Whether it was a picture of your grandkids, an adorable kitten, or a hilarious meme, texts with photos stand out.
At SimpleTexting, we help businesses send thousands of texts every day, and hundreds of these messages include photos.
From dog walkers texting pictures of happy pups to their owners to snapshots of the weekly lunch menu at a daycare in New Mexico, texts help business owners get their message across in an effective, engaging way.
Sometimes words just aren't enough, and when that happens, you need a photo to get the message across. So, how do you attach an image to a text message?
We have a few different ways for you to add that extra 💥 to your communications.
TABLE OF CONTENTS
Attaching Pictures to Text Messages with MMS
There are two kinds of text messages: SMS and MMS. SMS stands for "short message service" and is mainly meant for text-only messages like order confirmations or customer service texts.
MMS, which stands for "multimedia messaging service," was built to enable the transmission of rich media, like photos and videos, between mobile devices.
When sending a photo in an MMS message, the image will appear directly in the body of the text.
On the rare chance that your contact's cell phone plan doesn't allow them to receive photos, they will receive something known as a "fallback" automatically. A fallback is simply a link to the image, and it looks similar to images sent with SMS.
Show this text to redeem free guac with your burrito! Offer valid until 3/30. Reply STOP to stop.
How To Send an Image in an MMS Message
Follow these six simple steps to send an MMS message with an image attached.
Create a new campaign in the Campaigns tab on the left-hand side of your SimpleTexting account.
Select "MMS" as the type of campaign you'd like to send.
3. In the body of the MMS message, click the paperclip icon.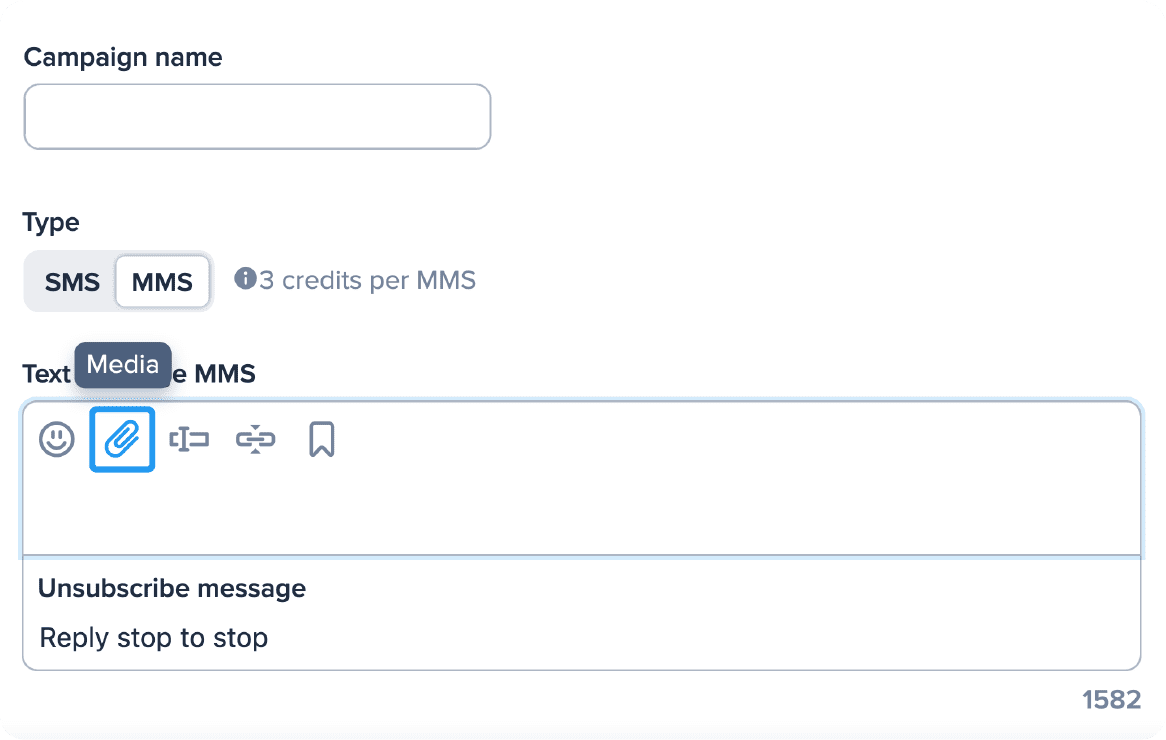 4. Upload the image you'd like to include, or paste the URL where it's located.
5. Select the image once it's uploaded and click the blue "include" button in the bottom right corner.
6. Continue sending your campaign as you usually would!
Want a more detailed walkthrough? Check our step-by-step video out.
💡 SimpleTexting Tip: A typical SMS campaign costs you one credit, but an MMS campaign will cost you three. If you're unfamiliar with our pricing structure or want to learn more about credits, get the details here!
Sending Pictures as Links in SMS Text Messages
It's still possible to send photos without using MMS, but your image won't appear in the text message itself.
With SMS, you can instead include links that, when clicked, send recipients to the photo online.
Here are six steps to attach an image to an SMS message as a link:
Open a new campaign.
Ensure SMS is selected as your campaign type.
Select the image icon.
4. Either paste the URL where the image is hosted or browse your computer to upload a file. Any JPG, PNG, or GIF file up to 10MB is compatible.
5. Click the "insert" button.
6. Send the campaign as normal!
💡SimpleTexting Tip: The link that appears may seem long. Check out the phone preview on the right side of the screen to see the shortened URL that your recipients will see.
How to Attach Images on Your Phone
Of course, if you're a business owner with a lot of one-on-one client conversations going on at once, you may want to send quick images using your phone instead of pulling out your laptop every time.

Here's a look at how to text images on mobile.
How to Attach Images on an iPhone
Attaching an image to a text on an iPhone is relatively easy. Here's how it's done.
Open the Messages app.
If you want to take a photo or record a video before sending it, just tap the camera icon and take your picture or video. It will automatically attach to your message.
If you want to attach an existing photo or video, press the Photos icon (the multicolored flower) and choose your media.
Press send, and you're done!
How to Attach Images on an Android
The process is pretty similar when you're using an Android phone. Check out the step-by-step.
Open the Messages app.
Start a new conversation or open your current one.
Type your message and click on the image-and-camera icon to the left of the message box.
Use the camera in the pop-up to take a new image or choose "Gallery" to pick an existing image, then "Add." Your image will show up in the message box.
Click the orange arrow at the bottom right of the message box to send, and you're all set.
How to Attach Images Using the SimpleTexting Mobile App
If you want to keep all your SMS communications inside your SimpleTexting account, good news! We have an app that's compatible with both iOS and Android.
We'll walk you through how to attach an image to your messages in the app.
Sending an image with a Campaign:
Open your app and log in.
From the left-hand side, choose Campaigns.
Select MMS as the message type.
Write out your message and click the image icon in the message box.
In the popup, choose Photo Library to pick a previously uploaded image, Take Photo or Video to take a new image, or Choose Files to pick an image from your device.
Once you've picked your image, click the Include button at the bottom right.
You're ready to send your message!
Sending an image from the Inbox:
Once you're logged in, choose Inbox from the left-hand menu and start a new conversation or open your current one.
Click the image icon under the message box.
Choose your photo just like you would with a Campaign.
Press the Include button when you're done.
Write out your message and hit Send MMS.
Best Practices for Texting an Image
Now that you've got a good idea of when to send images and how to set your messages up, let's cover some best practices to keep in mind when texting images.
Make sure your pictures are sized correctly. When sizing for mobile viewing, you'll generally want your image to be in a 9:16 portrait ratio. Fortunately, there are a lot of free image sizing tools online, like this one from Adobe.
Check your image resolution. The sizing recommendation we included means that your images should be at least 640 pixels wide and a max of 1200 pixels vertically.
Only send pictures you're allowed to use. Copyright applies when you're texting out pictures. Make sure you only send pictures you've created or which are free to use. You can usually find these by checking the "Creative Commons licenses" line on Google Images or sourcing from sites like Pexels or Unsplash.
Beware of personal information. When sending texts as a business, be sure you're not texting images with any sensitive information, like someone's credit card number, Social Security number, or medical records.
Images as a Marketing Tool
Just like that, you're only a few quick clicks away from sharing your visual story with customers around the country.
And if you've never sent an image to your contacts, here are a few reasons why you should.
Images can help…
Present information in a more memorable way
Give clarity to more detailed ideas
Evoke emotion
Provide an easily shareable takeaway
Lighten the mood and share some fun!
Now, go forth and spice up your messages!