Data Collection
Gather contact insights to personalize your text message marketing.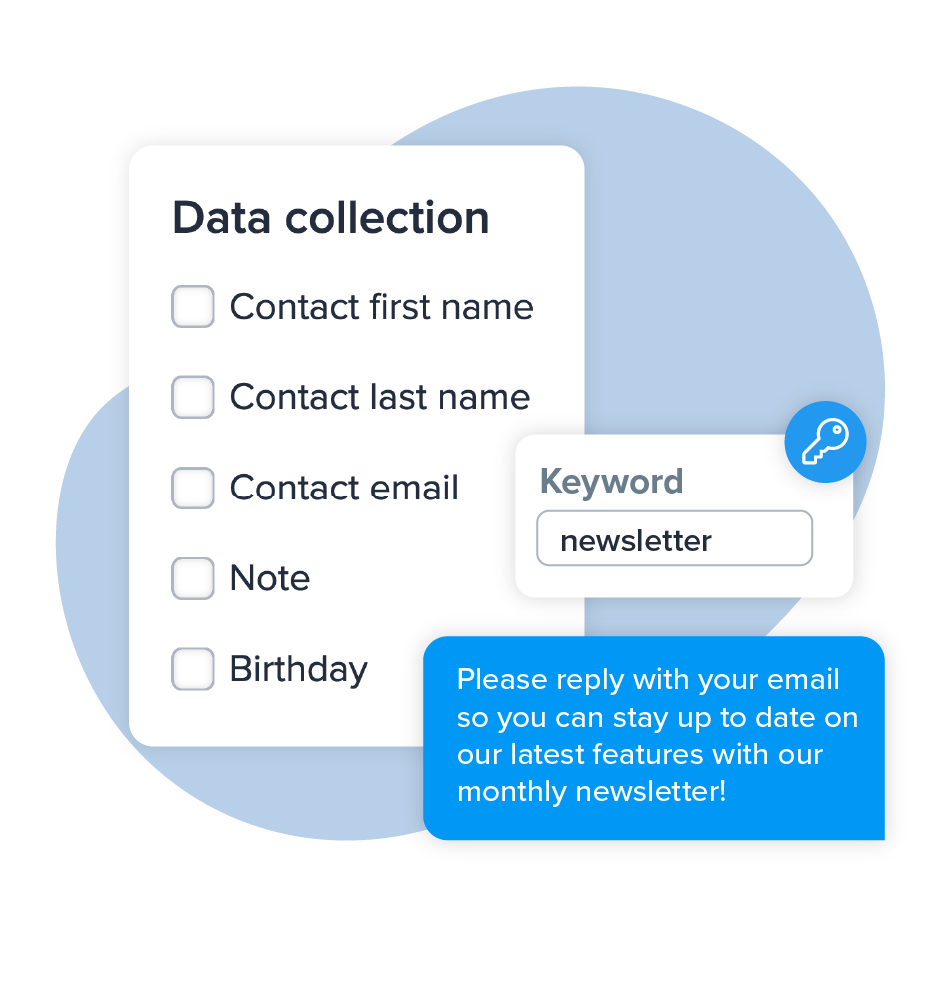 Gather, Store, and Use Your Contact's Data
With our text message data collection feature, you can collect even more information from your contacts. The more you know about your database of contacts, the smarter your marketing becomes. Plus, all of the info you collect is stored safely in your SimpleTexting account.
The Benefits of Text Message Data Collection
Here are just a few examples of what you can do when you gather data on your text message database.
Personalize Messages
Using the collected data, tailor future texts to fit individual contacts.
Segment Your Lists
Send targeted messages by grouping your subscribers with the same data.
Integrate With Apps
With our Zapier integration, send data to your other marketing channels.
Export Easily
Our platform lets you easily export any collected data to a spreadsheet.
Customize
Create a custom field to collect any information you need to know.
Automate Your Workflow
Save time with our platform's automatic data entry.
"We appreciated the ability to make it conversational, where guests are asked to reply back with their email and then that information is stored. That's what set SimpleTexting apart for us."
How Text Message Data Collection Works
If you're excited about the possibilities, then we have more good news: there is no manual SMS marketing data entry involved here.
1. Select the Fields to Collect
This feature can be activated on your keyword(s) to collect one or more of the following default fields:
Contact first name
Contact last name
Contact email
Note
Birthday
If you decide to create additional
Custom Fields
, they'll be displayed as options below the default fields when you set up Data Collection.
2. Connect to a Keyword
Let's say you run a cosmetics brand and want to send messages based on contacts' skin type. First, create a "skin type" custom field. Then create a keyword (such as SKINTYPE) and ask contacts to text it to your number with their response, which will be saved in SimpleTexting.
3. Customize a Follow-up Message
From here, you can automate a follow-up message for contacts who complete the prompt. Their responses are stored in our secure database so you can create Segments and send targeted messages to those segments. You may also export the data at any time or use our Zapier integration to sync in with another app.
Send Your First Message in Minutes
Get everything you need to engage individually with customers, or text thousands at once. Sign up for a free 14-day trial today to see SimpleTexting in action.